Homemade Applesauce Recipe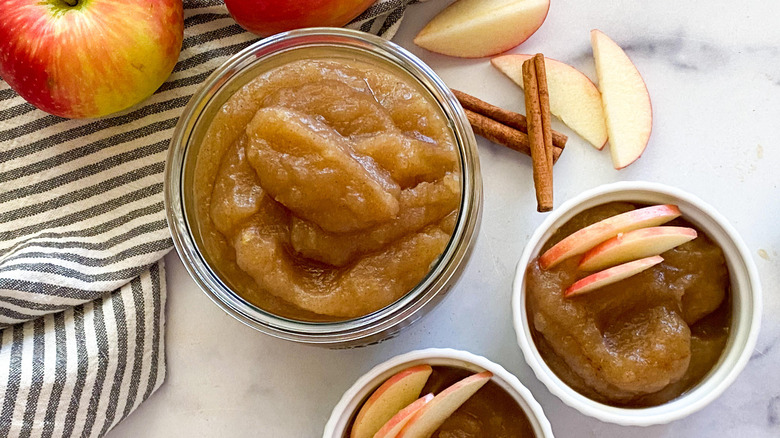 Miriam Hahn/Mashed
Applesauce is a classic American food with tons of versatility. It's a wonderful snack on its own, but it's also great as a topping or dipping sauce, too. A fun fact about this snack is that you can enjoy applesauce at various temperatures. If you're looking for a refreshing treat on a warm day, a cold bowl of applesauce is the perfect snack. Or, do you want something warm and inviting on a chilly afternoon? Applesauce will warm you right up!
While it's easy to buy applesauce from the store, this certainly isn't the only option. By making applesauce from scratch at home, you'll be able to personalize the flavors, like what types of apples you use and how much cinnamon you add in while crafting an incredibly fresh version of the store-bought favorite. Luckily, with recipe developer and wellness coach Miriam Hahn's homemade applesauce, it's never been easier to enjoy fresh homemade applesauce, made from scratch right by you — in your own kitchen!
"I love making things like this that you can easily make at home and avoid buying it processed and packaged in plastic," Hahn says of this recipe. "And apples are one of the healthiest produce items out there!" She also notes that this applesauce will taste much fresher than anything you can find store-bought, and that it's also a great recipe to make with kids. So now that you're pumped to make this healthy and delicious recipe your own, let's get started.
Gather the ingredients to make homemade applesauce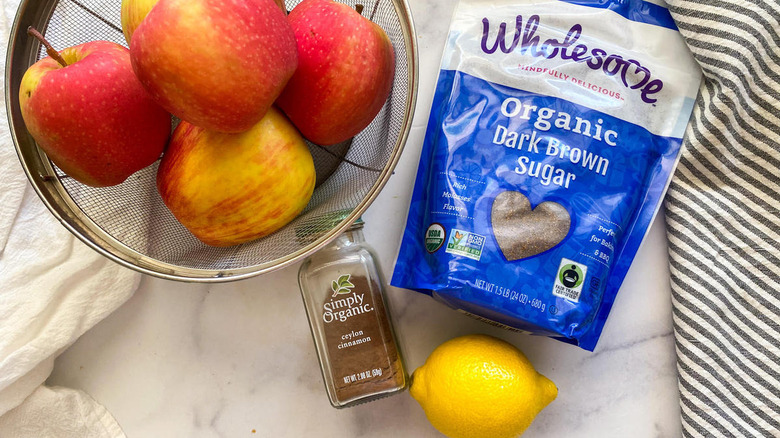 Miriam Hahn/Mashed
Making applesauce at home doesn't have to be complicated. In fact, all you need to get together is a few basic ingredients! Of course, you'll need apples, and Hahn notes that she uses two types: Honeycrisp and Gala. You can use whatever kind you prefer or have on hand, though. Next, you'll need brown sugar, lemon juice, cinnamon, and water. You'll also need a large pot in which to cook the apples, as well as a potato masher or immersion blender to create the applesauce after your apples are done cooking. Also, Hahn notes that vanilla, cloves, or nutmeg are all great spice additions to applesauce. But, to keep it simple, this recipe simply utilizes cinnamon as the main spice.
Start by preparing your apples
Miriam Hahn/Mashed
To get started on your homemade applesauce, you'll need to prepare the star of the show: the apples! To get started with this step, you will slice ¼ inch off of the top and bottom of each apple to make them easy to handle. Then, peel all of the skin off, and make four cuts around the core, cutting off the meat of the apple on each side. Try to get as close to the core as possible without actually cutting into it so you don't waste any of the fruit. At this point, you can discard the cores, and simply chop up your apples until you have about six cups of chunks.
Add your chopped apples and other ingredients into a pot, then stir them well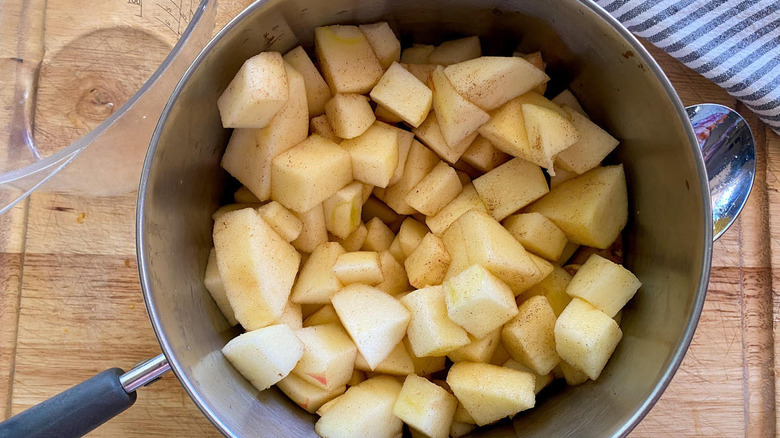 Miriam Hahn/Mashed
Once you have your apples chopped up into chunks, you can go ahead and put them into the pot in which they will cook. Additionally, go ahead and add in your lemon juice, cinnamon, brown sugar, and water. If you want to add any additional spices, now is the time to add them in as well. Finally, give everything in your pot a thorough stir, making sure that the ingredients are evenly distributed amongst the apple chunks. You want to be sure to get all of the ingredients well blended so each bite is just as tasty and delicious.
Bring your apple mixture to a boil, and then slow cook on medium heat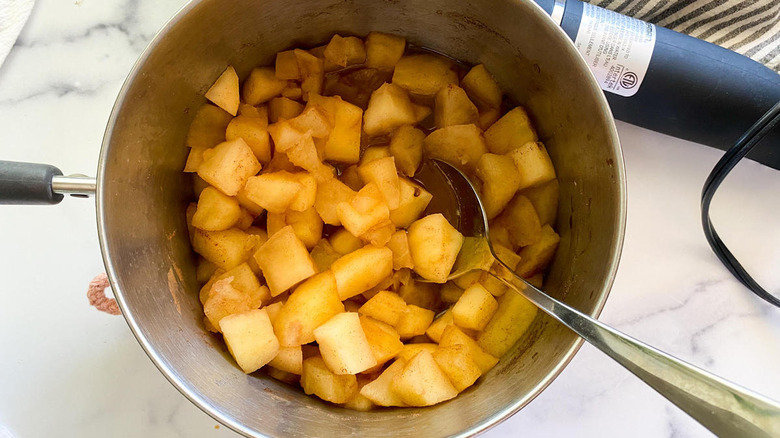 Miriam Hahn/Mashed
Now that all of your ingredients are in the pot, you can place it on the stovetop over medium-high heat. Your mixture will come to a boil, and once it does, go ahead and reduce your heat to medium. At this point, you'll want your apples to cook for 15 to 20 minutes, until they're nice and soft. As the apples cook, you'll notice that they'll brown slightly in color, and you'll also notice an amazing aroma as it fills your kitchen. When your apples can be easily pierced with a fork, you can go ahead and remove them from the heat.
Use a potato masher or immersion blender to make the applesauce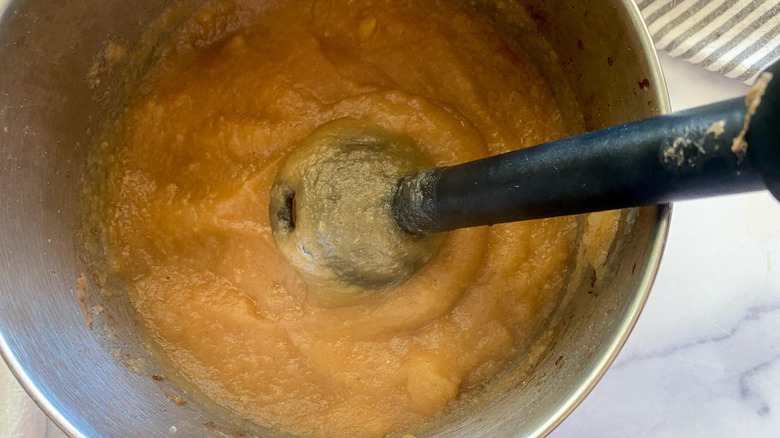 Miriam Hahn/Mashed
Your applesauce is so close to being ready! Now that the apples are done cooking, you simply need to take the last step to transform the apple chunks into applesauce. You can use a potato masher at this point to break down the cooked apple chunks, though an immersion blender will help get your sauce nice and smooth. Hahn says that your sauce can be either chunky or smooth — it comes down to personal preference. Your applesauce will taste good no matter what, so once you've reached your desired consistency, you can stop blending and prepare to serve the applesauce.
Garnish with extra cinnamon or apple slices, and enjoy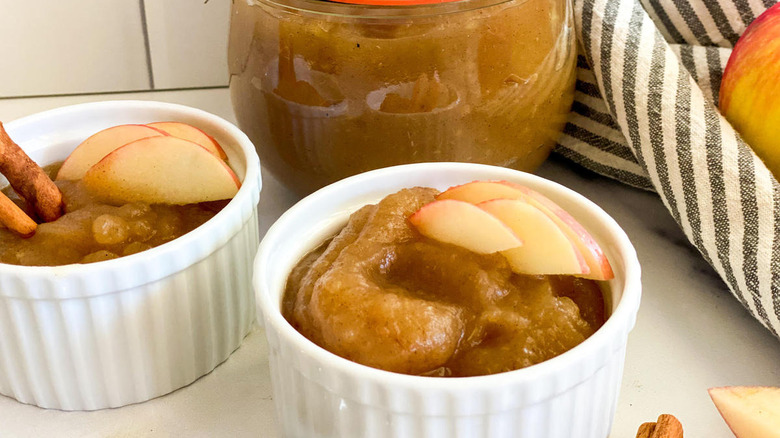 Miriam Hahn/Mashed
Serve your applesauce in small bowls, and optionally, garnish with extra cinnamon and apple slices. Feel free to add any additional toppings if you'd like, such as raisins or even a tiny drop of whipped cream if you want to be a tad fancy for your guests. Then, you can enjoy! 
This applesauce truly tastes great served hot or cold, though if you prefer cold, then you'll want to allow your applesauce to cool down in the fridge before you eat it. Speaking of the fridge, you can easily store leftovers in a mason jar for up to a week. This way, you can enjoy your snack throughout the week, making it an easy but delicious option that the entire family will keep running back to. We're guessing that there will not be too much left over, because once everyone smells how great the kitchen is, they'll be ready to dive right into their dessert and ask for seconds.
If you want to explore the world outside of store-bought applesauce, this homemade applesauce recipe will quickly become an all-time favorite in your home.
Homemade Applesauce Recipe
By preparing this homemade applesauce recipe, you'll be able to personalize the flavors and craft an incredibly fresh version of the store-bought favorite.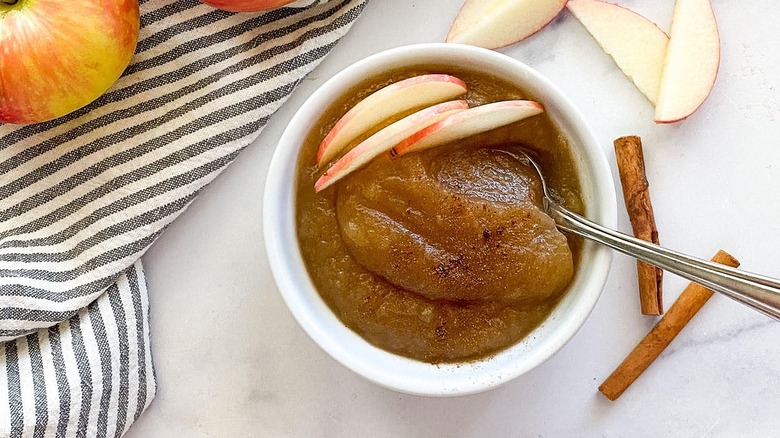 Ingredients
6 apples, chopped
1 teaspoon cinnamon + more for garnish
1 tablespoon brown sugar
1 teaspoon lemon juice
1 cup water
Directions
Wash the apples. Trim off the top ¼ inch and bottom ¼ inch, and discard. Peel all sides, then hold the apple upright and make four cuts around the core, getting as close as possible to the core without cutting into it. Discard the core, and chop up the rest of the apple. You should have roughly 6 cups of chopped apples.
Add the apples, cinnamon, brown sugar, lemon juice, and water to a medium pot. Stir well.
Place on the stove on medium-high heat, and bring to a boil. Then, lower to medium, and cook for 15 to 20 minutes, or until the apples are soft and easily pierced with a fork. Remove from heat.
Mash the apples with a potato masher, or you want it really smooth, use an immersion blender.
Serve with more cinnamon, if desired, and enjoy!
Nutrition
| | |
| --- | --- |
| Calories per Serving | 76 |
| Total Fat | 0.2 g |
| Saturated Fat | 0.0 g |
| Trans Fat | 0.0 g |
| Cholesterol | 0.0 mg |
| | |
| --- | --- |
| Total Carbohydrates | 20.3 g |
| Dietary Fiber | 3.5 g |
| Total Sugars | 15.3 g |
| Sodium | 2.9 mg |
| Protein | 0.4 g |