Moist Banana Oatmeal Bread Recipe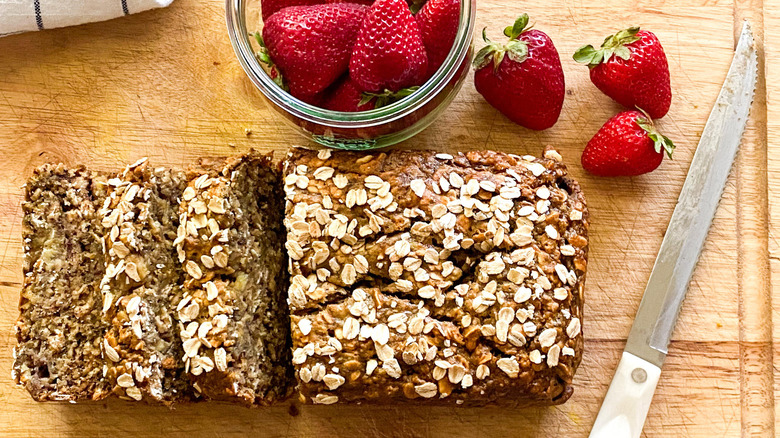 Miriam Hahn/Mashed
Does banana bread remind you of a cozy trip to Grandma's house? If so, we have a scrumptious and nostalgic oatmeal banana bread recipe to share with you and your family that you'll make for years to come. The only thing you'll have to do besides baking it is having a cold glass of milk at the ready. That way, you'll be ready to enjoy this delicious bread when it comes out of the oven!
Wellness coach and recipe developer Miriam Hahn recently stumbled upon this old family favorite recipe. "Growing up, my mom always made banana bread and had a few variations. I love making it with my kids ... it makes the house smell so good," she says. Banana bread is a soft and sweet way to satisfy your own nostalgia, use up your ripe bananas, and have a healthy serving of fruit with your dessert. But wait — it gets even better. This moist loaf of warm goodness can be crafted using all plant-based ingredients. We'll walk you through the steps, and feel free to give any substitutes a try.
One other thing you'll love about this recipe is that it takes under 10 minutes to prep, less than an hour to bake, and serves eight or more. Is this your first time making banana bread? Step into our virtual kitchen, and we'll show you exactly what to do.
Gather the ingredients to prepare this banana oatmeal bread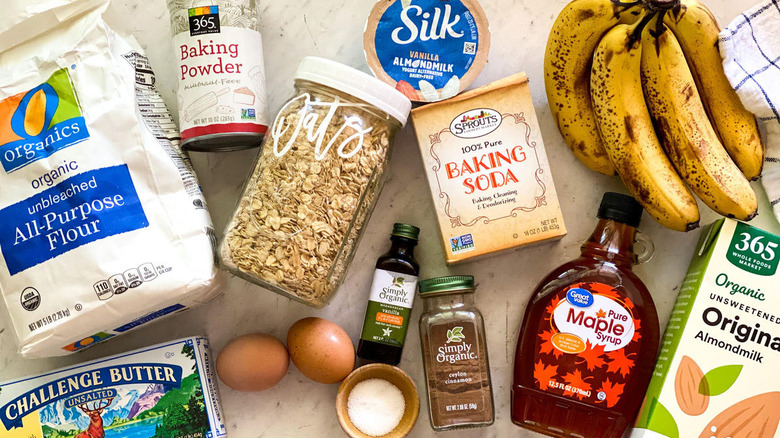 Miriam Hahn/Mashed
The first step in preparing this recipe is rounding up all of the ingredients. You most likely have most of these items in your pantry or fridge, so that will make your grocery store trip much less time-consuming. Once you have the ingredients lined up and ready to go, you'll be ready to whip up your scrumptious bread in just about no time.
To bake this loaf of banana-oat goodness, you'll need to gather all-purpose flour, baking soda, baking powder, cinnamon, and salt. Also bring out some rolled oats, four over-ripe bananas, maple syrup, unsalted butter, milk, yogurt (any kind), eggs, and vanilla extract.
Preheat the oven, and prep your pan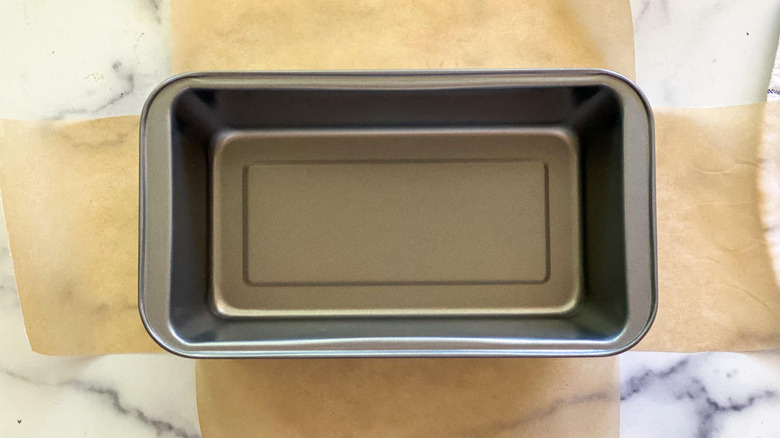 Miriam Hahn/Mashed
Next, you can preheat your oven to 350 F or 325 F for convection ovens. Take a small loaf pan, and line it completely with parchment paper. To do this, grab a pair of scissors. Hahn uses the method shown in the photo above to create a parchment paper shape that completely covers the bottom and sides of the pan. It will be easy to duplicate, and cutting your paper in this way will ensure that all edges of the bread are guarded with the non-stick paper for easy removal. It also saves time when it comes to cleaning up your baking pan!
Mix your dry ingredients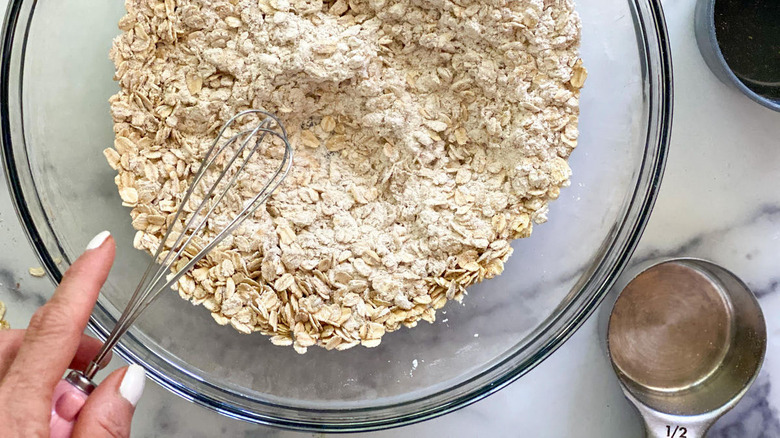 Miriam Hahn/Mashed
In a medium-sized mixing bowl, you're going to mix together the dry ingredients. Combine 1 cup of all-purpose flour, 1 teaspoon of baking soda, and ¼ teaspoon of baking powder. To that mixture, you will add in 1 teaspoon of cinnamon, and ¼ teaspoon of salt. Whisk everything together until the mixture is well incorporated, and then add in your 1 ½ cups of rolled oats. Mix the dry ingredients thoroughly until everything is combined well. (Remember to set aside about 1 tablespoon of the rolled oats, which you will sprinkle across the top of the bread before baking for an extra delicious touch.)
Mix the wet ingredients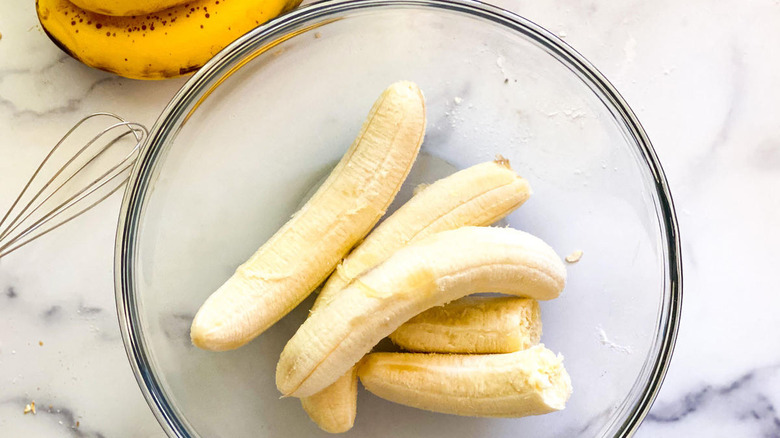 Miriam Hahn/Mashed
For the next step, you'll be combining all the wet ingredients. In a separate mixing bowl, mash four over-ripe bananas. This equals about 1 ½ cups. With the maple syrup (or agave), pour ⅔ cup over the bananas. Add in 4 tablespoons of melted, unsalted butter, ¼ cup of (dairy or non-dairy) milk, and 3 tablespoons of yogurt. Stir your wet ingredients together very well, until all parts have combined into a thick batter-like texture.
After that part is finished, crack two eggs, and drop in 2 tablespoons of vanilla extract to the mixture. (According to Hahn, vegan chefs can separately mix up 2 tablespoons of ground flax or chia with 6 tablespoons of water to form a gel-like egg replacement.) Stir your mixture until all ingredients are well incorporated.
Combine the wet and dry ingredients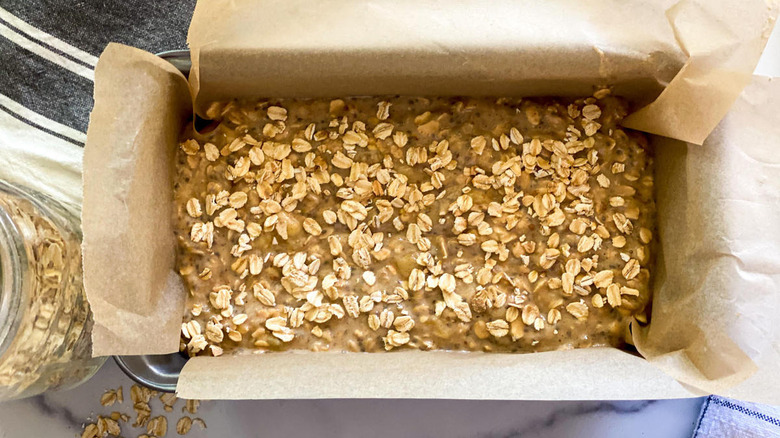 Miriam Hahn/Mashed
Now you have finished all of the mixing, so you can ddd the dry ingredients to the wet mixture, and stir. Once both elements are intermingled to create a thick batter, pour it into the loaf pan lined with parchment paper. Be sure to spread the batter evenly throughout the pan. Sprinkle the top of your unbaked bread with 1 tablespoon of the loose rolled oats, and you're ready to bake it. Grab your oven mitts, make sure the temperature is hot, and place the pan in the oven. You're one step closer to slicing into this delight, and be prepared, because your house is going to smell divine.
Bake the banana oatmeal bread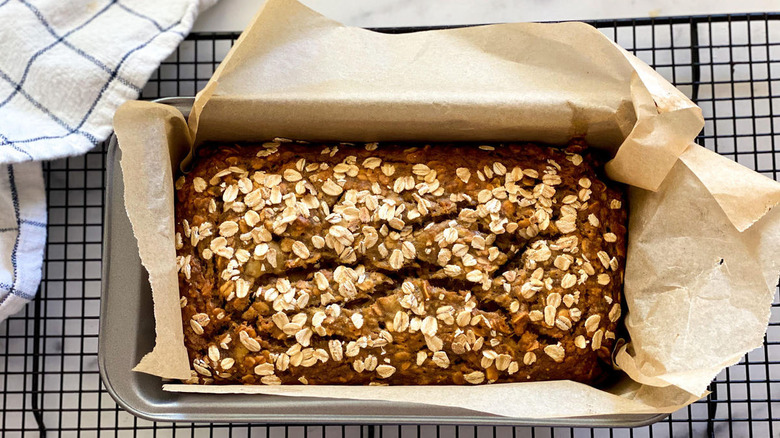 Miriam Hahn/Mashed
Hahn notes that the bake time ranges from around 65 to 75 minutes for regular ovens and 49 to 56 minutes for convection ovens. Place the loaf pan in the oven uncovered for the first 25 minutes. Afterwards, remove the pan, and gently cover with foil for the remaining time.
To check if the bread is done, insert a knife or toothpick into the very middle of it. If it comes out clean, the bread is finished. If there is batter sticking to the utensil, place the pan back in the oven, and check frequently until the utensil comes out clean.
Slice, and serve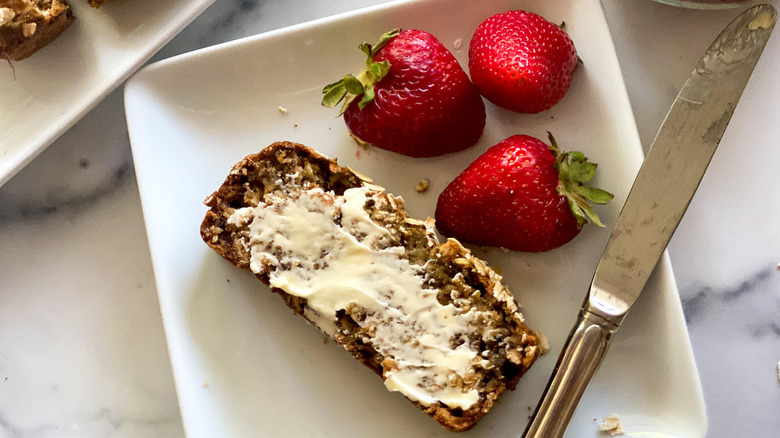 Miriam Hahn/Mashed
Once your bread is finished, cool it in the pan for one hour, and then remove it from the pan to a cooling rack for 15 more minutes. Hahn says that this bread is served best alone or spread with butter. To preserve your moist banana oatmeal loaf, Hahn says to slice and store in airtight baggies or in a small container. It keeps well in the fridge for up to one week.
This recipe is an heirloom, and one you will absolutely enjoy really any time of the day. As Hahn notes, "I love having this as a quick breakfast on-the-go. If I want something really heart[y], I will add some almond butter. My husband loves having [this banana bread] for dessert." This recipe is sure to be a new favorite in your home.
Moist Banana Oatmeal Bread Recipe
Does banana bread remind you of a cozy trip to Grandma's house? If so, we have a nostalgic oatmeal banana bread recipe to share with you and your family.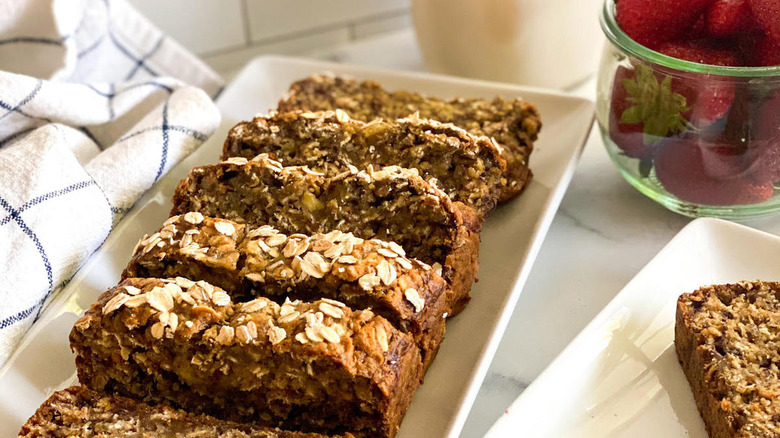 Ingredients
1 cup all-purpose flour
1 teaspoon baking soda
¼ teaspoon baking powder
1 teaspoon cinnamon
¼ teaspoon salt
1 ½ cups rolled oats + 1 tablespoon for topping loaf
1 ½ cups mashed banana (about 4 very ripe bananas)
⅔ cup maple syrup
4 tablespoons unsalted butter, melted
¼ cup milk (any type)
3 tablespoons yogurt (any type)
2 eggs (or 2 tablespoons ground flax or chia + 6 tablespoons of water mixed to form a gel)
2 teaspoons vanilla extract
Directions
Preheat oven to 350 F (or 325 F if using convection setting).
Line a loaf pan with parchment paper.
In a medium bowl, whisk together the all-purpose flour, baking soda, baking powder, cinnamon, and salt. Add the rolled oats, and mix again.
Mix the mashed banana, maple syrup, melted butter, milk, and yogurt. Once that's blended, add the eggs (or chia or flax mixture), then add the vanilla, and stir.
Add the dry ingredients to the wet mixture, and stir.
Pour the batter into prepared loaf pan. Sprinkle the top with the remaining oats.
Bake time is 65 to 75 minutes on bake setting and 49 to 56 if using the convection setting. Put the loaf pan in for 25 minutes uncovered, then cover with foil for remaining bake time.
Remove the banana bread from the oven, and cool in the pan for 1 hour.
Lift the bread out of the pan, and let it cool for at least 15 more minutes.
Slice, serve, and enjoy.
Nutrition
| | |
| --- | --- |
| Calories per Serving | 297 |
| Total Fat | 8.6 g |
| Saturated Fat | 4.5 g |
| Trans Fat | 0.2 g |
| Cholesterol | 56.8 mg |
| | |
| --- | --- |
| Total Carbohydrates | 50.5 g |
| Dietary Fiber | 3.1 g |
| Total Sugars | 22.1 g |
| Sodium | 267.8 mg |
| Protein | 6.0 g |