Refreshing Watermelon Curd Recipe
Susan Olayinka/Mashed
Watermelon is the unofficial fruit of summer — actually, according to HuffPost, watermelon can be classified as both a fruit and a vegetable, but that's beside the point. Fruit, veggie, or somewhere in between, this brightly colored treat tastes amazing during hot summer months. 
However, eating it can be a bit of a pain. All that juice running down your arm and those sticky patches on your face can be hard to manage. If you've ever thought, "I wish this was easier to eat, perhaps even spreadable ..." you've come to the right place. Recipe developer Susan Olayinka of The Flexible Fridge has devised this genius recipe for watermelon curd. It has all the sweet, fruity flavor of watermelon but the spreadable, creamy texture of curd. What a treat! Olayinka says if you are skeptical of watermelon as a curd ingredient, you have to try it for yourself and see: "Lemon curd is so yesterday! This is so light, summery, and delicious. Watermelon is everyone's favorite fruit, so this will be a hit."
Gather ingredients for your watermelon curd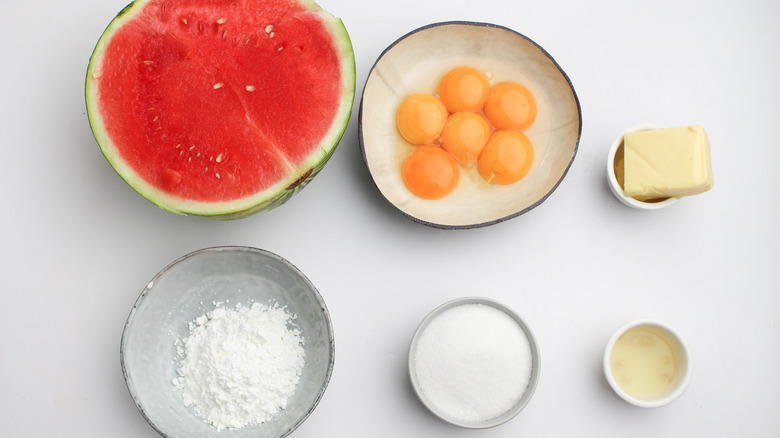 Susan Olayinka/Mashed
Before you can start making your watermelon curd, you'll need to start by gathering your ingredients. For this recipe, you will need half of a watermelon, six egg yolks, half a cup of white sugar, two ounces of butter, two tablespoons of cornflour, and a tablespoon of lemon juice. As far as cookware, you will need a knife and cutting board, two mixing bowls, a blender or food processor, a hand whisk, an electric whisk, a saucepan, and something to stir it with (like a spatula or wooden spoon).
Just so you have a clear picture, this recipe basically involves three main phases: processing the watermelon, beginning the curd off the stove, and cooking it over the stovetop.
Prep the watermelon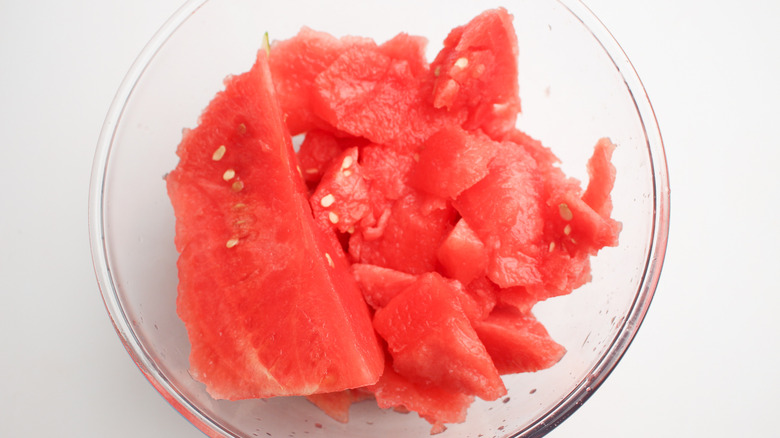 Susan Olayinka/Mashed
The first step in this process extracting the juice from the watermelon, which will go on to flavor your curd. To do this, take your half of a watermelon and cut it into rough chunks. Place these chunks in a blender or food processor, blending on high for 10 seconds. You don't need to be too particular about the texture of the mixture in this step — just make sure you've broken up most of the pieces. Next, pour the blended watermelon through a mesh sieve and into a mixing bowl. Set aside.
Use your yolks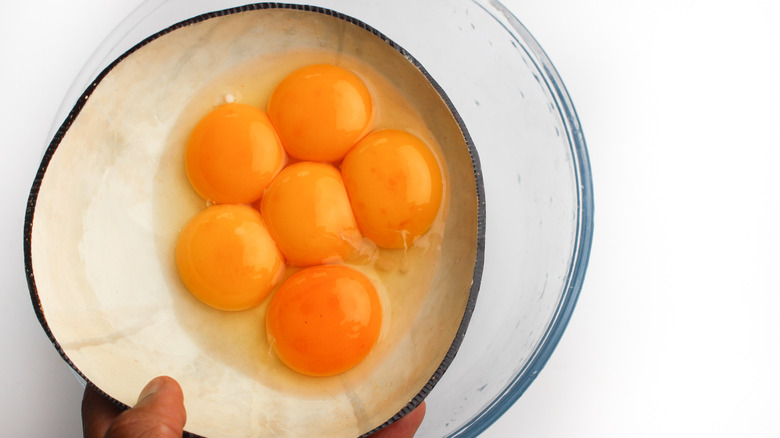 Susan Olayinka/Mashed
Egg yolks are an essential part of curd, and it's now time to prepare yours. Start by cracking your eggs, separating the yolks, and pouring them into the mixing bowl. Add sugar and blend on high for 20 seconds using an electric mixer. After 20 seconds, the yolks should appear a pale yellow color. Once you have achieved the proper look, add the butter and mix again for 10 seconds. Lastly, add the cornflour and — you guessed it — blend on high for another 10 seconds. Now that you've done all this mixing, it's time to move on to the next step.
Even more mixing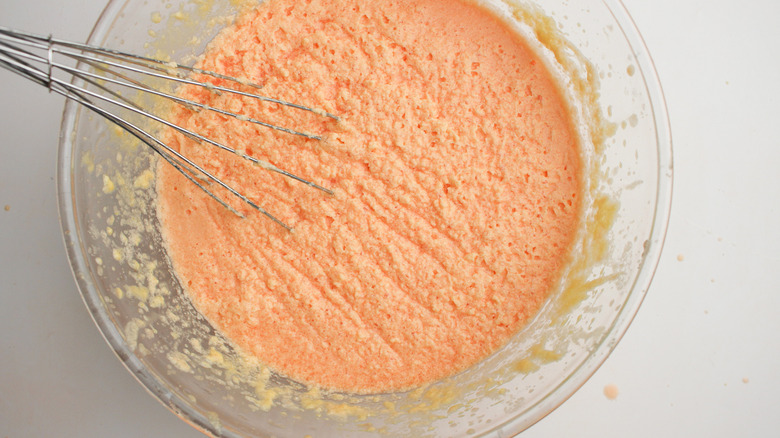 Susan Olayinka/Mashed
Next, you will add your strained watermelon juice to the egg yolk, sugar, butter, and cornflour mixture. Using a manual whisk, combine the mixture for 30 seconds. If your curd looks a bit lumpy at this stage (as it does in the photo), rest assured. Combining the sugar and butter with the eggs and fruit can produce this texture initially, but those two ingredients will be of great help during the cooking process.
Although some add their butter later down the road, adding butter beforehand helps avoid cooking the eggs too quickly. The sugar does the same thing, although it gets a lot of help from the early addition of butter. Long story short, no butter can equal scrambled eggs and a lumpy curd, while the early addition of the butter ensures a smooth, silky curd after the cooking process.
Cooking your watermelon curd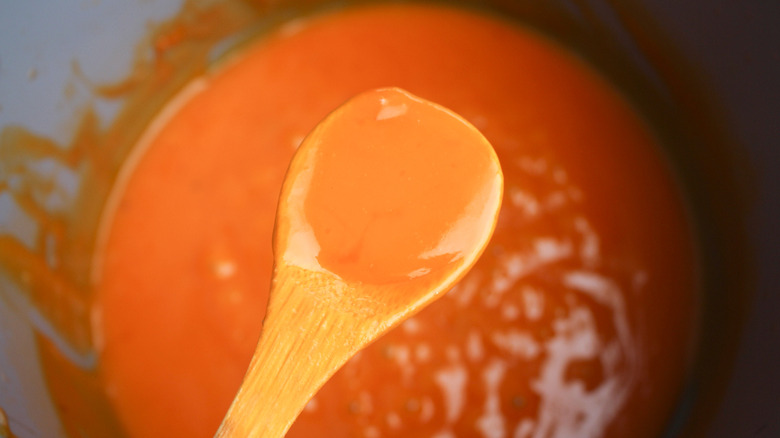 Susan Olayinka/Mashed
Now that you are done whisking, it's time to pour your curd batter into a saucepan. After adding the lemon juice, set the stove to medium-high heat. Cook the curd mixture for 10 minutes, stirring constantly. Olayinka says that this stirring is crucial to making a good curd: "I would just be careful when cooking it on the stovetop," she advises, "as the watermelon curd grows a skin quickly and can burn in the pot — so just keep stirring!"
According to Olayinka, after 10 minutes, the mixture should have thickened to a "gravy-like texture." Once it looks thick and smooth, it is ready, and you can pull it from the stove.
Chill, serve, and enjoy your watermelon curd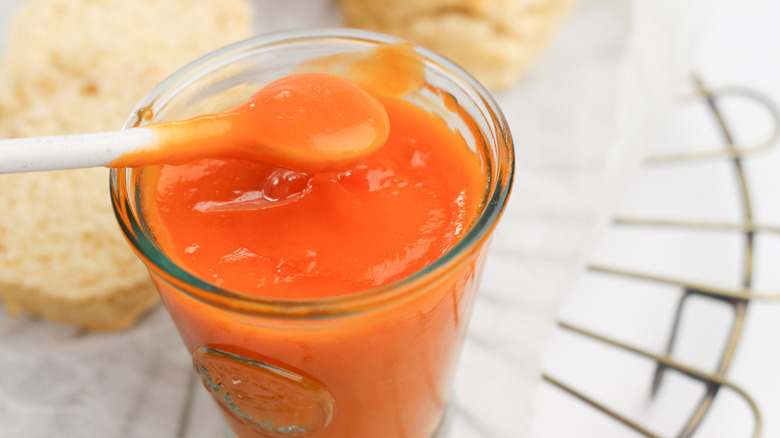 Susan Olayinka/Mashed
After all your hard work, your watermelon curd is finally ready! Go ahead and pour it into an airtight container, and place it in the fridge to cool and store. As far as serving suggestions, Olayinka says this can be eaten anywhere you would put lemon curd: "Think scones, cakes, porridges, etc." she says. This spread will add a sweet, bright, fruity kick to anything you put it on, so go crazy! If watermelon is the fruit of the summer, let watermelon curd be the spread!
Refreshing Watermelon Curd Recipe
This watermelon curd has all the sweet, fruity flavor of watermelon but the spreadable, creamy texture of curd. It's the perfect condiment for the summer.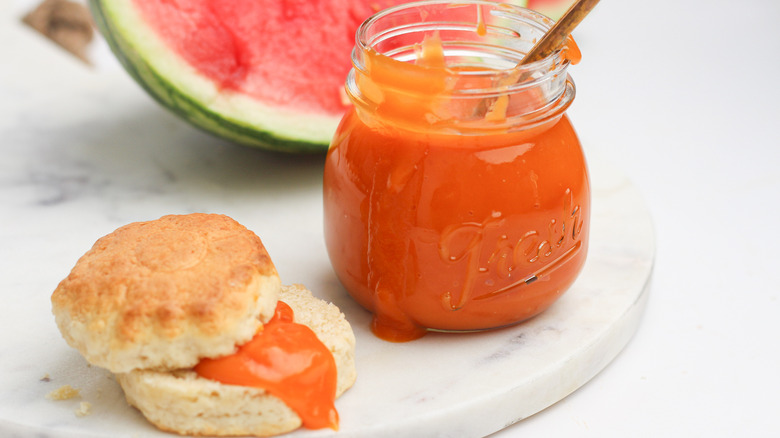 Ingredients
½ watermelon
6 egg yolks
½ cup white sugar
2 ounces butter
2 tablespoons cornflour
1 tablespoon lemon juice
Directions
Slice the watermelon into chunks and place in the blender. Blend on high speed for 10 seconds.
Pour the mixture through a sieve and into a temporary container. Set aside.
Place the egg yolks and sugar into a mixing bowl. Using an electric mixer, mix on high for 20 seconds until the egg yolks become a pale yellow.
Add the butter to the egg yolks, then mix on high for 10 seconds.
Add the cornflour, then mix on high for 10 seconds.
Add the watermelon juice to the mixing bowl, then mix together with a manual whisk for 30 seconds.
Place the contents of the bowl into a saucepan. Add the lemon juice and set the stove to medium-high heat. Cook for 10 minutes consistently stirring. After 10 minutes, the mixture should have thickened to a gravy-like texture.
Pour the mixture into an airtight container and refrigerate.
Serve and enjoy.
Nutrition
| | |
| --- | --- |
| Calories per Serving | 223 |
| Total Fat | 8.9 g |
| Saturated Fat | 4.7 g |
| Trans Fat | 0.2 g |
| Cholesterol | 124.8 mg |
| | |
| --- | --- |
| Total Carbohydrates | 35.7 g |
| Dietary Fiber | 1.2 g |
| Total Sugars | 30.1 g |
| Sodium | 8.7 mg |
| Protein | 3.5 g |