Jane Austen Readers Will Love This New Cookbook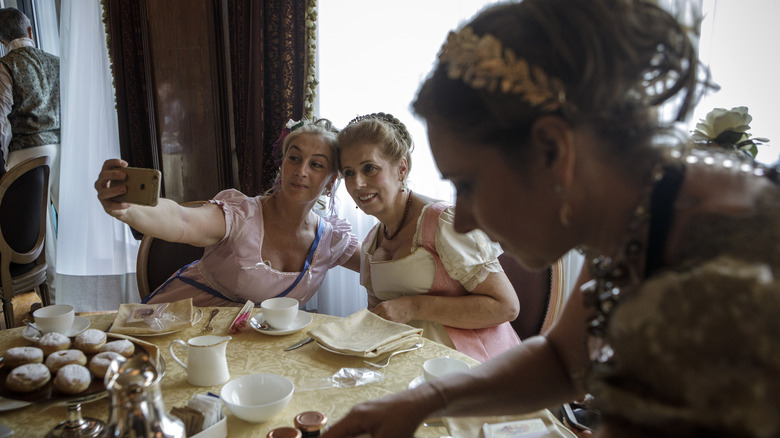 Emanuele Cremaschi/Getty Images
We may receive a commission on purchases made from links.
Both bookworms and foodies will be delighted to hear the news that a reproduction of the famous cookbook of recipe collector Martha Lloyd, the beloved "second sister" and posthumous sister-in-law of Jane Austen, will be released in the latter half of this month. Previously, the only copy of this manuscript was available for viewing at Jane Austen's House Museum in the United Kingdom. 
But now with your own copy of "Martha Lloyd's Household Book," you can recreate any of Austen's favorite meals in your own kitchen, from white soup to her beloved cheese toastie (comparable to a modern-day grilled cheese).
The book took an incredible 30-plus years to write, even surpassing Austen's death in 1817. When it was first being drafted, the novelist, her sister Cassandra, their mother, and Lloyd were living together in a modest cottage — and while Austen was penning her great works like "Sense And Sensibility," Lloyd was help with many domestic tasks, including cooking. As such, the cookbook is full of Austen family recipes (both published and from friends) that Lloyd picked up on while living with the family, according to Southern Living.
What to expect in 'Martha Lloyd's Household Book'
Even if you aren't familiar with Austen's work, but are simply interested in sampling some cuisine from 19th century England, the meals are very approachable as Austen and Lloyd's laidback life in the English countryside dictated the food they ate.
According to Atlas Obscura, Austen and Lloyd enjoyed a variety of different foods, having access to fresh produce and poultry. They were both educated and knew how to write (and clearly knew how to very well), resulting in Austen scribing her renowned novels and Lloyd composing the household book, which educated women usually kept to be shared with their friends, according to Atlas Obscura.
"Martha got on very well with Cassandra and by taking on extra domestic responsibilities the two women greatly supported Jane's endeavors in writing," says the Jane Austen Literary Foundation website. "Martha's practical help was immeasurable in helping Jane to escape the everyday and focus on other thoughts."
So for all the "Pride and Prejudice" fans out there, you can get even closer to the works with this book filled with recipes and more that permeated the time Austen was an active writer. Going through its pages will almost be like having a meal with Austen herself! 
"Martha Lloyd's Household Book" will be available for purchase on Amazon for $44.90 starting July 22.