This Limited Edition KitchenAid Mixer Has A Bold New Look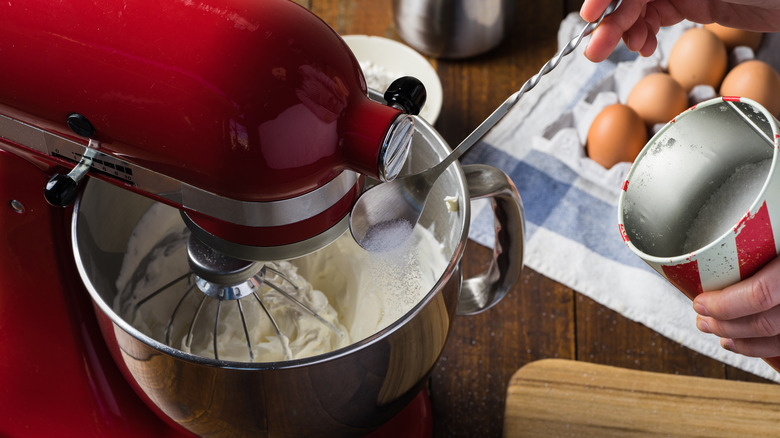 Shutterstock
Most kitchen appliances that stay out on your kitchen counters do so for a reason. Mainly convenience, and let's be honest, laziness. You use your coffeemaker and toaster each and every day, so why bother tucking them away in a cupboard? And the juicer next to the toaster? Well, you may use that again later this week, right? No need to put it away.
A stand mixer, on the other hand, is an appliance most of us will use only a few times a week at most. So under what circumstances would you want to make a stand mixer a regular fixture on your kitchen counter? When you get one that blurs the line between functional device and work of art, of course. That's what the new limited edition Artisan Series Light and Shadow Stand Mixer from KitchenAid is: a blending of artistic form and reliable function that will make it the centerpiece of your kitchen. The classic lines of the mixer itself are there, while the device itself is a lovely pale sand color. The mixing bowl is the real star: it's covered in a gorgeous black geometric design that contrasts with the mixer itself and begs (if not demands) to be left out on the counter for all to see and enjoy.
This is good news, as anyone who has used a KitchenAid stand mixer before knows they weigh roughly as much as a Volkswagen Jetta and are best not constantly heaved from cabinet to counter and back again.
How much does the new KitchenAid stand mixer cost?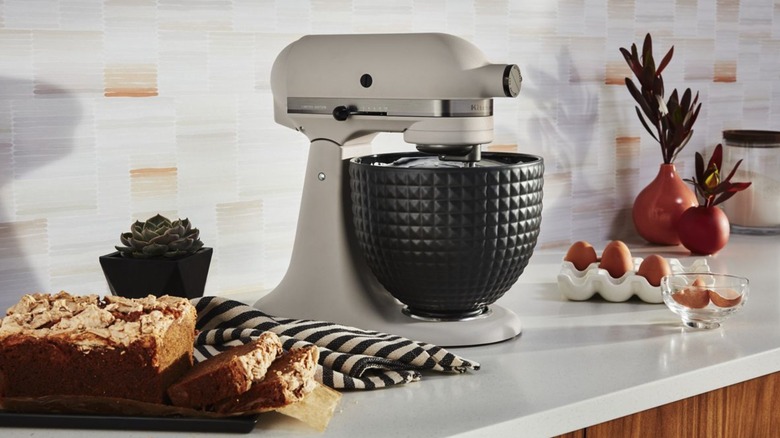 KitchenAid
Great stand mixers don't come cheap, and the stand mixers offered by KitchenAid are certainly great. The new KitchenAid Artisan Series Light and Shadow Stand Mixer is currently priced at $549.99 on KitchenAid's site, which is a lot of cash for a kitchen device. It comes with that stunning new geometric patterned black bowl that has a five quart capacity (in terms of cookie dough, that's enough for about nine dozen cookies in a batch), with a dough hook, a whisk attachment, and a flat beater accessory.
Of course, you can get all sorts of other accessories for your KitchenAid stand mixer, both those that go down into the bowl and those that connect to the front, such as a pasta maker or shredder attachment. 
If the $549.99 price tag is a bit much for you but you still want a sleek new addition to your kitchen, KitchenAid has another new stand mixer offering in the same Artisan Series. The mixer itself is that same pale sandy color, while the bowl is a blackened steel, albeit without texture. For that model, you'll pay $100 less at its current $449.99 price. That's only a bit more than the cost of classic KitchenAid mixers of the same size. The brand also offers several similar pieces of hardware that are a lot lower in price, like a simple white 4.5 quart mixer for $299.99 or a refurbished 5 quart model for $259.99.