Oreo Thins' New Protection Program Helps Parents Camouflage Their Cookies From Kids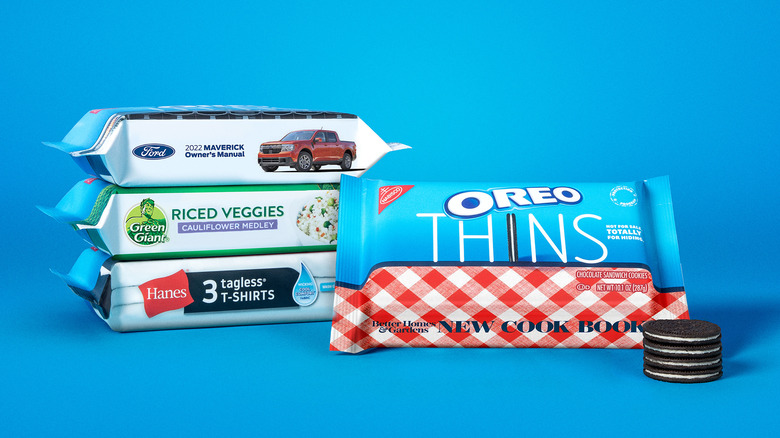 Oreo
There's nothing more disappointing than when you've been waiting all day to enjoy a specific snack or dessert that you've been saving, only to come home and find someone else has already eaten it. And if you are a parent, that probably happens to you more often than most. Kids seem to have a knack for finding and devouring the most delicious thing in the house before you've even gotten the chance to have a bite, which is why Oreo Thins has finally come up with an ingenious way to protect your snacks from your kids. 
The popular cookie brand has just announced the release of their new Protection Program, designed to hide adult's tasty Oreo Thins from the prying eyes of their children. According to a press release sent to Mashed, Oreo Thins has partnered with the iconic brands Green Giant, Ford, Hanes, and Better Homes & Gardens to devise a crafty way to keep your cookies out of plain sight.
Oreo Thins' Protection Program disguises the cookies in misleading packaging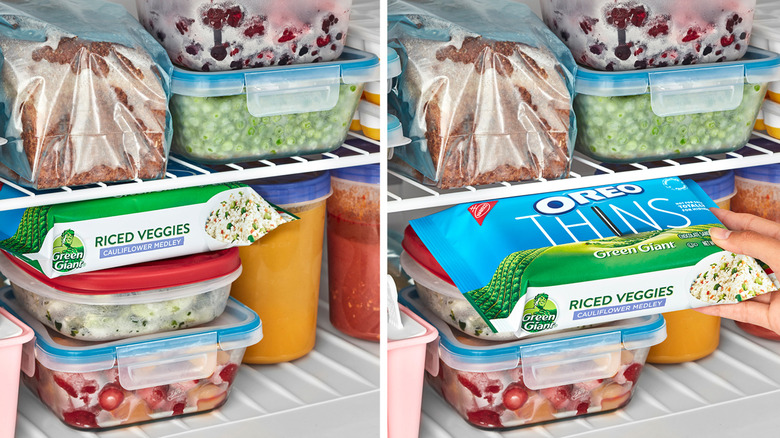 Oreo
The Oreo Thins Protection Program cleverly hides the cookies inside discreet packaging that is camouflaged to look like something completely different, such as the spine of a Better Homes & Gardens cookbook, a Green Giant riced veggie cauliflower medley, a Ford owners manual, or a 3-pack of Hanes tagless T-shirts. When viewed from the side, your family won't be able to tell that the misleading packaging really contains sleeves of delicious Oreo Thins cookies.
Even none other than pop star Kevin Jonas and his wife Danielle are not safe from cookie theft while their children are around. They were fully on board with this creative cookie disguise, making an Instagram post showing off their camouflaged Oreo Thins package, saying: "No more hiding. They're never gonna find it." Oreo fans on social media were definitely impressed with the sneaky new idea. "I love this, i'm always having trouble hiding my Oreos from my sister," Instagram user @ranielise posted. "Lol this is truly genius!" @tishacherry agreed. Fans may also have the chance to win a special-edition Oreo Thins Camo Pack, or even a grand prize of $25,000. The brand is inviting all their fans to keep an eye on @oreo and their other socials in order to learn more about how they can get the chance to become one of the lucky winners.