Cold Lemon Capellini Salad Recipe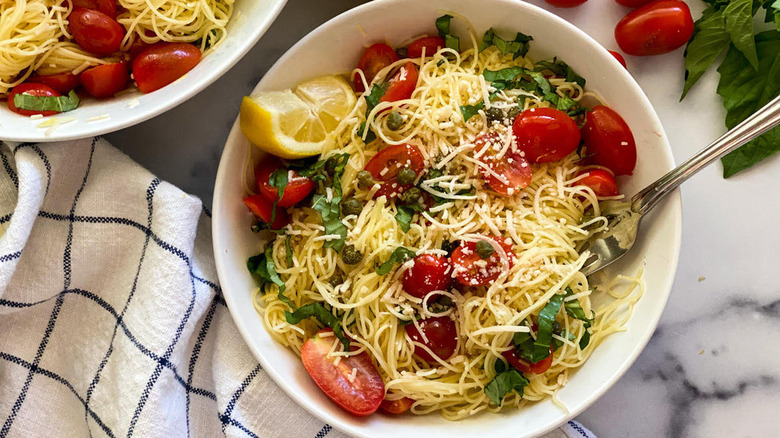 Miriam Hahn/Mashed
Pasta tastes perfect year-round, but there's just something delightfully delicious about a light yet filling cold pasta salad. Sure, spaghetti with red pasta sauce is filling any night of the week, and an alfredo sauce breaks up the monotony if you're on a pasta kick, but this cold lemon capellini salad recipe from culinary master Miriam Hahn is a refreshing change of pace and truly hits the spot. 
With just a few ingredients required to pull off this perfect pasta dish, you won't break the bank fixing it for an intimate dinner for two or for the whole family. Even sweeter than the hint of lemon you can detect in this dish is the fact that it doesn't take long to make, so you'll have dinner dished up and on the table in no time at all, which is perfect for those late nights at work or at the kids' activities. One forkful of this delicious dish, and it will quickly be added into your pasta rotation. Delicioso!
Gather up the ingredients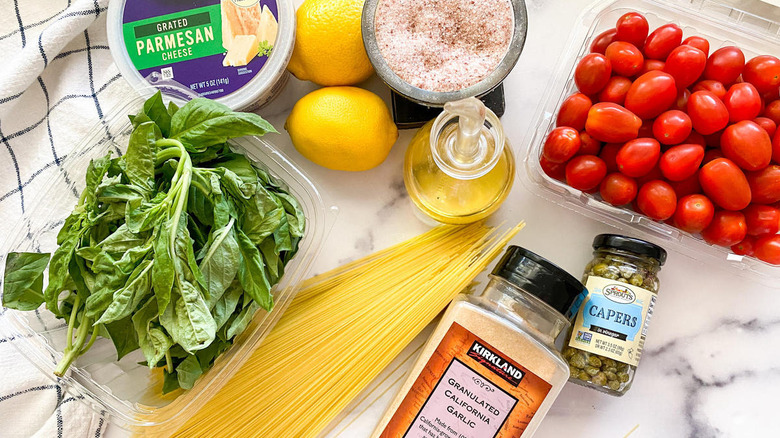 Miriam Hahn/Mashed
For this recipe, you'll need to pick up a box of capellini or angel hair pasta. If for some reason your store doesn't carry this type of pasta, you can substitute with any noodle as long as it's a thin strand-type noodle, Hahn advises. You also can swap this out to a gluten-free version. She recommends the Jovial brand gluten-free spaghetti noodle that she says is "excellent."
You'll also need to grab two lemons, capers, fresh basil leaves, Parmesan cheese, garlic powder or granules, salt, grape tomatoes, and olive oil. If you find a fairly large lemon, just one would work, she says.
"I do use extra virgin olive oil for this, but regular olive oil will work fine too," Hahn suggests.
What role do capers play in this recipe?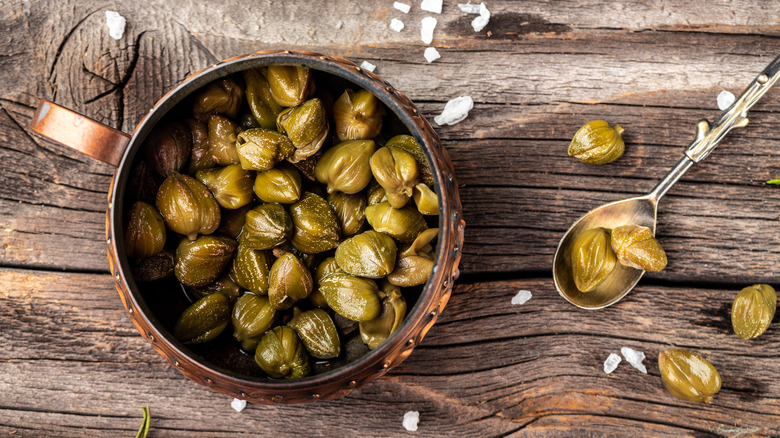 Shutterstock
If you haven't incorporated capers into a recipe yet, just know that they really are important in this recipe. Capers are a salty, umami addition to any good pasta dish. While they may be intense on their own, they're amazing when they're added to a variety of dishes.
Generally, you'll be using pickled capers when they're called for in a recipe. When selecting a bottle of capers at the store, aim for one that has the smallest capers you can find, as they boast a more intense salty-sour flavor that gives this dish a kick.
Boil the noodles for this pasta dish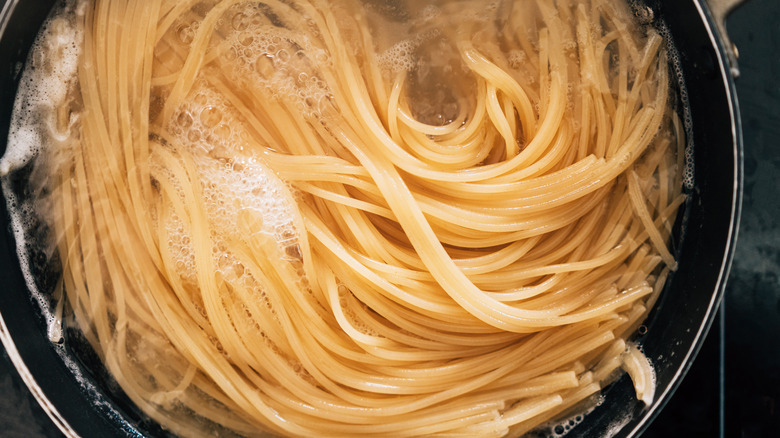 Shutterstock
The first thing you'll do is put a pot of water on the stove and turn the heat to high. Add the pasta noodles to the pot of boiling water when it's ready, following the directions on the pasta's packaging. Did you know that adding a tablespoon of salt to the pot of boiling water gives it a kick of flavor since the noodles absorb the water?
Just remember: It's generally not a good idea to add oil to your boiling pasta water. Once you've added the salt and the noodles, just wait until your pasta has been softened to a nice al dente texture.
Prepare the fresh and flavorful sauce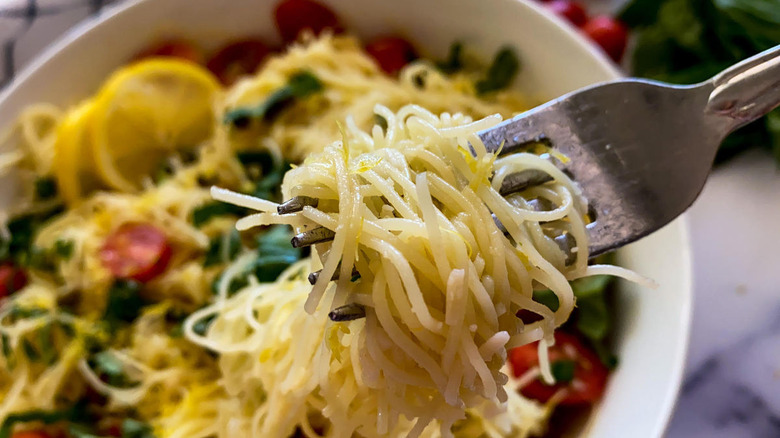 Miriam Hahn/Mashed
While the pasta noodles are boiling away (don't forget to stir them periodically), squeeze the juice of two lemons into a bowl and add in the olive oil, salt, and garlic powder or granules to the liquid, stirring well. If your mouth isn't watering yet at this point, just wait. Hahn describes this dish as "really good."
"I was inspired to create it years ago over the summer. I live in Arizona, and when it is hot, fresh and light entrees are super appealing. The lemon gives it a very fresh taste," she says.
Add in the other ingredients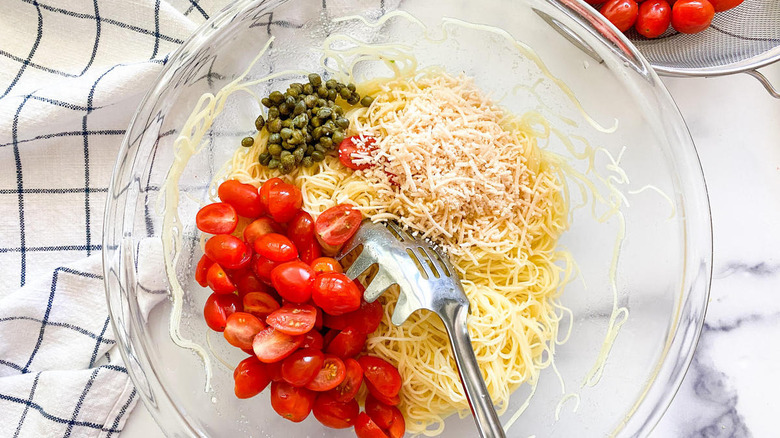 Miriam Hahn/Mashed
As soon as the pasta is done boiling, drain it and place the noodles into a large bowl. Add in the light, refreshing, and lemony sauce to the pasta noodles along with the ripe red grape tomatoes cut in half, the capers, and freshly grated or shredded Parmesan cheese. If you're pressed for time, shredded Parmesan cheese works perfectly fine, but if you have a minute to spare, grate fresh Parmesan for a tantalizing taste.
It's almost ready!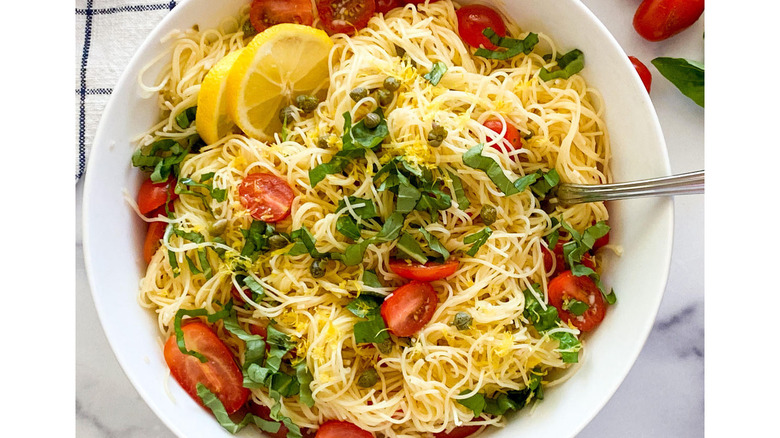 Miriam Hahn/Mashed
Pop the bowl of pasta into the refrigerator to chill for an hour, then before serving, add a dozen or so fresh basil leaves and the zest from a lemon. Sprinkle on more Parmesan cheese and a handful of capers if you'd like. Serve alongside lemon wedges. If you're just too darn hungry to wait an hour, Hahn says you can eat the pasta dish at room temperature as soon as it's mixed up and ready.
"The flavors of the tomato, basil, and lemon really complement each other, and it screams caprese but with a twist," Hahn says.
What pairs perfectly with this pasta dish?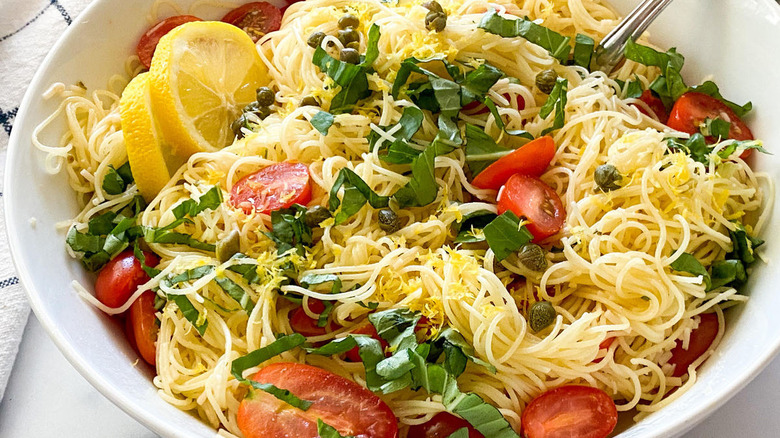 Miriam Hahn/Mashed
Hahn prefers to serve her cold lemon capellini salad with fresh bread but also has fixed it with a light-blended soup like asparagus or cauliflower. "It is great with a hummus bruschetta, too," she says. Not only is this recipe fitting for a busy weeknight, but Hahn also has whipped up a batch for brunch and even for a picnic.
"This pasta is pretty for entertaining. It's super quick to fix and can be made ahead, which is nice. I usually go for very easy dinners during the week for sure," she said.
Cold Lemon Capellini Salad Recipe
Pasta tastes perfect year-round, but there's just something delightfully delicious about a light yet filling cold pasta salad.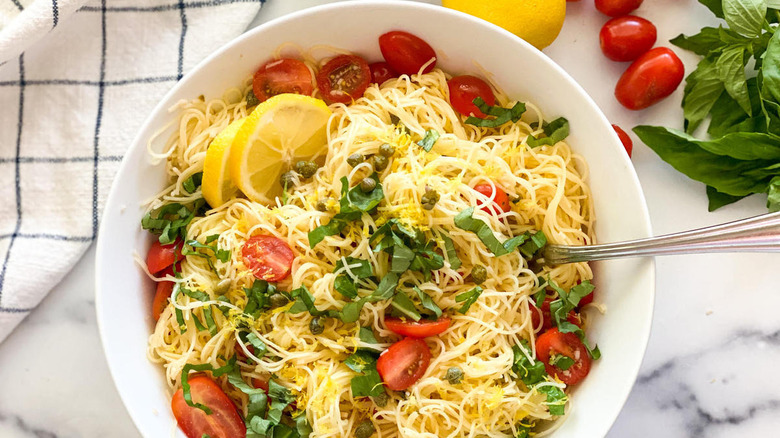 Ingredients
8 ounces capellini or angel hair pasta
Juice from 2 lemons, plus more for serving
3 tablespoons olive oil
1 teaspoon salt
1 teaspoon garlic powder or granules
1 cup grape tomatoes, halved
2 tablespoons capers, plus more for topping
½ cup Parmesan cheese (grated or shredded), plus more for topping
10 to 15 fresh basil leaves
Zest from one lemon
Directions
Start the water for the pasta and add it to the pot when ready.
Mix the lemon juice, olive oil, salt, and garlic.
When the pasta is done, drain and put it in a large bowl. Add the dressing, grape tomatoes, capers, and Parmesan.
Chill for an hour, then add the basil and top with lemon zest, more Parmesan, and more capers if desired.
Serve with lemon wedges.
Nutrition
| | |
| --- | --- |
| Calories per Serving | 397 |
| Total Fat | 16.1 g |
| Saturated Fat | 4.6 g |
| Trans Fat | 0.0 g |
| Cholesterol | 12.6 mg |
| | |
| --- | --- |
| Total Carbohydrates | 49.5 g |
| Dietary Fiber | 3.8 g |
| Total Sugars | 3.9 g |
| Sodium | 417.0 mg |
| Protein | 15.2 g |