Is Chick-Fil-A Actually Getting Banned In New York?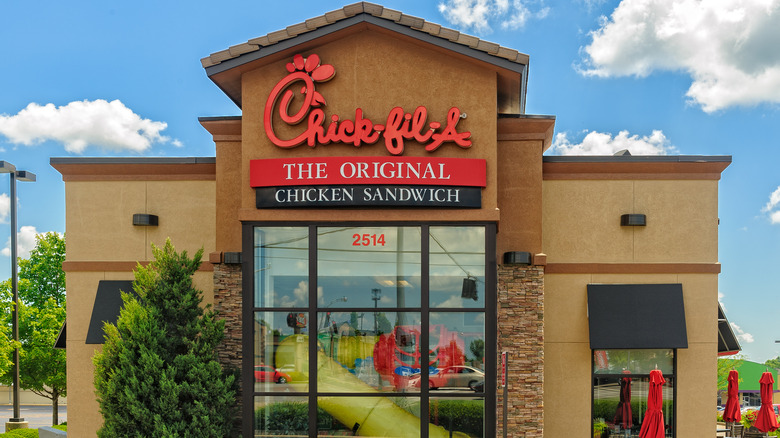 Shutterstock
When Chick-fil-A first opened in New York City in 2015, lines were so insane that even a month after they were established, there was not only one crazy long line, but two. BuzzFeed News likened the chain to Dominique Ansel's cronut shop because of its unfailing wait time. Since then, their website announced the opening of three more storefronts of the franchise in NYC in 2018 amid popularity and fandom.
Business Insider blames the fanfare on its ever-thriving and growing commitment to quality food and even better treatment of customers. Fox 5 DC reported one employee even went so far as to retrieve a customer's phone from a storm drain when she dropped it while helping get her son get out of the car. Another employee, as Good News Network reported, quickly took a  break from his shift to help a World War II veteran change his flat tire. So, is a company with so much acclaim and goodwill actually on the chopping block in NYC? And if so, why?
Well, the rumors are half true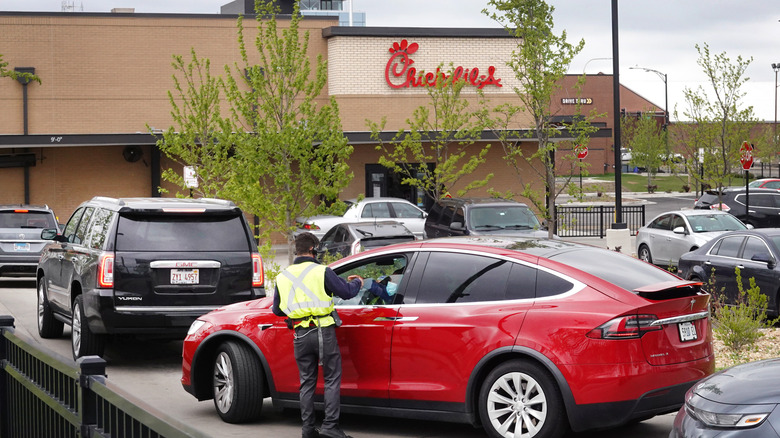 Scott Olson/Getty Images
Chick-fil-A dealt with its fair share of flack for its anti-LGBTQ controversy, which Vox reported in 2019 to have inspired the brand's revamp — aka, no more donations to anti-LGBTQ organizations. But that wasn't enough to stop the vehement discord for pro-LGBTQ politicians. It looks like while New York City residents could be safe from loss, they will be banning Chik-fil-A locations from New York State rest stops along the New York State Thruway. Eat This, Not That! reports that "New York State Assemblyman Harry Bronson has called on the New York Thruway Authority to withdraw building contracts granted to Chick-fil-A," urging them to consider the message it would send to New York's LGBTQ community, and "arguing that the company's presence in New York would '[send] a message to LGBTQ+ individuals and families that [the Thruway] doesn't share the same commitment to their civil rights as New York state.'" 
No news has come out regarding its response just yet — but Chick-fil-A was previously banned from an airport food court for similar reasons, having been "barred from opening a location in the food court of New York's Buffalo Niagara International Airport last year because of the fact that Chick-fil-A has been known to financially support anti-LGBTQ+ groups." Road-trippers will have to keep an eye on the news, but at least the reasoning supports a good cause.