Costco Shoppers Can't Get Enough Of These Buttery Pretzel Twists
If you add butter and salt to pretty much any snack, you're setting yourself up for a savory and slightly sweet treat. If you're looking for the next in snacking, a post recently shared by a popular Instagram account, Costco does it again, declared the Rold Gold Savory Butter Pretzel Twists as, "a must have for snacking!!!" Salted, buttered, and garlicky, this Rold Gold product was deemed as "an absolute symphony of flavor" by The Impulsive Buy, but was previously difficult to get at an affordable price when they were first released in 2020, according to the same review.
However, at Costco, arguably the leader of all wholesale retailers supermarkets, they come at a fairly good price. For $6.99, you can get a 28-ounce bag, which makes it perfect for movie nights with your family or summer picnic dates with your friends. Or, you can obviously keep the whole bag for yourself — we won't judge.
What makes these savory pretzels so special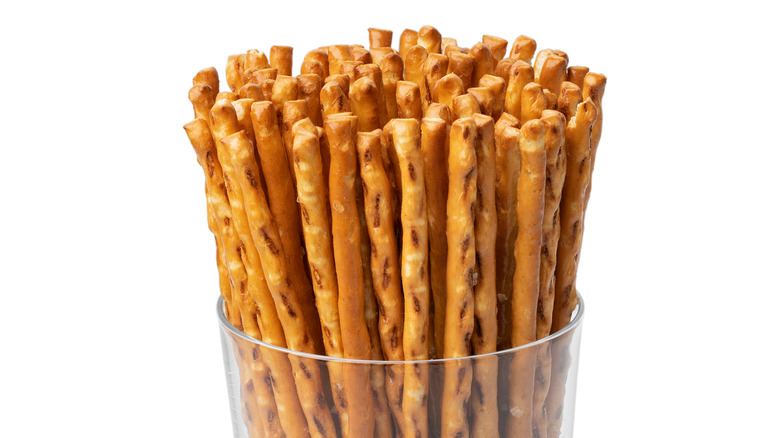 Shutterstock
As one of the largest and most popular wholesale retailers in the United States, Costco always comes in clutch with the best snacks for the best prices.
These pretzels are Rold Gold's recipe No. 5, which means that they are less sugary and focus on a more smooth, buttery flavor, according to Fansided. Don't get it twisted (pun intended), we love sweet, cinnamon flavors on our pretzels too, but nothing beats the original taste of a savory, crunchy pretzel, and that's exactly what this snack offers.
Fans are going wild in the comments section of the @costco_doesitagain post, with one user commenting, "The bag wouldn't make it home...and I'm totally good with that." Another passionate Costco customer expressed a similar sentiment, writing, "These are my fav!" So don't walk, but run to your nearest Costco, before every bag of this salty snack vanishes from shelves.