TikTok's Viral Keto Cheese 'Bread' Isn't Actually Bread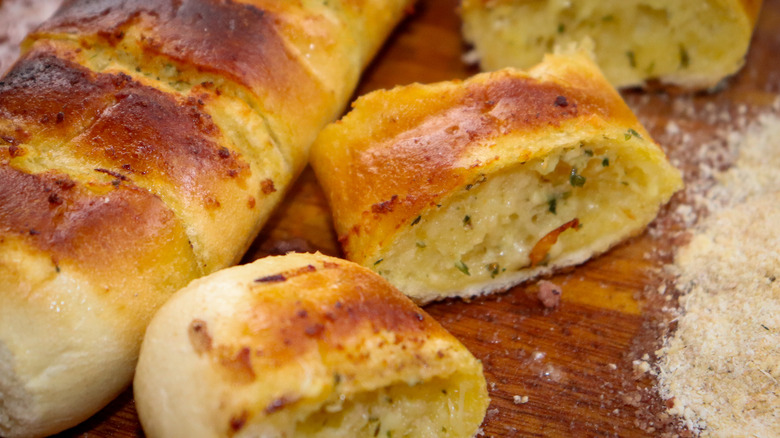 Shutterstock
The toughest part of the ketogenic (keto) diet is the almost complete absence of bread. However, one TikTok user is taking some of the sting out of breadlessness with a keto-friendly cheese bread that has gone viral. The only problem? It isn't actually bread.
Fortunately, most people aren't too bothered by the total lack of yeast, flour, and other typical bread ingredients in the recipe documented by yumwithsuan on TikTok. In fact, the recipe, which mimics the taste and texture of cheesy garlic bread, includes only four ingredients! Those are mozzarella cheese, Parmesan cheese, garlic powder, and one egg. The TikToker bakes it in the oven, but another user opted to make it in the air fryer and reported back that it came out "perfect." Once done, slice, enjoy, and marvel at the end result's bizarre similarity to actual cheesy garlic bread! It won't totally take the place of actual bread, but it's a good mind trick, at least!
The reviews are in on Keto cheese bread
To date, the recipe on TikTok has 80,400 likes and counting. This is not shocking, considering how ultra-popular the keto diet is. So how does the recipe pan out with real people?
Some people point out that the so-called "bread" isn't actually bread. "So it's not garlic bread it's garlic cheese," commented Elizabeth Fields. To that, the TikToker Suanny Garcia replied, "When it's made the consistency is like bread but call it what you want it's still so yummy." So, now that that's settled, is it any good?
"Omg this was so bomb!!!!! Thank you!!!!" commenter Lucy wrote. Estela Castillo echoed the sentiment with, "made it loved it. Thank you, needed a variation."
A few people questioned whether an extra egg should be added. "Anybody else add 2 eggs I just felt like it was too dry," Eboni Lampkin noted. Joni Heaer echoed the sentiment, saying, "Mine is SO dry with just one but I don't want to ruin it." The variation in results could have to do with the particular oven strength or type of cheese used. "I questioned this also, BUT the oil from the cheese made it turn out just right," says kimwalker470. "I broiled mine for 3-5 minutes at the end to crisp up the top."
So, if it doesn't turn out completely amazing the first time, perhaps play with the cook time and intensity. Everyone's oven is a little different. Bon appétit!