Honey Lavender Butter Recipe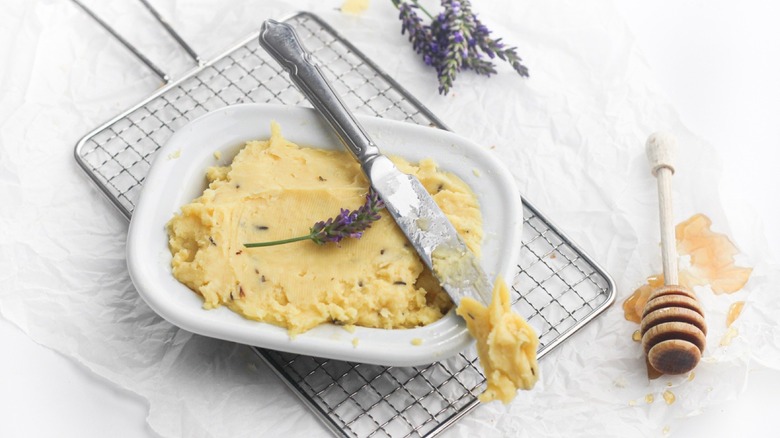 Susan Olayinka/Mashed
There are those of us who enjoy eating butter neat, and others who prefer taking butter to the next level with add-ons like herbs or honey. But you might not have considered adding both honey and herbs to butter, particularly if the herb happens to be one that you're more likely to encounter as a perfume or in a bowl of potpourri.
Recipe developer Susan Olayinka of The Flexible Fridge admits she didn't think lavender was even edible until she'd seen it used as a flavoring in desserts like cake and ice cream, but when she discovered culinary lavender, her world changed. 
She says her honey lavender butter is best enjoyed with any bakery item. In fact, "We've been having it with just plain white crusty bread and it's absolutely delicious," she says. "I think the best thing to have it with something plain ... like plain. You can also have it with plain scones. You can even go as far as baking with it, for example for a cake or biscuits." 
The possibilities are endless.
Gather the ingredients for your honey lavender butter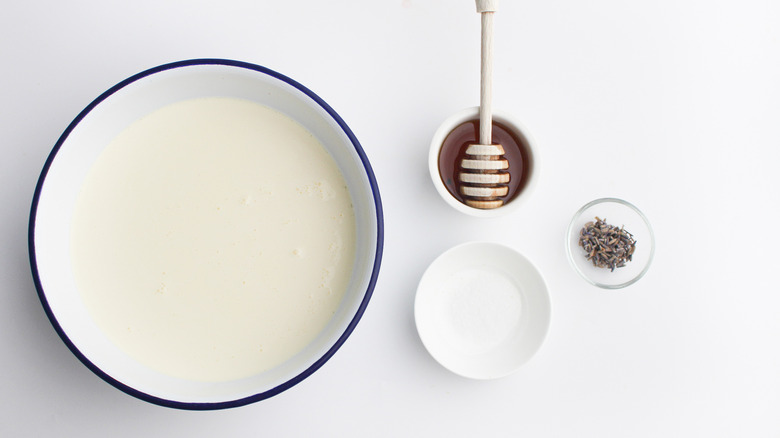 Susan Olayinka/Mashed
If you've never made your own butter before, you'll find that there is not much to the process, particularly if you have an electric mixer or whisk handy. Adding lavender to the mix doesn't add much effort, but it does add a great aroma. 
To start, you'll need heavy cream, honey, and salt, and to perfume your butter, you'll need to use a small quantity of lavender, which you may not have immediately on hand.
You're probably familiar with lavender because it is commonly used in cosmetics and candles, but it might come as a shock to know that lavender is an edible herb, but the kind you use to spice up your food is completely different from the type of lavender you use to perfume your house with — make sure what you have on hand is sold as "culinary lavender" or "edible lavender." Master Class suggests you'll want to be extra careful and use edible organic products from a supplier that you know and trust, especially since lavender from an unknown source might be treated with chemicals that shouldn't be eaten.
"You will need to specifically get edible lavender as a lot of them have been perfumed," says Olayinka. She suggests looking online or at your local farmers market. 
Whip the heavy cream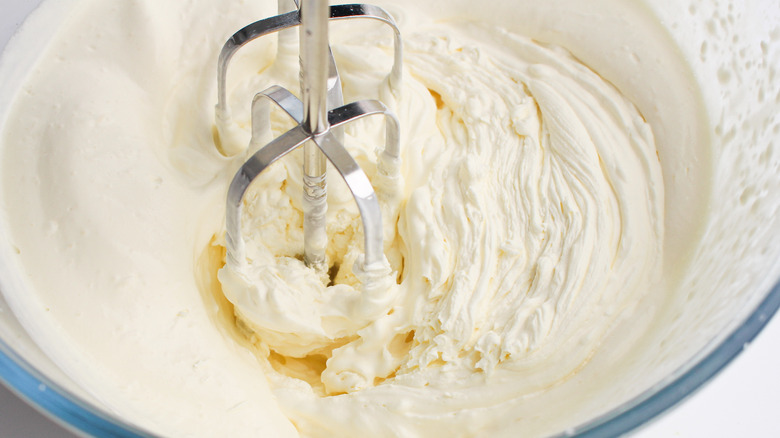 Susan Olayinka/Mashed
Your journey to good, homemade butter begins with cold heavy cream, a bowl, and whisks or beaters. As Serious Eats points out, starting out with cold ingredients and cold equipment helps to ensure that fat globules get together (and stick together) more efficiently. 
Once everything is chilled and ready to go, use the whisk or mixer set to medium, and begin to whip the cold, heavy cream. If the cream sloshes around too much, you might want to start on a lower setting and then crank your mixer up to medium when the cream begins to form beguiling waves that hold their form. 
After two to three minutes you should start seeing the cream produce these soft peaks. After three to four minutes the cream will start to form stiff peaks. And after seven to eight minutes the fat and the buttermilk should begin to separate. Keep going until the fats and the liquids separate fully.
Separate the butterfat from the buttermilk and blend in your seasonings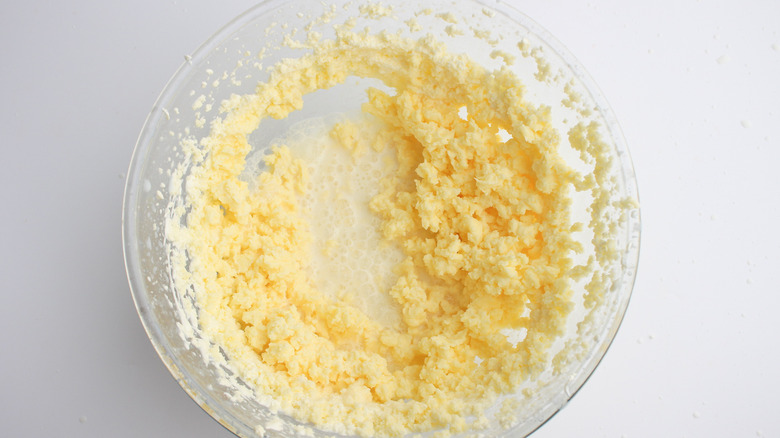 Susan Olayinka/Mashed
Your butter is almost ready when you are left with small golden globes and a thin white liquid. The globules are butter and the liquid is buttermilk.
Drain the butterfat and buttermilk mixture through a sieve, pushing with a wooden spoon. Put your butter (the stuff that doesn't pass through the sieve) in a clean mixing bowl and add the lavender, honey and salt, then mix on low for about five more seconds.
Sieve your butter again (and save the buttermilk)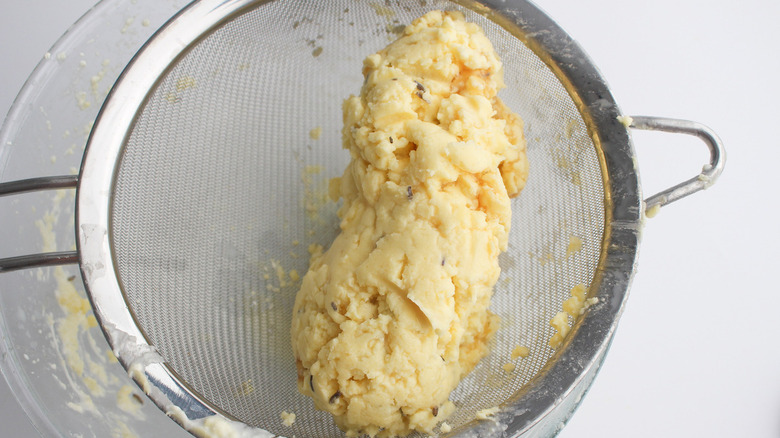 Susan Olayinka/Mashed
Now squeeze out the butter with your sieve and wooden spoon one more time, to remove any extra liquid. Mix the butter with the wooden spoon, transfer it to a container, and chill it for at least an hour before using it.
If you're keen on using the buttermilk in other recipes, you might want to save the liquid from the first press. You can store this buttermilk in a refrigerator for up to a week.
Tips for working with lavender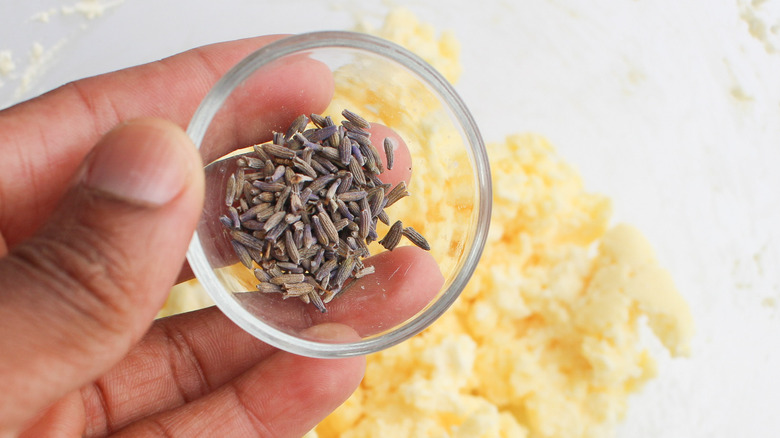 Susan Olayinka/Mashed
If you've never used lavender in your cooking before, there are a few tips on how to get the best out of this special ingredient. It can be used in both sweet and savory dishes, and lavender can even be the unexpected ingredient that makes your latte next-level. 
Also, be careful and use only the quantity of lavender as specified in your recipe, as too much could leave you with a stronger-smelling butter than you might have intended (via Chowhound).
Honey Lavender Butter Recipe
Have you ever made butter from scratch? It's easy! With honey and herbs, this honey lavender butter recipe might change your culinary world.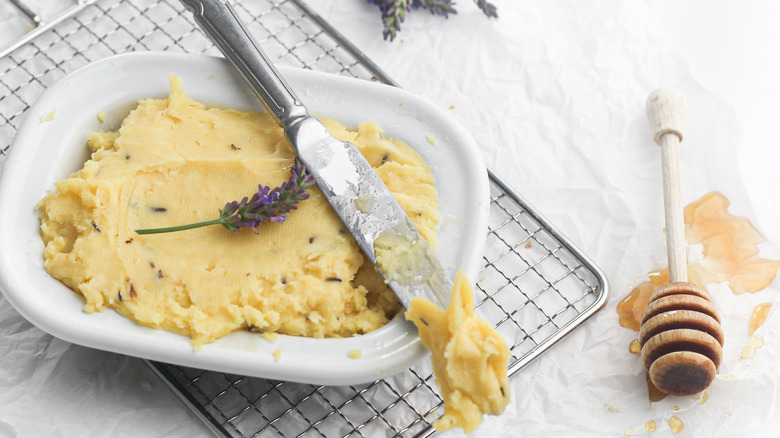 Ingredients
2 cups heavy cream
1 teaspoon edible lavender
4 tablespoons honey
½ teaspoon salt
Directions
In a mixing bowl, beat the heavy cream with an electric whisk or beaters for 7 to 8 minutes.
Once the buttermilk and butterfat have separated, drain the mixture through a sieve, pushing with a wooden spoon.
Place the butterfat in a mixing bowl and add the lavender, honey, and salt.
Whisk or beat the butter on low for 5 seconds.
Drain the butter again to remove any extra liquid.
Stir the butter with a wooden spoon.
Spoon the butter into a container and chill it for 1 hour.
Nutrition
| | |
| --- | --- |
| Calories per Serving | 238 |
| Total Fat | 22.0 g |
| Saturated Fat | 13.7 g |
| Trans Fat | 0.0 |
| Cholesterol | 81.5 mg |
| | |
| --- | --- |
| Total Carbohydrates | 10.4 g |
| Dietary Fiber | 0.1 g |
| Total Sugars | 10.3 g |
| Sodium | 163.1 mg |
| Protein | 1.3 g |