The Worst Menu Item At Popeyes According To 31% Of People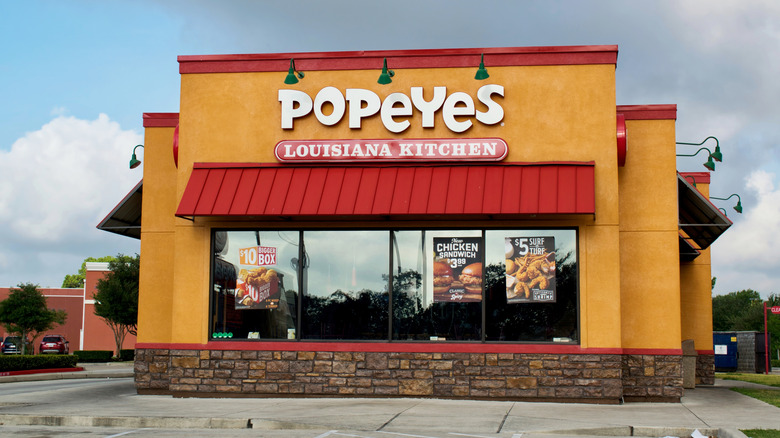 Shutterstock
If you forgot that Popeyes has other menu items aside from its Chicken Sandwich, you'd be forgiven. Their crispy chicken on a brioche bun was essentially the food story of 2019 when it debuted and caused such a craze that they ran out of sandwiches for a while. Indeed, other popular options abound on the Popeyes menu, like Popcorn Shrimp and Handcrafted Tenders.
Popeyes has a dedicated fan base, and their recipes are serious business. When Al Copeland, who founded Popeyes in 1972, filed for bankruptcy in the 1990s, he lost the company but kept an "exclusive contract" with Diversified Food and Seasoning, reports CBS News. Copeland died in 2008, but his estate continued to own Diversified, requiring Popeyes to pay annual royalties to the company for the use of their signature seasonings. Popeyes bought the recipes back in 2014 for a whopping $43 million. 
With that kind of price tag, Popeyes might be disappointed to know that not all of its menu items are as beloved as the fried chicken and shrimp. In fact, we polled 594 Americans familiar with Popeyes, and one particular dish took the lead on what they consider the worst thing to order. If you're just jumping on the Popeyes train or are still unsure of your go-to order, you may want to have a think on this item before trying it, since it seems to be the crowd un-favorite.
People aren't sold on Popeyes Coleslaw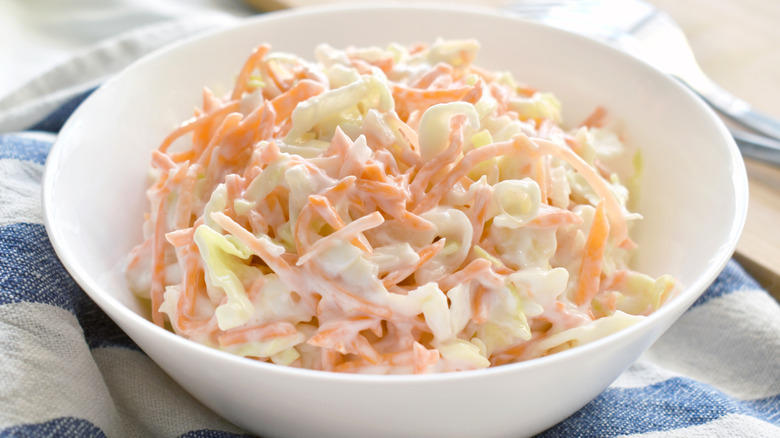 Shutterstock
31% of people we surveyed voted that coleslaw is the worst thing on the Popeyes menu. This unfortunately might be understandable — coleslaw is a mixture of cabbage, mayo, and sugar. It definitely has the potential to be gross. When done right, it's a tangy, refreshing way to cut through the fatty, salty deliciousness of fried chicken. Sadly, it seems Popeyes misses the mark — Time Out says the chain's rendition is bland and actually too creamy. Yuck.
Perhaps surprisingly for what is essentially a cup of mayonnaise, Popeyes Coleslaw only has 140 calories (via Popeyes). But it's still lacking in nutritional value. You are obviously going to be indulging when it comes to a meal at Popeyes, so why not really go for it and stick to the more classically Cajun-inspired dishes of this Louisiana Kitchen? Coleslaw is actually a Dutch dish that came to America when the Dutch settled New York, says Chad's BBQ.
Admittedly, the Red Beans and Rice didn't fare much better: 28.5% of people thought that this was the worst item. Our own findings have placed this side on the "pass" list, simply because it's not that special. Mac and cheese was voted worst by 16.16% of people, and only 5.39% disliked the chain's chicken tenders. When in doubt, there's always that (in)famous Chicken Sandwich, which only 3.7% of respondents said was the worst item — and they're probably just shrimp fans.