The Inspiration Behind Magnolia Network's The Artisan's Kitchen - Exclusive
One thing the past year taught us is that we should definitely be baking more bread at home. And accountant-turned-professional baker Bryan Ford is a huge proponent of that (via Roadtrip Nation).
Ford's book, "New World Sourdough," came out in June 2020 just as people were finding ways to keep occupied at home. And now, the baker is offering tips, tricks, and recipes on his show, "The Artisan's Kitchen."
Ford's show premiered alongside the launch of Chip and Joanna Gaines' highly anticipated Magnolia Network. The home-renovating couple sought out Ford to teach viewers how to use their hands to produce incredible baked goods at home, and episodes of his new show are available now on Discovery+ for viewers to dive in. But even while busy in the kitchen, Ford took the time to sit down for an exclusive interview with Mashed, and he shared all about the inspiration behind the show and how it became a reality.
Bryan Ford reveals why he wanted to share his story on Magnolia Network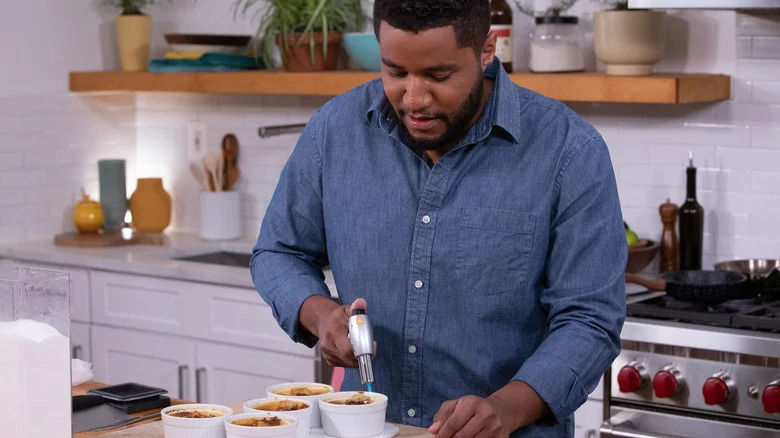 Magnolia Network
For Bryan Ford, when Chip and Joanna Gaines came knocking with the opportunity to helm his own TV show, the timing was serendipitous. "I think that it was an opportunity that, when it came up, and my book was being published at the time, it felt like a good time to further the conversation about exploring different ingredients and types of baked goods in the world," Ford told Mashed.
While Ford has years of experience sharing his recipes through his blog and cookbook, when it came time to join Magnolia Network, he found there was a learning curve with being on-air talent. Fortunately, Ford revealed, Chip and Joanna Gaines have been there every step of the way, even handpicking the recipes featured on the show.
But good timing wasn't the only reason "The Artisan's Kitchen" came to be. For Ford, who has Honduran roots and grew up in New Orleans, the show is a way to introduce people to where he came from. "I want more viewers to know where Honduras is, where my parents come from, where my culture comes from," he said. "I really want people to get on board with the fact that an artisanal baker can look like me, and can look like my parents, or speak the language that we speak." Ford went on to note that he wants people to learn more about the cultural elements of Honduras, along with his Southern roots. "I think it's a great combination of flavors."
To catch baking tips and tricks from Bryan Ford, tune into "The Artisan's Kitchen," on Magnolia Network, available to stream on Discovery+.