How TikTok's Viral Psychedelic Water Might Affect Your Mood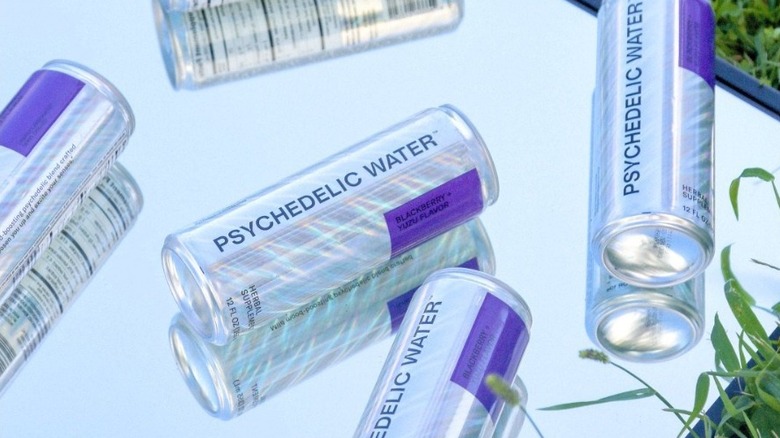 Psychedelic Water
Legal psychedelic drinks – that's what brand Psychedelic Water is offering online, and it's all the rage on TikTok, too. Wait, what!? For those wondering how that's legal, MarketWatch explains that the company uses FDA-compliant ingredients to craft its products, creating the self-described "first legal psychedelic." The product is not advertised as providing a mind-altering face-bending trip but instead as a drink that creates a calming and mild mood-booster. Though it's worth noting that the FDA has not backed those claims, and the Psychadelic Water website advises against giving the beverage to children and women who are pregnant or nursing. 
To quickly answer some questions you might be asking, no, this isn't like legalizing and decriminalizing psilocybin. It's more like selling a supplement drink. The primary ingredients are kava root extract, damiana leaf extract, and green tea leaf extract. Insider contributor Andrea Michelson jokingly referred to Psychedelic Water as "influencer juice," and it's no surprise that TikTokers are flipping over this drink, especially with its eye-appealing and Instagram-worthy holographic cans.
Mood-affecting, not mind-altering psychedelics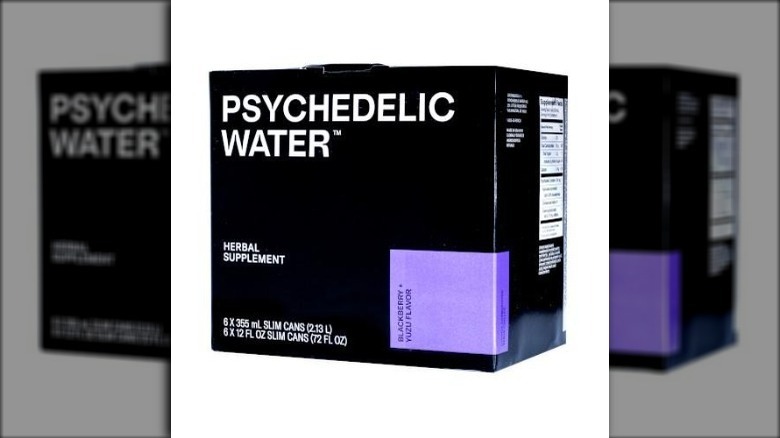 Psychedelic Water
The big question we're all dying to have answered is: Does it work? According to reviewer Andrea Michelson, it does. Said Michelson, "I definitely felt some euphoria creeping up on me. I couldn't wipe the stupid smile off my face, and there may have been some spontaneous dancing" (via Insider). On Reddit, user JessLegs also described the experience, writing that "my boyfriend and I like it a lot. I work in a very high stress area of healthcare, so drinking this really helps my stress levels. It really just chills you out and not much else."
Drinkers can choose Blackberry Yuzu or Hibiscus Lime flavors. As for the taste, the reviews are a bit more mixed. Michelson enjoyed the drink: "I cracked open a blackberry yuzu and was surprised at how good it tasted. The drink was sweet and sparkling, with some herbal notes that hinted at the all-natural blend." Redditor KageEP was less impressed, however, complaining, "The Hibiscus and Lime flavor tastes like industrial cleaner. So far it makes my tongue tingly. That's it. I'll update if anything changes."
The cans come in 6-packs for $33, and currently, you may be able to snag free shipping at the Psychedelic Water website. In addition to spontaneous dancing and chillness, the drink may cause drowsiness. So people should take precautions when consuming this potentially mood-altering beverage. Those include not driving or operating heavy machinery and making sure to check with a medical professional for any risk of health complications.