Bobby Flay Was So Inspired By This Burger He Created 2 Dishes Based Off It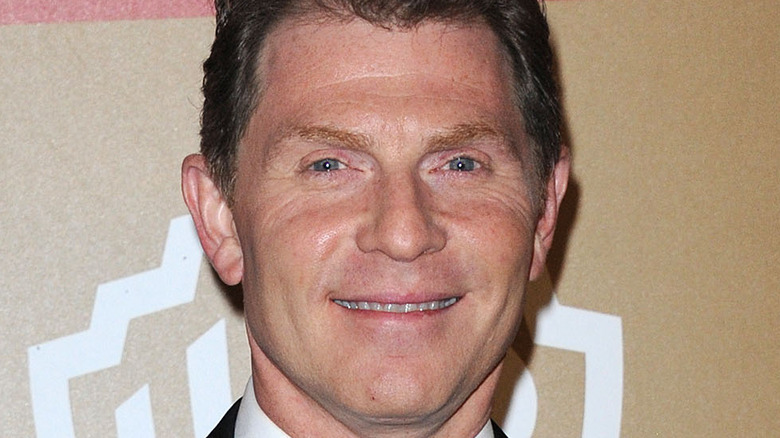 Shutterstock
We may receive a commission on purchases made from links.
When it comes to burgers, celebrity chef, cookbook author, and television host Bobby Flay has a lot to say. He's the owner of Bobby's Burger Palace, a chain of fast casual burger joints with locations in Connecticut, Georgia, and Maryland. He has often featured burger recipes on his cooking shows, including a Juicy Texas burger with pickles and coleslaw, and an L.A. Burger with Monterey Jack cheese and guac. 
Flay even has an entire cookbook devoted to the delicious dish, "Bobby Flay's Burgers, Fries, and Shakes," featuring a Cheyenne burger slathered in BBQ sauce and crowned with bacon and shoestring onion rings. The book also features a recipe for a Santa Fe burger topped with queso sauce, a charred poblano pepper, and crumbled tortilla chips. As it turns out, this burger was inspired by a dish Flay once ate in New Mexico. Read on to get the backstory of this influential dish.
A memorable green chile cheeseburger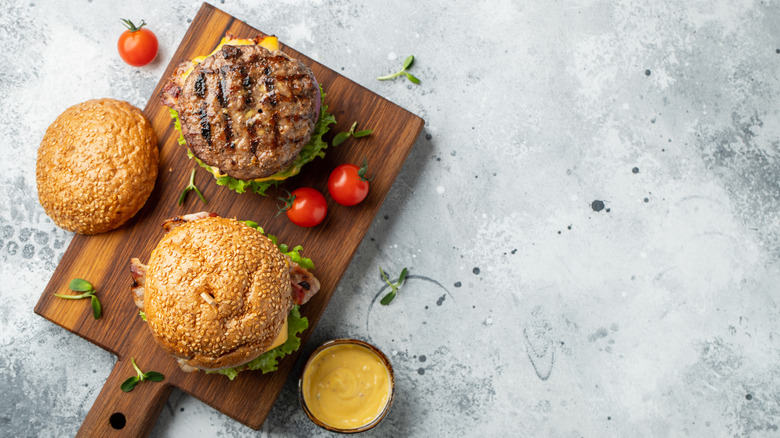 Shutterstock
The television host told Delish he once dined in a New Mexico restaurant called La Casa Sena, an occasion that made a huge impression on his palate. "I was served an incredibly good green chile cheeseburger," Flay recalled. Though the storied burger is no longer on the restaurant's menu, it left an indelible mark on the chef, who liked it so much that he adapted it to become the Santa Fe burger featured in his 2009 cookbook "Bobby Flay's Burgers, Fries, and Shakes." 
The Santa Fe burger — featuring classic the Southwestern ingredients of green chiles, cheese, and corn — is also served at Bobby's Burger Palace locations. Not only did Flay memorialize the burger in his cookbook and on his Burger Palace menu, he also served a version of it at Mesa Grill, currently located in Caesars Palace in Las Vegas. No word on exactly what the dish consisted of, but knowing Flay and his talents, we're sure it was delicious. Now excuse us while we whip up some queso and roast some peppers to create our own Flay-style burgers.