Things You Can Make In A Waffle Iron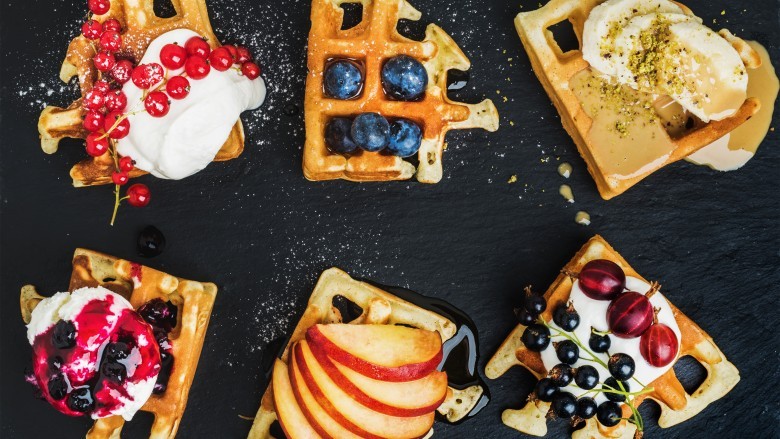 Shutterstock
Curious about experimenting with your waffle iron? As it turns out, there's a whole wide wacky internet world out there of people trying to waffle just about anything and everything in their kitchen, with various levels of success. Just ask the crew over at the Will it Waffle? blog, who have waffled french fries, tofu, and even filet mignon. If you'd rather dive right in to some of the tried and true waffling methods, look no further. I have rounded up the best of the waffle creations out there so you can be waffling in no time.
Frittatas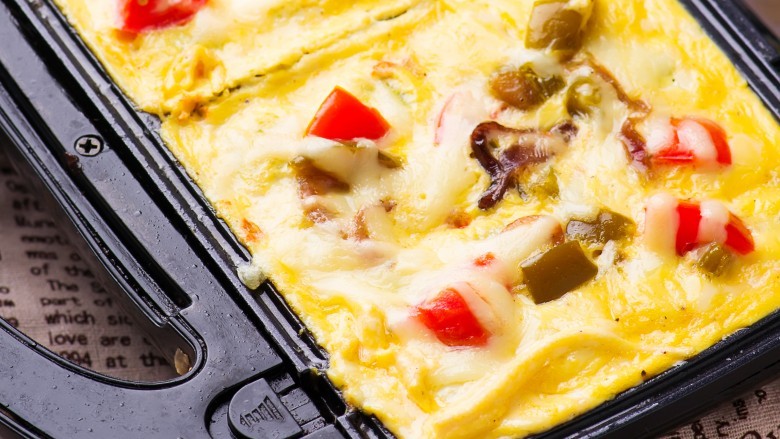 Shutterstock
Is it an omelette? Is it a frittata? Does it really matter what you call it? I would vote for the fritaffle. Or maybe a walette. Either way, cooking eggs scrambled up with your favorite omelette fillings on the hot waffle iron is a clever way to serve up breakfast. The resulting eggy waffle is a handheld delight, and would freeze and reheat well later in the week for a smart grab and go, protein-filled bite. My choice would be a Greek fritaffle with feta cheese, chopped tomatoes, diced onions, and baby spinach.
Hash browns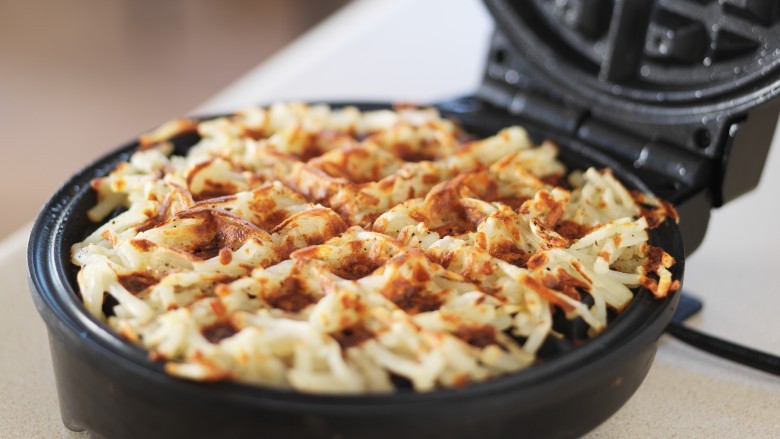 Shutterstock
If you love crispy hash browns, have I got the waffle iron idea for you. Shred your potatoes with the shredder attachment of a food processor, place them in a clean dish towel, and wring out as much of the moisture as you can. Place the shredded potatoes on a well-oiled, piping hot waffle iron, and press down for some serious hash brown magic. Don't feel like peeling and shredding potatoes... well how's this for easy? Thaw a bag of frozen tater tots, and arrange in a single layer on your waffle iron, pressing down firmly to achieve deliciously crispy hash browns. Yum. If you're loving the waffled tots idea, try layering them for a pressed cheesy tot sandwich.
Stuffing waffles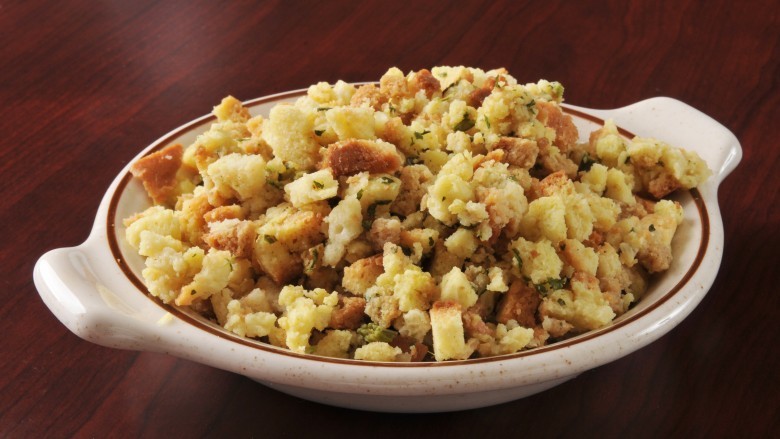 Shutterstock
And now for an incredibly clever and drool-worthy answer to that age old, post-Thanksgiving question — what to do with leftovers? Stick 'em in the waffle iron, of course! Kelly at Just a Taste mixes her warmed, leftover stuffing with additional chicken broth and 2 eggs. The stuffing is arranged on a thin layer on the waffle iron, and cooked long enough for the raw egg to cook through, and the stuffing to get browned and crunchy at the ends. Serve with hot gravy and a dollop of cranberry sauce. Stuffing waffles would also make an awesome base as the "bread" of a leftover Thanksgiving sandwich.
Mac and cheese waffles
Looking for some more leftovers to stuff into the waffle iron? Apparently, it's possible to have leftover mac and cheese (just not in my house). Hungry YouTubers combine the leftover mac and cheese with crumbled bacon, roll it into balls, and dredge the balls in egg wash and panko bread crumbs. The mac and cheese balls are then placed on the hot waffle maker for three minutes, until they're perfectly crisped. Drizzle with hot sauce and call it a day.
Grilled cheese
If you think of your waffle iron as the coolest panini press ever, you'll begin to imagine all the fun sandwich ideas just begging for crispy squares to be pressed into them. Start out by making a classic grilled cheese — white bread, softened butter, and your favorite cheeses. Keep it simple, or build from there... I adore fresh mozzarella with tomato and pesto sauce, or maybe salami and provolone with a thin layer of mustard. This is a great way to jazz up those grilled sandwiches for the family — I told my daughter that her waffled grilled cheese was a tic tac toe board.
Pizza waffles
Ok, I would probably describe these as more of a waffled calzone than a pizza waffle, but who am I to argue... they look delicious either way. Pizza dough is rolled out and dropped on the hot waffle iron, then topped with your favorite pizza toppings (I think I would go for black olives). Press, and mangia! This would be another fantastic one for the kiddos — just don't let those little hands get too close to that hot iron! Serve with some extra marinara for pizza waffle dunkers. Try making a large batch and freezing for reheating on movie night.
Quesadillas
Quesadillas are essentially just a sandwich using tortillas for bread, so it stands to reason that the waffle maker could make some intriguingly tasty waffled quesadillas! Ree Drummond, The Pioneer Woman, gave this idea a spin with an authentic and simple combo of cheddar-jack cheese and salsa. Colleen at Souffle Bombay made it a full meal with the easy addition of shredded rotisserie chicken and chopped green bell pepper. Matt at Real Food by Dad went for the obvious tasty choice and created a breakfast quesadilla waffle complete with scrambled eggs, cheese, and bacon. Check out the above video for a healthy version with turkey breast and veggies.
Falafel waffles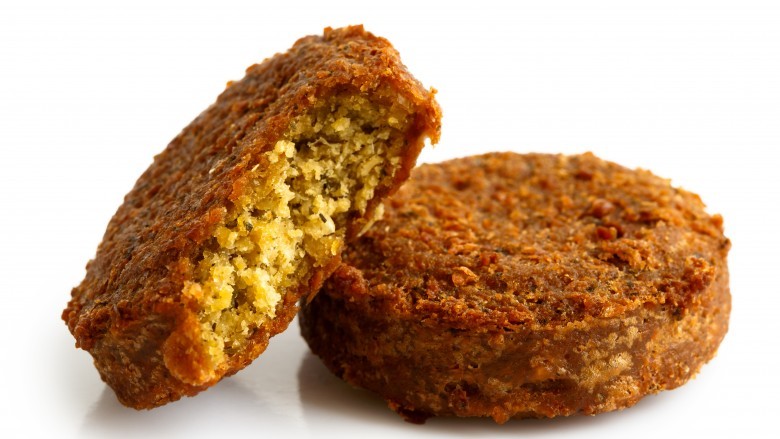 Shutterstock
Falafel waffles — I don't know what's more fun, saying it, or eating it! Good thing we can do both. Carla Hill of Top Chef and The Chew fame shows us how to whip up a homemade classic falafel recipe using chickpeas, herbs, and spices, with the option of subbing chick pea flour for all-purpose flour if you want a gluten-free falafel. Everything comes together in the food processor, and then transfers to the hot, oiled waffle iron until nicely browned and crisp. Carla tops her falafel waffles with fried eggs and a zippy harissa tahini spread.
Chicken and waffle skewers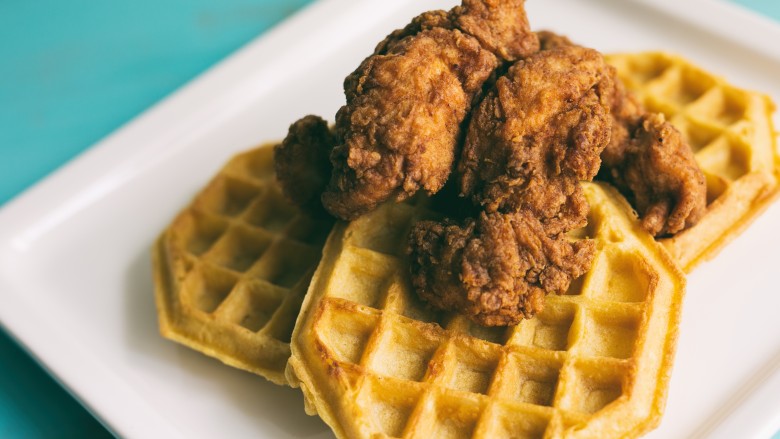 I feel just the teensiest bit sorry for anyone who hasn't experienced the magic that is chicken and waffles. My husband (then-boyfriend) first introduced me to this culinary wonder years ago when we took a trip to Atlanta, and visited the famous Gladys Knight's Chicken & Waffles restaurant. When my BFF and I started our small catering company, I knew I wanted to find a way to serve this dish in a bite-sized fashion, and I see I am not the only one to come up with this genius idea. Crispy chicken nuggets are skewered and dipped liberally in waffle batter, then cooked on the waffle iron. Dip in a creamy mixture of pure maple syrup with plain Greek yogurt.
Cookie waffles
There's no shame in instant cookie dough, especially with all the new organic and health(ier) brands and variations coming out lately. I have got some Annie's organic chocolate chip in the fridge right now, and trust me, it will not go to waste. That's why I am uber-excited to try out dropping those little squares of goodness onto my hot and greased waffle iron. Sure, I won't make an entire batch all at once, but sometimes all you really need is two...or three...or four cookies to satisfy that ooey gooey sweet tooth. If all goes well, I'll move on to the recipe in the above video that showcases my favorite of all cookie combos — oatmeal chocolate chip.
Wonuts
Have you tried a wonut yet? This delectable hybrid of a donut and a waffle is the brainchild of the folks at the now shuttered Chicago's Waffles Cafe, who took the world, and the internet by storm in 2014 with their trend-setting creation. Belgian waffle batter (which makes a crispier, yet fluffier waffle than traditional) is prepared and cooked on the waffle iron, but then the waffle is fried like a donut, and covered in all manner of donut glazes and toppings. Hence, a wonut! Popsugar offers us this handy video tutorial on how to recreate this sugary masterpiece at home. Regular-sized waffles can be cut down to wonut size using a biscuit cutter, or if you are really dedicated to your wonut adventure, you could even invest in a mini waffle maker.
Churros
Looking for a solid excuse to enjoy churros for breakfast? Who isn't? Those delightfully sweet and spicy sticks of hot fried dough would be delicious anytime of day, but receive official breakfast status when made on the waffle maker. Even better? The waffle maker offers a way to skip the bother of deep frying your churros altogether, making them an easy treat with not much of a mess. Dip the finished churro waffles in melted butter, then dip in cinnamon sugar, and be sure to make the cinnamon and cayenne-tinged chocolate sauce for dipping!