Jack In The Box Has Exciting News For Fans Of Its Tiny Tacos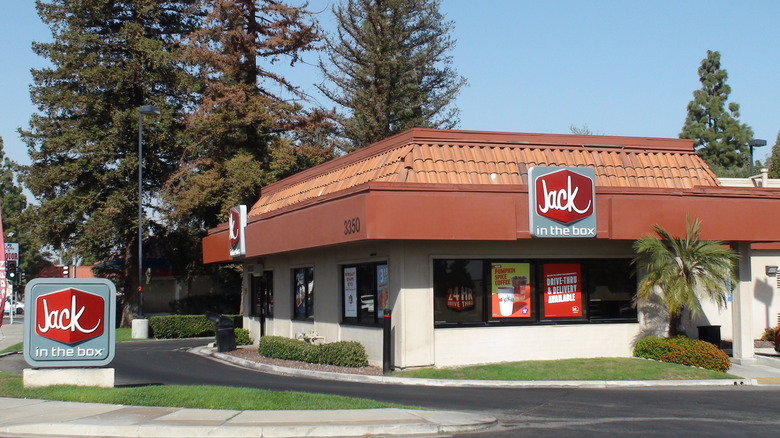 Shutterstock
The popular fast food chain Jack in the Box has something for everyone. While other restaurants may be content to stop just with burgers and fries, Jack in the Box's varied menu includes the classics like hamburgers, fries, and chicken tenders. However, they also aren't afraid to get a little more adventures with the menu, adding items like tiny tacos, jumbo egg rolls, and stuffed jalapeño poppers to their offerings (via Jack in the Box).
This more unique menu is a big part of what makes the eatery so popular, with customers flocking to Jack in the Box to get food they can't get at any other restaurant chain. And now, the brand has planned an exciting new addition to one of their most successful menu items that fans are sure to love. The company has just announced they will be adding Spicy Tiny Tacos to their menu, giving one of their most beloved classics an extra special kick.
Jack in the Box's Spicy Tiny Tacos will be released in August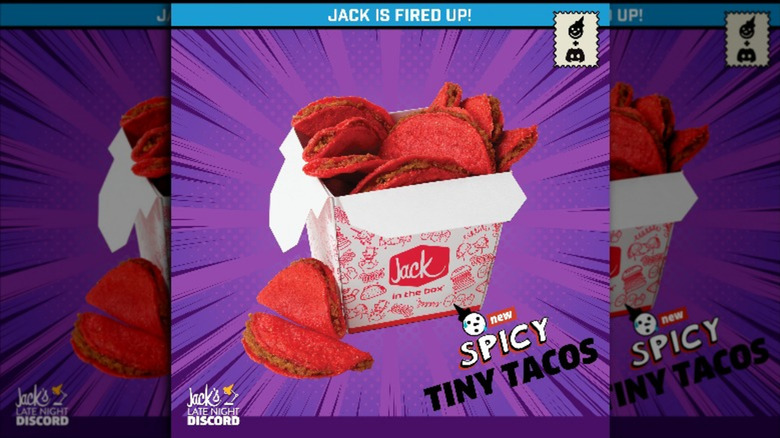 Jack in the Box
Jack in the Box's tiny tacos were first released in 2019, according to FoodBeast. The new, bite-sized versions of their staple regular sized tacos are available in five, 10, and 25 piece orders and served with mouthwatering taco sauce, buttermilk ranch, and avocado lime sauce dips. They were first added to select menus for a limited time in Dallas, Fresno, and Austin, but the tiny tacos performed so well that they soon became a regular menu item.
They have since become a fan favorite, so Jack in the Box has decided to make even more varieties of the tiny taco available, first with their "Loaded" Tiny Tacos, which are covered with nacho cheese, hot sauce and shredded lettuce, and now with the Spicy Tiny Taco, which will turn up the heat and deliver a brand new flavor experience to taco fans. The new Spicy Tiny Tacos will be available to order at all Jack in the Box locations on August 9.