Easy Fresh Summer Vegetable Pasta Recipe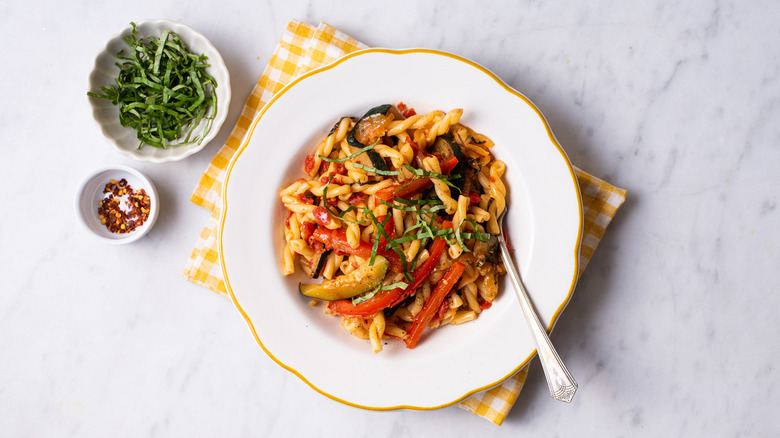 Alexandra Shytsman/Mashed
Every summer at the farmers market, one fact becomes abundantly clear: Mother Nature is very generous with her zucchini supply. So when this time of year rolls around, we could all use some new ideas for how to put the bounty to good use. Meet this easy summer vegetable pasta, a.k.a. the Italian Riviera in a bowl.
This pasta recipe is a delicious way to showcase fresh summer zucchini. It's packed with fresh vegetables — and is vegan too! — so it's healthy as well as satisfying. The sauce comes together quickly in one pan, and the fresh basil complements the summery flavors of zucchini, bell peppers, and tomatoes. This recipe is simple enough for a weeknight, and it keeps well, so you can always make extra for leftovers to enjoy the next day. Make this once, and it's sure to become a hit in your household all summer long.
Find more healthy ideas from Alexandra Shytsman on her plant-based recipe blog, The New Baguette.
Gather the ingredients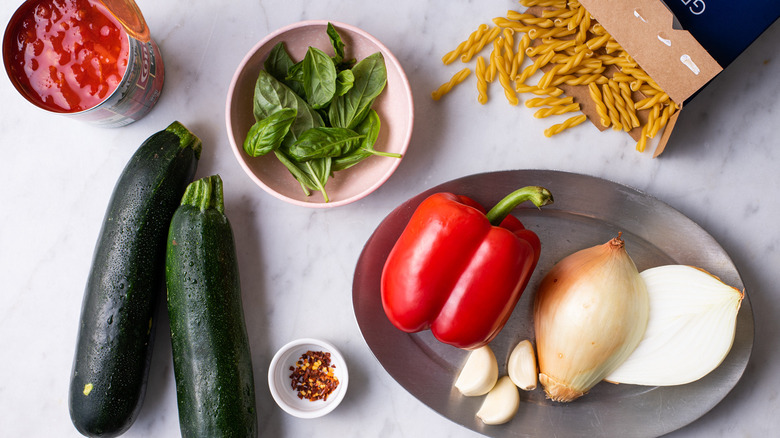 Alexandra Shytsman/Mashed
To make this dish, you'll need a couple of zucchinis, a bell pepper (any color), a yellow or red onion (or a couple of shallots), fresh garlic, chili flakes, canned tomatoes, fresh basil, and your favorite short pasta (we recommend gemelli!). If you have yellow summer squash instead of zucchini, it'll work just as well here. If you stumble upon some garlic scapes, chuck them in, too! Since this is such a simple sauce, we recommend getting the best quality vegetables you can find — preferably local ones from a farmers market.
Sauté the vegetables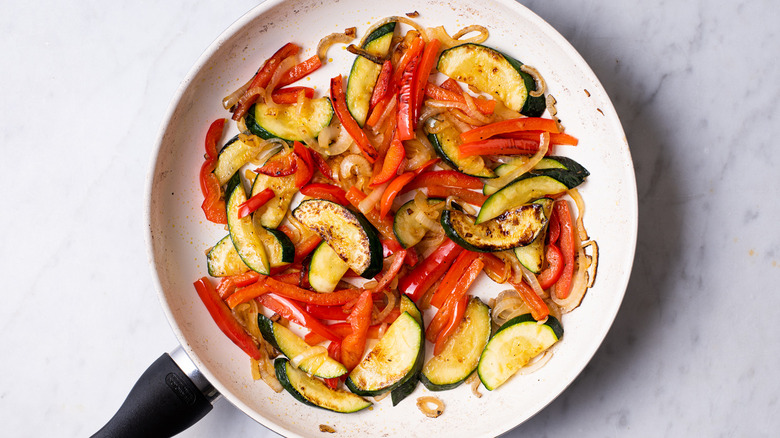 Alexandra Shytsman/Mashed
Start the sauce by heating some extra virgin olive oil in a pan over medium-high heat — we recommend a non-stick pan, just to be safe. Add the sliced onions, peppers, and zucchini, and season with salt and pepper. Cook the vegetables, stirring them every now and then, until they are slightly softened and browned in places, about eight minutes. Don't overcook them, though — you don't want the vegetables to get mushy. They should maintain some texture and a bright color.
Meanwhile, bring a large pot of water to a boil for the pasta.
Finish the sauce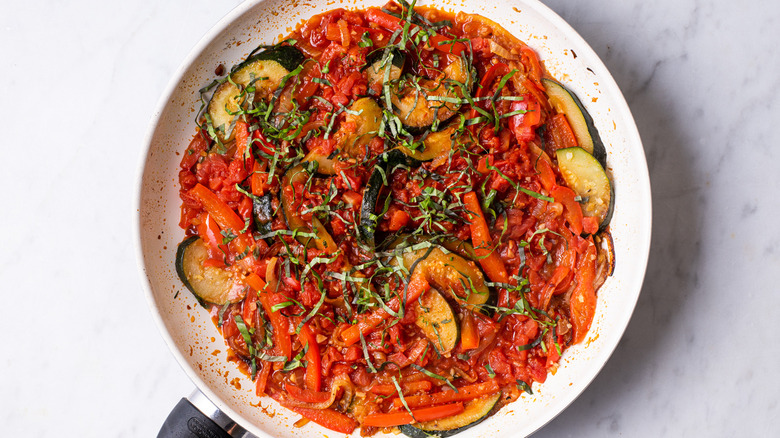 Alexandra Shytsman/Mashed
When the vegetables have some color on them, add garlic and chili flakes to the pan and cook for just another minute or so (be careful not to burn the garlic). Then stir in a 14-ounce can of diced tomatoes. Cover the pan tightly with a lid, reduce the heat to a bare simmer, and cook the sauce for 10 minutes. It's important to keep the pan tightly covered the whole time because you don't want the liquid to evaporate.
Finish the pasta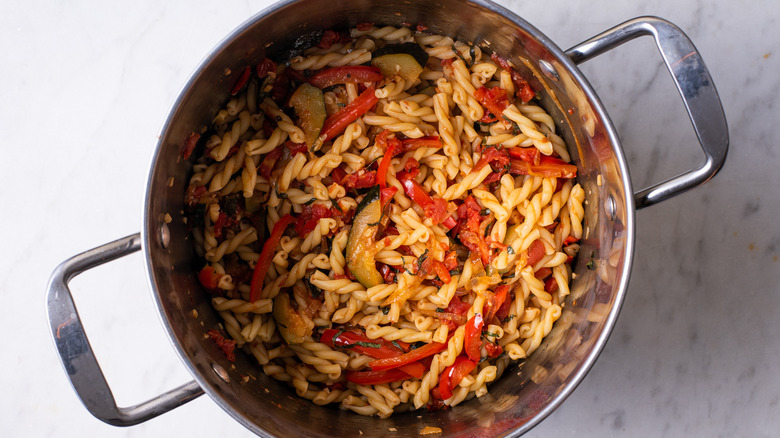 Alexandra Shytsman/Mashed
While the sauce simmers, generously salt the boiling water and cook your pasta according to package directions until al dente. Scoop out a quarter-cup of the starchy water before draining. Then drain the pasta, return it to the pot, and add the vegetable mixture as well as the reserved pasta water. Adding pasta water to the final dish creates a silkier, creamier consistency. Combine and season to taste, if needed. Sprinkle with basil before serving.
Now enjoy! This is a summer pasta recipe that you'll be coming back to again and again.
Easy Fresh Summer Vegetable Pasta Recipe
This recipe is simple enough for a weeknight, and it keeps well, so you can always make extra for leftovers to enjoy the next day.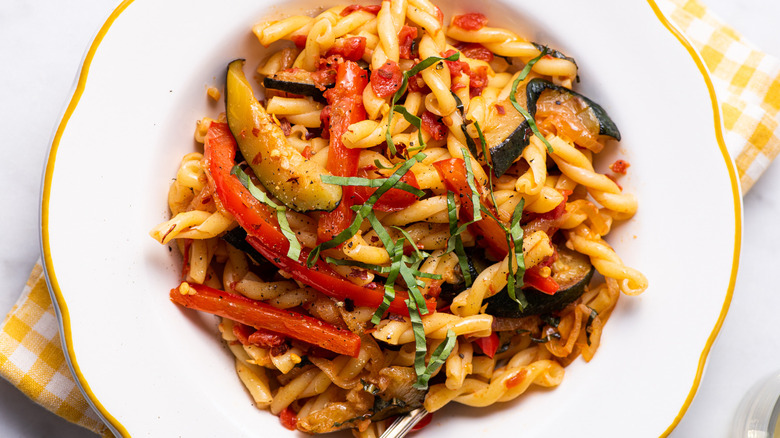 Ingredients
2 tablespoons extra virgin olive oil
2 small zucchinis, halved lengthwise and cut into ¾-inch-thick slices on a diagonal
1 small yellow onion, sliced
1 red bell pepper, sliced
Fine sea salt, to taste
Freshly ground black pepper, to taste
3 medium garlic cloves, minced
¼ teaspoon red pepper flakes
1 14-ounce can diced tomatoes
1 pound short pasta, like gemelli, farfalle, or fusilli
Handful of fresh basil, cut into thin ribbons
Directions
Heat the olive oil in a large skillet over medium-high heat. Add the zucchini, onion, and bell pepper. Season with ¼ teaspoon salt and a few grinds of black pepper, and cook until the vegetables are starting to soften and brown in places (but aren't yet mushy), stirring occasionally, about 8 minutes.
Add the garlic and red pepper flakes and cook for 30 seconds more. Then stir in the tomatoes and cover tightly with a lid. Simmer gently for about 10 minutes.
Meanwhile, bring a large pot of water to a boil. Season generously with salt and cook the pasta according to package directions until just shy of al dente. Reserve ¼ cup of the pasta water and drain the pasta.
Return the pasta to the pot and add the tomato-vegetable mixture and basil. Stir to combine. Taste and adjust the seasonings if needed. Serve immediately.
Nutrition
| | |
| --- | --- |
| Calories per Serving | 352 |
| Total Fat | 6.0 g |
| Saturated Fat | 0.9 g |
| Trans Fat | 0.0 g |
| Cholesterol | 0.0 mg |
| | |
| --- | --- |
| Total Carbohydrates | 63.2 g |
| Dietary Fiber | 4.9 g |
| Total Sugars | 6.1 g |
| Sodium | 511.1 mg |
| Protein | 11.4 g |