Starbucks' New Color-Changing Cold Cup Is Turning Heads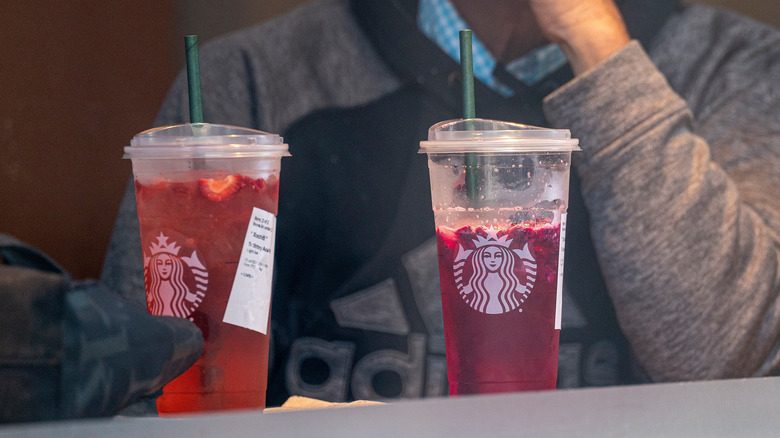 Bloomberg/Getty Images
Starbucks appears to have been displeased with how its color-changing cold cups were initially received. Or, at least, the chain figured that it could use a boost in attention as it decided to feature the cup on its TikTok account yesterday. The video shows how filling Starbucks' reusable cold cups with cold water (and ice) causes confetti designs to appear along its walls and alters the shade of the reusable straw's color too. The TikTok was originally posted by user @whimsicalfawn.
"Yessss," one person exclaimed, "I need one." To varying degrees, that enthusiasm welcomed the cup throughout the 490 comments the post has earned.
PopSugar reported back when the cups were first introduced in May that they only cost $5, though you can get the whole set of five color-changing cups with a $20 purchase. These cups, however, are only a limited time offer. These tumblers, which come in red, aqua, blue, green, and purple, will be available for as long as supplies last. So, if you hissed "Yessss" upon watching the TikTok video, you should hurry.
These cold cups play into current trends
It should not surprise that cold cups are being sold in the summer. After all, one would assume that hot weather and cold drinks go together. And, as Yahoo! Finance reported earlier today, this has proven to be the case and more so.
It turns out, 74% of all drinks that Starbucks sold during the third fiscal quarter have been cold drinks. This means that while there was probably a bump in June, cold drinks must still have had healthy sales starting in April. "We continue to see strong demand for Starbucks Cold Brew, Nitro Cold Brew, and Starbucks Refresher beverages, while iced shaken espresso alone contributed more than a third of the iced espresso growth in the quarter," Kevin Johnson, the CEO of Starbucks, is reported saying in a conference call. This appears due to the fact that the younger consumer base overwhelmingly prefers cold drinks over hot ones. In that case, even if you miss out on the confetti cold cups this time around, you might still be in luck. Starbucks is unlikely to let slip the opportunity to capitalize on the wave trending towards their cold beverages.