Olympic Gymnast Sunisa Lee Ate This Food To Celebrate Her Gold Medal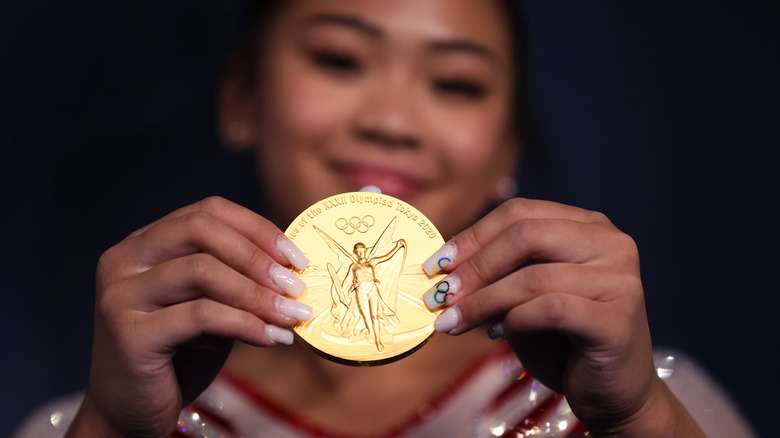 Laurence Griffiths/Getty Images
As Olympic enthusiasts around the world tune in to watch the Tokyo Games, there's been a lot of buzz about what the competing athletes eat while they're in training. One American volleyball competitor, Erik Shoji, even took to TikTok to chronicle his dietary journey, showcasing an array of healthy choices like collagen protein and oatmeal, as well as Japanese food like sushi and gyoza.
But what happens after the competition? Do athletes binge in (hopefully) celebration? Or do they jump right back into training? Olympic gymnast Sunisa Lee shed some light on that mystery when she answered an NBC reporter's question after winning a gold medal — and NBC posted her response on TikTok. "I don't even know. I'm going to go eat a pizza. That's all I've been craving this whole time," the clearly joyful Olympian answered. A few hours later, a follow-up post on TikTok showed Sunisa happily dancing around her room with her gold medal and, you guessed it, a slice of pizza.
Suni Lee has a lot to celebrate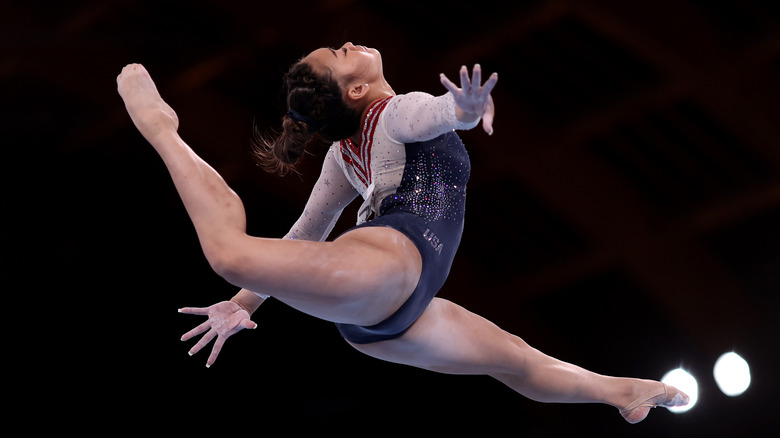 Julian Finney/Getty Images
Lee's road to gold was roundabout, according to Twin Cities Pioneer Press. The Minnesota gymnast stepped into the spotlight when her USA Gymnastics teammate, Simone Biles, withdrew from the competition for personal reasons. According to Time, Lee edged out Brazil's Rebeca Andrade and Russia's Angelina Melnikova to take the gold medal in the Gymnastics Individual All-Around Final. Lee, 18, is the first Hmong-American to compete for Team USA. With her win, Lee becomes the first Asian-American to win the all-around title and continues a winning streak started in 2004 by Olympian Carly Patterson (via People).
While Lee celebrated with a solo pizza party in Tokyo, her friends and family in Minnesota shed "happy tears" during a local watch party, the Associated Press reports. Puner Koy, Lee's one-time coach, said he had to hold back tears when he learned of her victory. He said even at 6-years-old, Lee was a "phenom." According to People, Simone Biles, who was in the stands to support her teammates, tweeted, "Congrats Princess. Absolutely killed it!!! Olympic champion right here!!! So beyond proud of you!!!!"