What Ronan Farrow Really Eats In A Day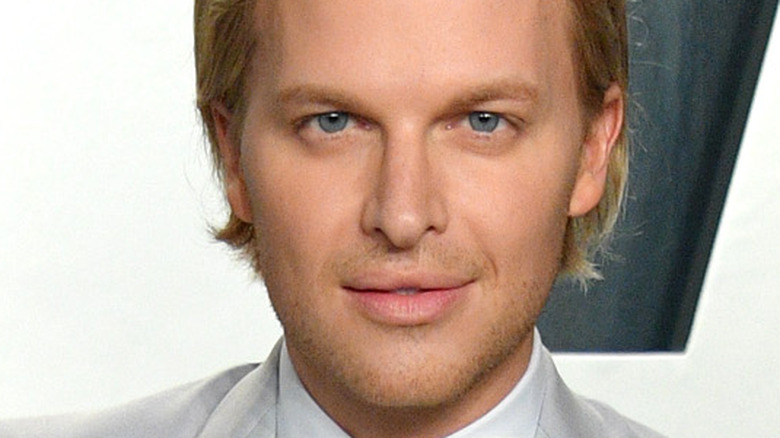 Shutterstock
Investigative reporter and celebrity journalist Ronan Farrow cannot run on fumes alone. After all, the stories he contributed to the #MeToo movement, which revealed the predatory habits of politicians and Hollywood's elite, led to a Pulitzer Prize (via The New York Times). 
Grub Street recently had the journalist take copious notes on his eating habits much in the same way Farrow takes notes on the Britney Spears conservatorship (via New Yorker). It turns out that Farrow's food choices are reflective of and inextricably linked to his line of work, in that he often eats in such a way that will be conducive to meeting a deadline. Snacking-while-typing, ignoring his food while at lunch with a source, pounding Korean barbecue after a day too busy with meetings to eat ... that sort of thing. But also, Farrow's palate seems to reflect his hunger for a good story, and his inclination towards the (sesame) seedy underbelly of society's well-to-do. Or, as he puts it: "If there is a throughline in my taste, it is that I always order the slimy option."
For Ronan Farrow, a deadline crunch means food-on-the-run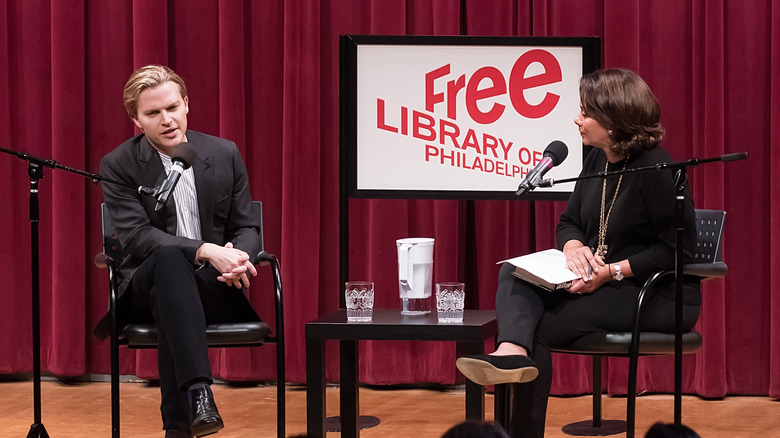 Gilbert Carrasquillo/Getty Images
For Farrow, the slimy option can look like a plate of escargot and an egg white cocktail, according to Grub Street. The reporter says that he has a penchant for rich, protein-forward foods. Farrow lists lox, hummus, mussels, clams, sous-vide egg bites, ham-and-cheese croissants, and marinated galbi among the foods he'll gravitate towards over the course of a busy week with a looming deadline. "When I'm on a story, I become feral, eating only occasionally, consuming calories like a vole, eyes darting, desperate to return to my laptop," Farrow explains.
While he says he would love to report to Grub Street that the week's meals were enjoyed at fancy restaurants, or ordered from the finest dining establishments, Farrow admits that when work gets busy, he is more of a food-on-the-run kind of guy. The egg bites and the croissants were from Starbucks, not some lavish, leisurely brunch spot, and he fueled hours of reporting, interviewing, and hounding sources to go on the record with Chipotle burritos, and Sabra hummus or Sunchips from the office vending machine. During a live show for his partner's podcast, Farrow "stress-ate an entire bag of Funyuns, a tub of hummus, and some beef jerky" in the green room. 
Fancy food doesn't fare far better for Farrow's busy week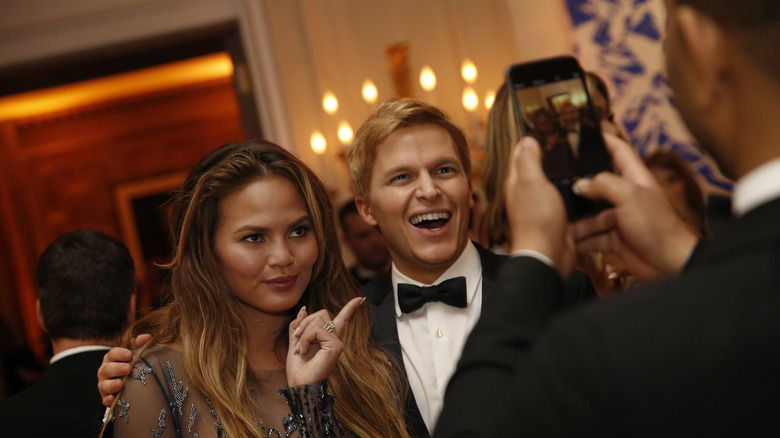 Bloomberg/Getty Images
When he does get a chance to enjoy some of L.A.'s exciting culinary scene, Ronan Farrow admits to Grub Street that he's not usually there for the food. Meeting a source at Coral Tree Café, a posh and popular spot in Brentwood, Farrow says he mostly got sunburned and pushed food around his plate. His source ended up giving him over four hours of their time, during which Farrow ordered smoked salmon, a chopped salad, and an iced green tea, but only actually drank the tea. 
Interestingly enough, when the focus is food, Farrow is as meticulous about dining as he is about reporting. "I think I really gravitate toward food that requires a process," he says. "Crustaceans. Artichokes. Anything that could cut your hands and requires a lot of dexterous activity and is not a food that you can eat on a date? That's my jam." Incidentally, when he does go on a date, Farrow defers to his partner's desires: "After his podcast, I took Jonathan to a date at Blackbird, a Chicago-style, deep-dish place, which is not my bag but is his." Farrow explains that if he had his druthers, pizza would come New Haven-style, à la Sally's or Pepe's, both of which do thin-crust pies with toppings like white clams. Because while having a source clam up is a nightmare, having a pizza clam-ed up is a dream come true for Ronan Farrow.