What You Need To Know About The Keto Diet Pill Scam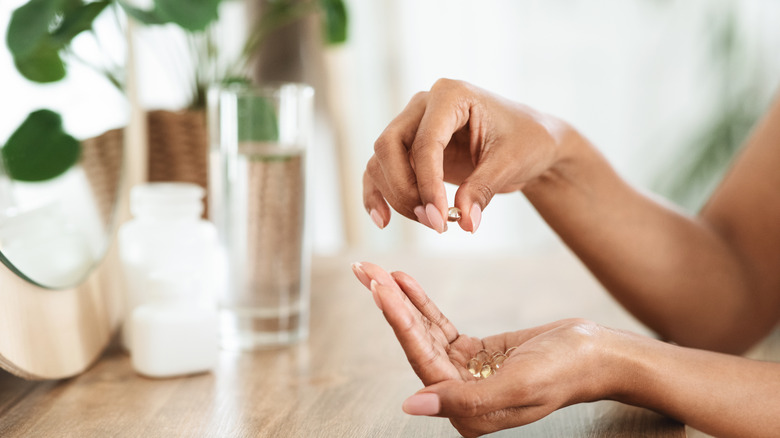 Shutterstock
The keto diet is a popular way of eating that many people claim has helped them reduce body fat, lose weight, and get healthier. People adhering to the keto diet eat a low-carb, high-fat, moderate-protein diet that helps increase the body's fat-burning efficiency by putting the body into a state of ketosis, according to Healthline. 
When followed property, keto can be a healthy diet for many people — although you should always check with your doctor before beginning any diet program to make sure it is right for you. However, its popularity has inevitably led to some less-than-reputable companies trying to make money off the trend.
The diet industry is unfortunately prone to attracting scams and less-than-ethical behavior. Some companies are known to promote supposedly "magical" diet solutions that promise to deliver fast and effective ways to lose weight and keep it off. In reality, these so-called solutions are often overpriced, do not really work, and may not be the healthiest. Recently, an eyebrow-raising "keto diet pill" has been making the rounds online due to its lofty claims, which include celebrity endorsements and an appearance on the popular entrepreneurial show "Shark Tank" on ABC. But things are not quite as they seem.
Keto diet pill scams are promoting false celebrity endorsements online
Many online ads have popped up indicating that keto diet pills, under names such as "Keto Fit Premium" or "PureFit Keto," have been approved and endorsed by "Shark Tank" investors. However, according to Snopes, these endorsements are entirely made up. Not only has a keto diet pill has never been funded by "Shark Tank" investors, such a product has never even made an appearance on the show. 
The diet pill's celebrity endorsements have also been completely falsified. One such ad, which has been promoted on Snapchat and other social media, has shown model and cookbook author Chrissy Teigen endorsing "Keto Fit Premium," saying it was the "secret to extreme weight loss" and "tons of celebs use it," via Twitter. However, Teigen has stated that these quotes are entirely made up and she has no association with the diet pill company. She says she has asked them many times to take down these untrue advertisements, but they have not complied.
If you are trying to lose weight, there is unfortunately a minefield of unethical companies on the internet hawking fraudulent products that promise quick results, but in reality are simply scams to take your money. It is always a good idea to take any dramatic weight-loss claims with a grain of salt — after all, if a magical diet product seems too good to be true, it probably is.