Fans Are Freaking Out About Trisha Yearwood's Diamond Ring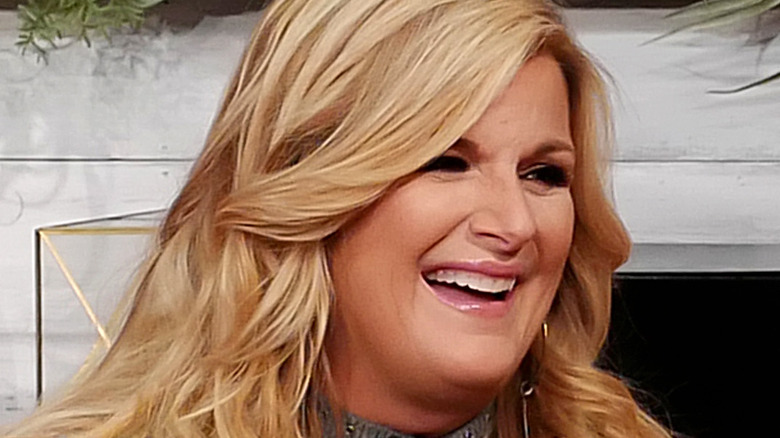 Dominik Bindl/Getty Images
Country fans especially are no strangers to Trisha Yearwood and her iconic career. Country Fancast notes that the artist is best known for her songs "She's in Love with the Boy," "Walkaway Joe" and "In Another's Eyes." She has also sold more than 15 million albums worldwide, and has nabbed three Grammy Awards, three Country Music Association Awards, and three Academy of Country Music Awards. But, beyond music, Yearwood has also ventured into the world of cooking, having written several well-selling cookbooks and hosting Food Network's show, "Trisha's Southern Kitchen." But perhaps one of her biggest claims to fame is her marriage to another famous country singer, Garth Brooks. 
While Food Network claims she's a "huge Kelly Clarkson fan," praising the fellow singer for her "amazing and emotional" voice, it's said Yearwood stays loyal to her husband and seems to try to be at his concerts as often as possible. Yearwood recently posted on Instagram about a bracelet she received from Brooks, from the organizers of Cheyenne Frontier Days festival, and thanked them for sending him home with a generous gift for her. But it's her diamond ring that appeared in the snap that really grabbed her followers' attention.
Fans couldn't help but notice the giant rock on Yearwood's ring finger
Wedding and engagement rings are not only cultural symbols, but ones that carry a lot of weight and attention. When a girl gets engaged, one of the first questions a friend asks is, "Can I see the ring?" So it's no surprise that the close-up photo of the huge rock on Trisha Yearwood's finger would demand attention from her Instagram followers after she innocently posted about the bracelet.
Fans scrutinized every little detail of the jewelry with @vickisamples asking, "Am I crazy...it looks like part of your ring is missing some diamonds on the right side of the band??" while others like @princesstiffany1992 gushed, "I'm not sure what's more beautiful your ring or your bracelet," followed by a ton of heart eye and fire emojis. And while the bracelet is big, bulky, and beautiful, the ring has a shine to it that just cannot be ignored. Let's just hope she takes it off when she gets in the kitchen and preps for her show.