Tropical Sangria Recipe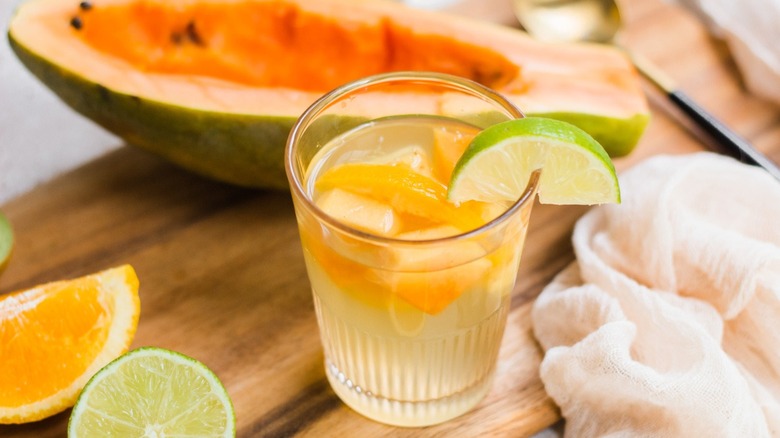 Jaime Bachtell-Shelbert/Mashed
While sangria has traditionally been made with red wine, there are few traditions that can't stand a little tweaking from time to time. Jaime Bachtell-Shelbert, who blogs at Wholly Nourished, dreamed up this tropical sangria for us that is based on white wine. The produce she uses in this drink is not difficult to find in a modern supermarket, but it's probably not the same kind of drink you'll encounter if you order sangria at a bar in Spain. "I have made sangria before," Bachtell-Shelbert tells us, "but wanted to put a tropical spin on it. There are so many beautiful tropical fruits in the produce section right now."
Though you could make this beverage at any time of the year, it's best in the summer when the fruits are nice and fresh and the weather is hot enough that you'll crave something this refreshing. And no, it's not difficult to make at home: Here's how to do it.
You'll need to go shopping before you make this tropical sangria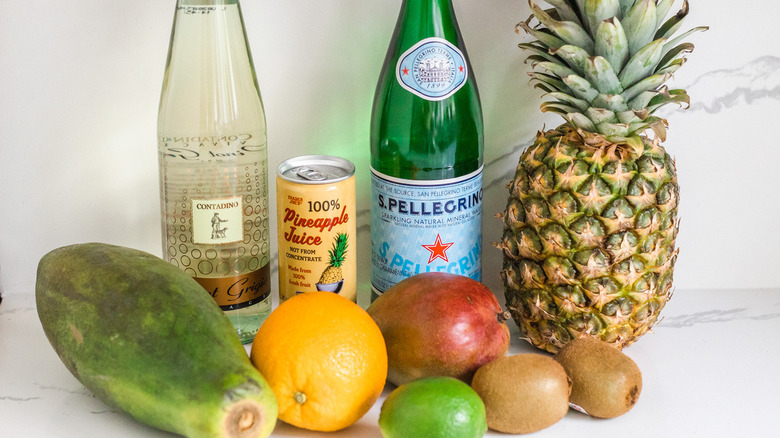 Jaime Bachtell-Shelbert/Mashed
If you want to make this tropical sangria, your first stop will have to be the produce section of your local supermarket. You're going to need an orange (well, just half an orange, really), a lime, a couple of kiwi fruits, and some fresh pineapple, papaya, and mango. You'll also need to pick up some pineapple juice unless you have a juicer and intend to put the rest of your pineapple to good use. You will need some unflavored sparkling water, as well — Bachtell-Shelbert went with San Pellegrino.
To make the sangria boozy, you'll also need a standard-sized bottle of white wine such as pinot grigio (which Bachtell-Shelbert used) or sauvignon blanc. Bachtell-Shelbert describes the flavor of this tropical sangria as "light, crisp with tropical fruit notes [and] not overly sweet," but says that "much of that depends on wine choice as well."
Preparing the fruit might take a little time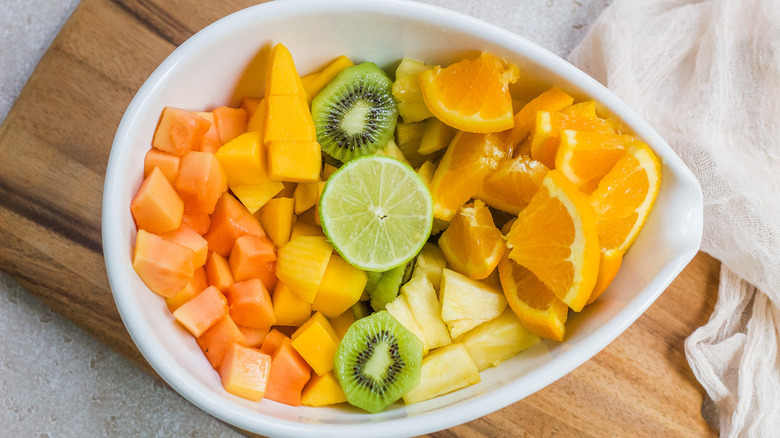 Jaime Bachtell-Shelbert/Mashed
The most time-consuming part of making this sangria involves getting all of the fruit ready. Slice the oranges into half (or even quarter) moons, then slice the lime (full moons will do here). Slice the kiwi as well — it's not absolutely necessary to peel this fruit, although Bachtell-Shelbert did peel hers. You will, however, need to peel the pineapple, the papaya, and the mango and then chop all of these fruits into one-inch chunks. You'll have plenty of leftover fruit, so plan accordingly. If you're not going to eat the leftovers right away, you should probably freeze the non-citrus fruits for later use since cut produce won't last too long.
If you want to swap out or add any additional fruits to the mix, Bachtell-Shelbert tells us, "You could also use starfruit, pomegranate arils, or grapefruit in the fruit mixture." As she explains, "The beauty of sangria is that you can create a new version with whatever is currently in season."
Making the sangria itself won't take more than a minute or two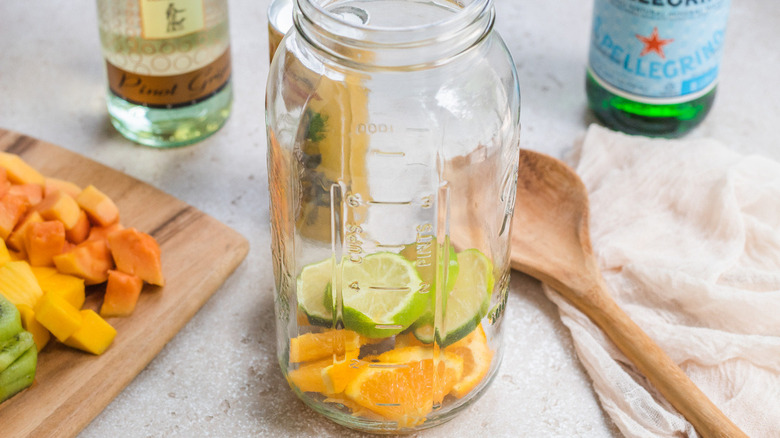 Jaime Bachtell-Shelbert/Mashed
To do this tropical sangria justice, you should try to find your prettiest glass jar or pitcher in which to serve it. If you don't have one, you might want to acquire one while you're out shopping for fruits and booze. The way this drink looks, after all, runs a close second to how it tastes, so don't hide it in an opaque plastic container.
Place the sliced and chopped fruits into the jar or pitcher, then pour in the juice, the sparkling water, and the wine. Stick the sangria in the fridge for half an hour to an hour before you serve it, but don't let it sit for too much longer, as the sparkling water will go flat.
You can make a non-alcoholic version of this sangria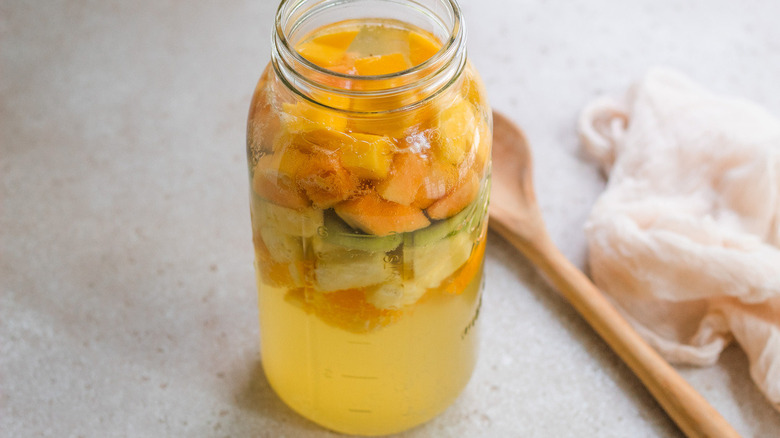 Jaime Bachtell-Shelbert/Mashed
If you don't drink alcohol or will be serving this drink to anyone else who doesn't imbibe, you can easily make a booze-free version of the drink. Just leave the wine out, then taste the mixture to see how you like it. If you want it sweeter and fruitier, add more juice to take the place of the missing wine.
You don't have to stick with pineapple juice, either, since as Bachtell-Shelbert tells us, "guava or mango juice work as well." She also suggests if you want it non-alcoholic, "you could try substituting white grape juice for the wine." If you like your drinks lighter and less sweet, though, you could also add extra sparkling water to make up the missing liquid.
Serve this tropical sangria at your next luau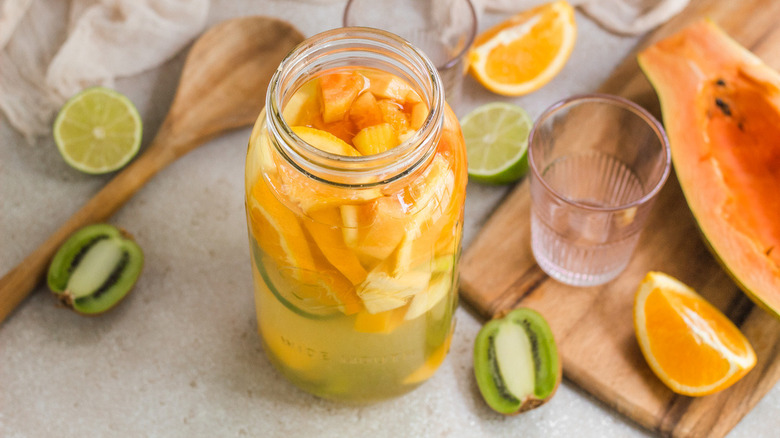 Jaime Bachtell-Shelbert/Mashed
The one problem with sangria is that what with all the slicing and dicing involved, it doesn't really lend itself to making a single serving, nor is it the kind of drink that you can really save for the next day, as citrus peels that have been soaking in liquid too long tend to have a bitter taste. That means that sangria is typically a party drink, and parties deserve not just booze but food.
So what should you serve with this tropical sangria? Bachtell-Shelbert calls it "the perfect drink for summer picnics or served with dinner al fresco," and suggests that "it pairs well with salads, grilled fish or chicken, tacos, and appetizers such as guacamole and chips or a charcuterie board."
We think it would be also be delicious with selection of easy frozen apps like crab rangoon and mini samosas, or how about serving it with Spam musubi, or maybe elote? Anything that's light and fresh and maybe slightly spicy would match well with this tropical sangria.
Tropical Sangria Recipe
While sangria has traditionally been made with red wine, there are few traditions that can't stand a little tweaking from time to time.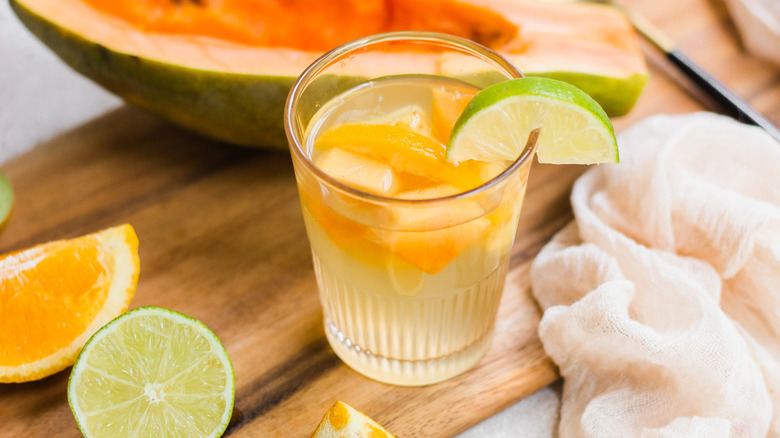 Ingredients
½ orange, sliced into ¼ or ½ moons
1 lime, sliced
2 kiwis, sliced
½ cup pineapple, cut into 1-inch chunks
½ cup papaya, cut into 1-inch chunks
½ cup mango, cut into 1-inch chunks
1 cup pineapple juice
1 cup sparkling water
1 bottle white wine
Directions
Add the fruit to a large glass jar or pitcher.
Pour the juice, sparkling water, and wine over the fruit and stir to combine.
Chill the sangria in the refrigerator for 30 minutes to an hour before serving.
Nutrition
| | |
| --- | --- |
| Calories per Serving | 167 |
| Total Fat | 0.3 g |
| Saturated Fat | 0.0 g |
| Trans Fat | 0.0 g |
| Cholesterol | 0.0 mg |
| | |
| --- | --- |
| Total Carbohydrates | 19.6 g |
| Dietary Fiber | 2.0 g |
| Total Sugars | 12.8 g |
| Sodium | 14.4 mg |
| Protein | 0.9 g |