Copycat Popeyes Cajun Rice Recipe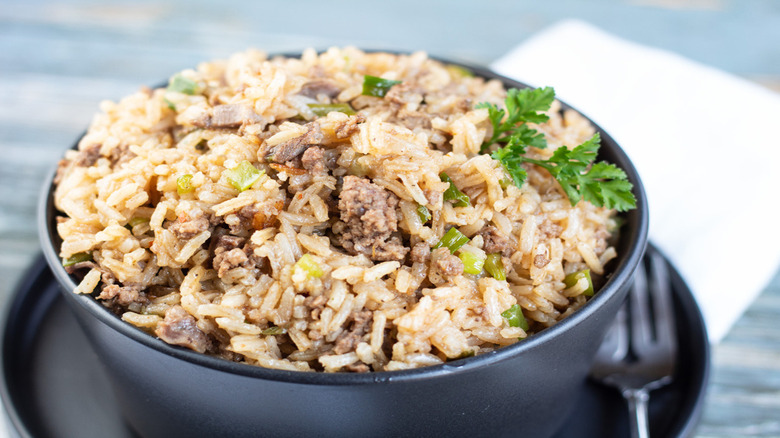 Angela Latimer/Mashed
What's a tasty dish that's just as versatile as it is hearty and delicious? We have a new remix of an old favorite that's sure to jazz up any recipe drawer. Angela Latimer, recipe developer and food photog from Bake It With Love recreated this flavorful favorite.
Cajun rice is known in Louisiana as "dirty rice." According to The Culture Trip, Cajun-style cooking was influenced by Acadian settlers who broke loose from Canada. Hoping to find freedom, they settled near Louisiana in the 1800s, where Cajun cuisine was born. Rice was, and still is, a major product native to the south. As a result, most Creole dishes wisely repurpose it in various ways. Since 1972, Popeyes has coined the claim to Cajun fast-food fame, offering this adapted dirty-rice dish as a side for decades.
Latimer says, true to tradition, this dish is best made in bulk. She notes, "Also, it is exceptionally versatile for use in more recipes." This Cajun classic yields at least 10 full servings at once, and is great for flexible leftovers. Our Popeyes look-a-like recipe will give you a tangy taste of Southern comfort food right at home. Now, let's dig in!
Gather the ingredients to prepare copycat Popeyes Cajun rice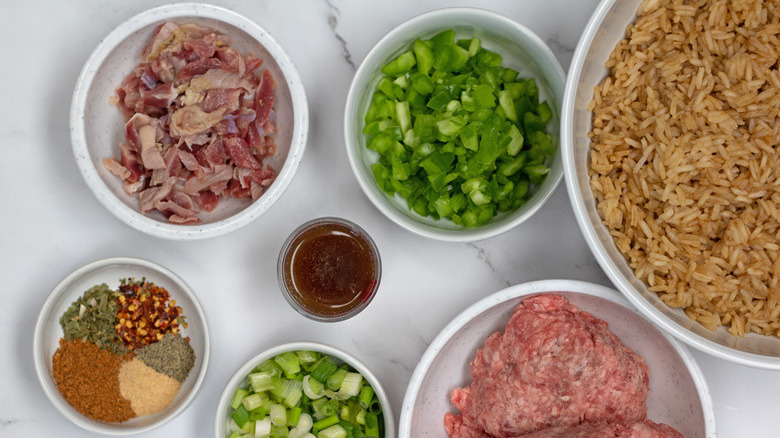 Angela Latimer/Mashed
We have quite the list of ingredients here. Most of them amplify the down-south Cajun flavor. Start out by gathering long-grain rice (brown or white), ground beef, chicken gizzards, green bell pepper, and some green onions. Latimer recommends an authentic Cajun/Creole seasoning like Tony Chachere's Creole seasoning, Zatarain's, or Slap Ya Mama. For added flavor, plan to include a few dashes of garlic powder, celery flakes, ground black pepper with red pepper flakes, beef broth (or water), and salt.
Cook the hearty meats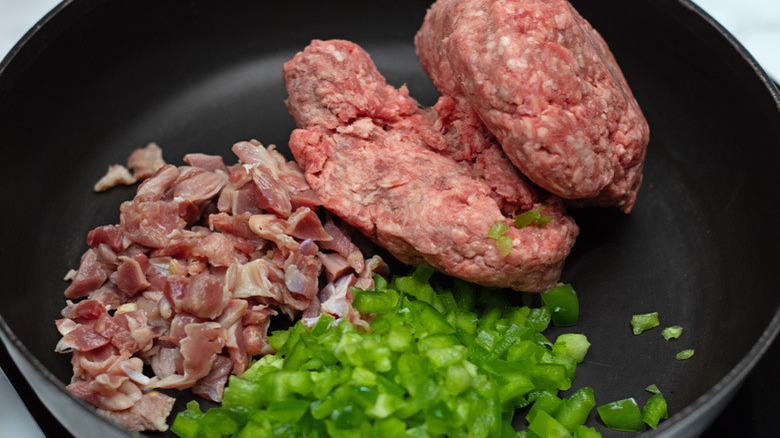 Angela Latimer/Mashed
For this Creole classic, the meats are your accent piece! You're going to start out by bringing a large frying pan to medium-high heat. Add in 1 pound of ground beef (Go for lean, Latimer says.) and ½ cup of chopped chicken gizzards. Dice up ½ of a green bell pepper, and toss it into the mix. Any ingredients can be multiplied to your preference. As the meats cook, break up the ground beef, and keep it over the heat until it's nicely browned.
If need be, drain any excess grease from the meat. You can leave a little if you wish, as Latimer notes, "Some grease is fine — it makes your Cajun rice tasty!" Never be afraid to trust your judgment when it comes to a step like this.
Season your meats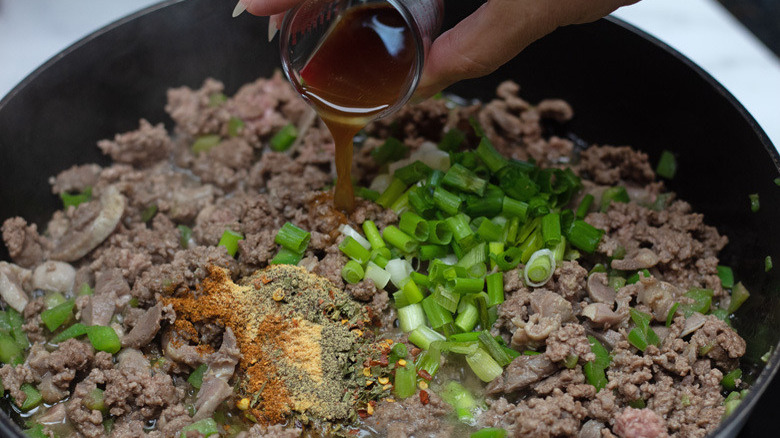 Angela Latimer/Mashed
Up next, you will add the scallions and Cajun spices. Chop up the green sections of a few green onions, amounting to ⅓ cup full. Toss that in partway through as you cook. Take 1 teaspoon of Creole seasoning and ¼ cup of beef broth, and pour them atop the meat and scallions. Stir thoroughly to incorporate all ingredients. Subsequently, turn the heat down to medium-low. Give the meats and seasonings time to simmer together slowly.
Add in the rice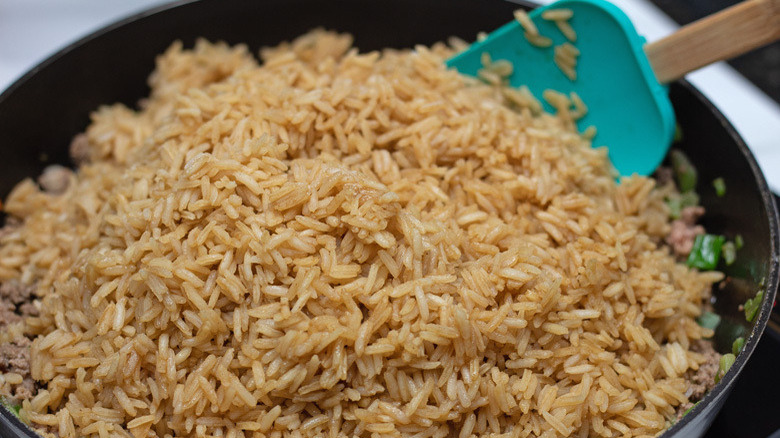 Angela Latimer/Mashed
Cook 4 cups of long-grain rice in water or beef broth according to the package instructions. Pour the cooked rice out onto the meat. Stir to incorporate, and let all the ingredients blend together for about 10 to 15 minutes. Stir attentively until the moisture has evaporated out. 
Lastly, remove the Cajun rice from the heat. You may season to taste with red pepper flakes, salt, or extra Creole seasoning, if desired. That's it! You can now enjoy a slightly spicy side of Cajun rice without the drive-thru wait.
Since we know only some like it hot, Latimer has notes about the spice level for this dish. Customarily, Cajun food is succulent yet spicy, she says, "As made, this is pleasantly spiced without being hot." On a scale of one to five, one being mild and five being a Cajun inferno, Latimer says this falls somewhere around the mid-range level, giving it a solid three. It is a side or entrée the whole family will relish.
Enjoy the perfect Cajun side dish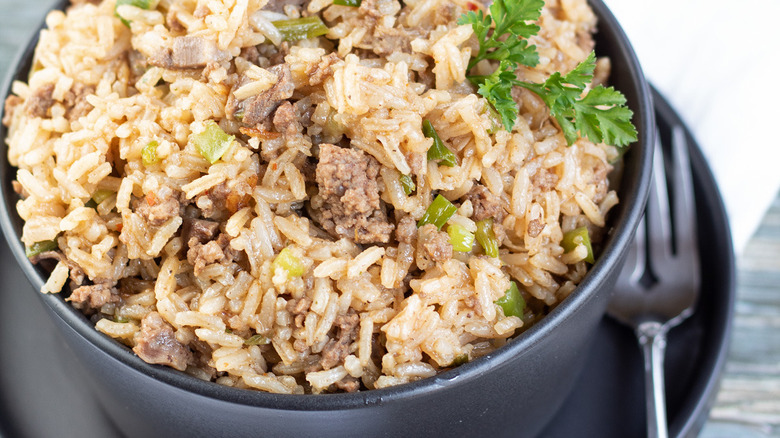 Angela Latimer/Mashed
Bring Louisiana to your kitchen with a luscious bowl of Cajun rice. Latimer says this dish is just as filling as a side or as a savory entrée! In true Popeyes fashion, Latimer says, "On any night when I do make this, I like to serve it with fried chicken, even though it is certainly hearty enough to enjoy as a main." Cooking this in bulk is a meal prep-er's dream. Repurpose your leftovers by using this Cajun rice for stuffed bell peppers or even a Chipotle-style burrito. For an extra idea, Latimer shares, "I do use the leftovers up in a fried rice version adding thawed peas and carrots, cooking an egg or two into the center of the wok, and served with fried gizzards."
This dish is best preserved in the fridge for up to three days. According to Latimer, "You can also freeze the rice for up to three months, make sure to allow it to thaw overnight in the refrigerator when ready to reheat." We know you'll want to treat your family with this again and again. From our kitchen to yours, enjoy this crowd-pleasing recipe.
Copycat Popeyes Cajun Rice Recipe
Our copycat Popeyes Cajun rice recipe will give you a tangy taste of Southern comfort food right at home.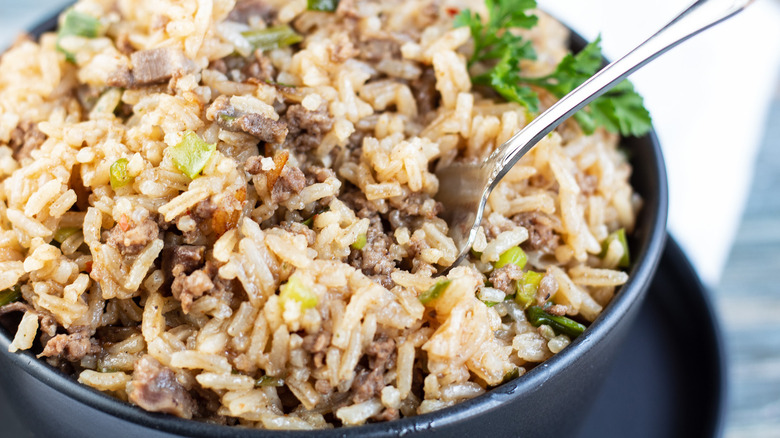 Ingredients
1 pound ground beef
½ cup chicken gizzards, finely chopped or ground
½ green bell pepper, diced
⅓ cup green onions, sliced
1 teaspoon Creole seasoning
½ teaspoon garlic powder
½ teaspoon celery flakes (or celery seed)
¼ teaspoon ground black pepper
¼ teaspoon red pepper flakes
¼ cup beef broth
4 cups cooked long-grain rice
salt, to taste
Directions
Bring a large frying pan to medium-high heat, and add the ground beef, chopped chicken gizzards, and diced green bell peppers.
Break apart the ground beef, and cook until it is no longer pink. Drain excess grease, if needed.
Add all of the remaining ingredients: green onions, seasoning, and beef broth, then stir and reduce the heat to medium-low.
Add in the rice, stir, and cook for 10 to 15 minutes, stirring occasionally, until any moisture has cooked off.
Remove from heat, season to taste with more creole seasoning, salt, or red pepper flakes, if desired. Serve immediately.
Nutrition
| | |
| --- | --- |
| Calories per Serving | 394 |
| Total Fat | 9.7 g |
| Saturated Fat | 3.6 g |
| Trans Fat | 0.5 g |
| Cholesterol | 42.4 mg |
| | |
| --- | --- |
| Total Carbohydrates | 60.1 g |
| Dietary Fiber | 1.2 g |
| Total Sugars | 0.4 g |
| Sodium | 323.8 mg |
| Protein | 14.1 g |