Baskin-Robbins' August 2021 Flavor Is Rich In More Ways Than One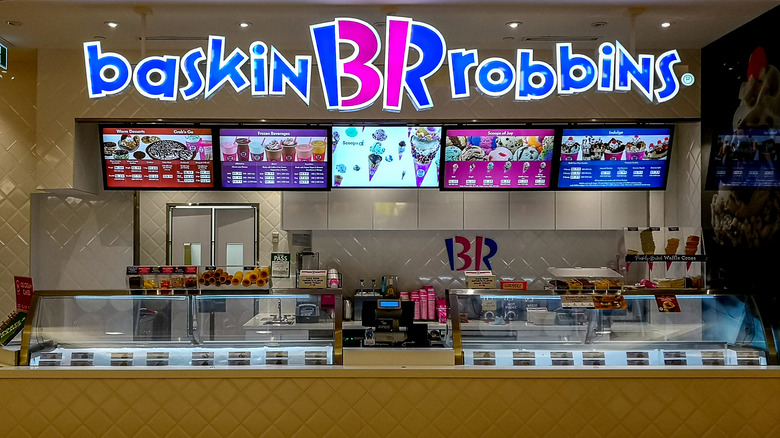 Shutterstock
From its fudge brownie ice cream to its caramel chocolate waffle sundaes, the popular ice cream chain Baskin-Robbins is known and loved for its wide variety of decadently delicious frozen desserts. While it does offer a selection of classic flavors like chocolate, cookies and cream, and mint chocolate chip, the biggest draw comes from the more unique specialty flavors. And now, Baskin-Robbins has just announced the release of its richest new flavor yet.
According to Chew Boom, the chain is debuting its new Hidden Treasure ice cream as the August Flavor of the Month. Hidden Treasure more than lives up to its name with a creamy chocolate ice cream base, which is threaded with a sweet chocolate cookie ribbon and features special caramel-flavored gold coins hidden throughout the dessert. In addition, Baskin-Robbins is releasing a new dairy-free fudge bar, so now everyone can enjoy a decadent frozen treat, regardless of their dietary restrictions. 
The plant-based Non-Dairy Salted Fudge Bar is made with oat milk and features a dark salted chocolate base laced with a tasty fudge ribbon and chewy fudge pieces sprinkled throughout. "The joy of ice cream is a treasure for all of humanity to enjoy. We couldn't be happier to expand our plant-based frozen dessert category, especially with this prized catch for chocolate lovers," said Baskin-Robbins Canada spokesperson Natalie Joseph (via Franchise Canada Online).
Baskin-Robbins' new flavor of month continues its "Into the Sea" theme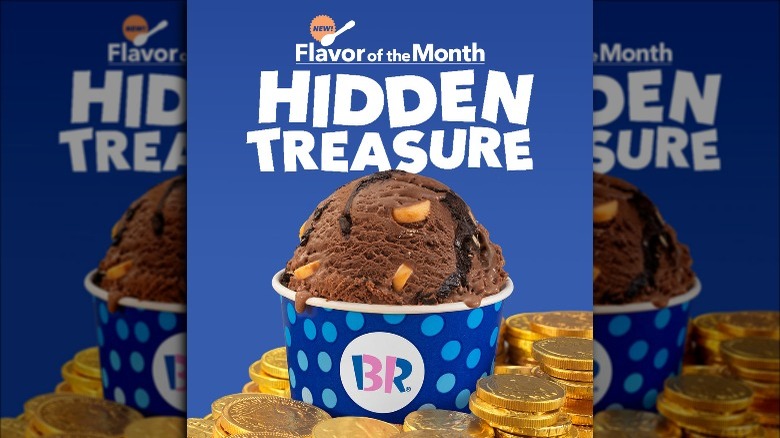 Baskin-Robbins
This new release is a continuation of Baskin-Robbins' new "Into the Sea" theme, which it launched earlier this summer. In July, the company announced the release of its new ocean-inspired "Creature Creations." These adorable sea critters, which included a dolphin, a shark, and a sea turtle, could be added to any ice cream order while supplies last for an extra splash of summer fun. Each one comes with its own signature cup design, an edible white chocolate topper, and a dash of colorful sea-inspired sprinkles, per Baskin-Robbins Newsroom
"You really don't have to scuba dive or swim to the ocean floor to find treasure. These two new flavors are a priceless find for chocolate lovers and taste hunters. I can't think of a better way to bring to life our beach theme and celebrate all that makes August a special month," Joseph said of the new release (via Franchise Canada Online). Both the Hidden Treasure ice cream and the Non-Dairy Salted Fudge Bar are now available for purchase at participating Baskin-Robbins locations nationwide.