The Best Jimmy John's Sandwich According To 27% Of People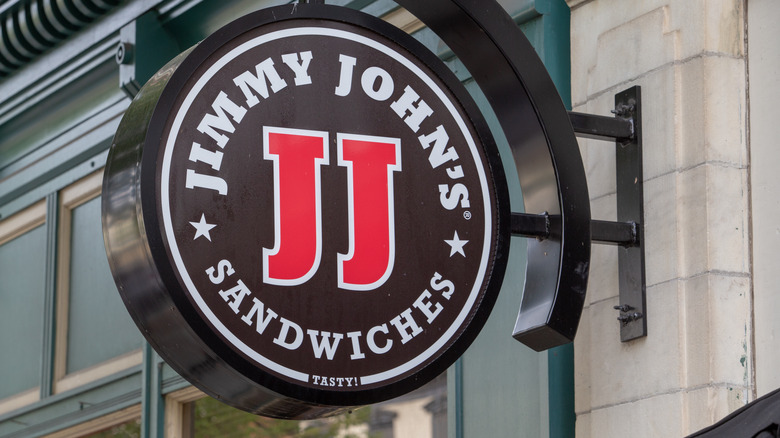 Shutterstock
Jimmy John's is a popular chain known for offering yummy sandwiches at affordable prices. According to Money Inc, the brand made its official debut in 1983 in a tiny garage in Charleston, Illinois. It gained popularity fairly quickly and became well-known that same year, impressing its customers with its delicious choices. The marketing strategy was pretty solid, too, with the brand offering complimentary samples to potential customers at Eastern Illinois University, attracting more attention from prospects. Cool, huh?
To date, the brand's appeal lies in the fact that it's highly relatable and appealing to many customers at the same time. A description on its website says it all. It reads, "We use fresh vegetables because we don't hate salads, we just feel bad for them." The menu is impressive, too, as it includes wraps, baked bread, beverages, side dishes, and more. In terms of sandwiches, however, customers have plenty of options to choose from. 
And now, a Mashed survey of 645 respondents has shed some light on customers' preferences at Jimmy John's. The results were fairly interesting.
Jimmy John's Italian Night Club Sandwich reigns supreme
Mashed's survey included several interesting options, such as Jimmy Cubano, Big John, Hunter's Club, and more. The most popular option turned out to be the Italian Night Club Sandwich, which garnered 26.82% of the votes. Other items on the list that received plenty of love from the participants included the J.J. B.L.T (23.88%) and the Big John sandwich (21.55%). These options were followed by the Jimmy Cubano (11.16%), Club Tuna (9.15%), and Hunter's Club (7.44%).
A Redditor highly recommended the Italian Night Club Sandwich and wrote that it's possible to make the sandwich even better. They said, "Try the smaller version, the ultimate Italian, but with double meat. That way you get more of the real good stuff instead of ham. Oh, and you'll have to ask for mayo if you want it, but it's a free addition."
As per Jimmy John's, its Italian Night Club Sandwich is composed of delicious ingredients like hand-sliced salami, capicola and smoked ham, lettuce, onions, oregano-basil, oil, vinegar, and more. Yummy!