What Your State Would Be If It Were Chocolate, According To Phillip Ashley Rix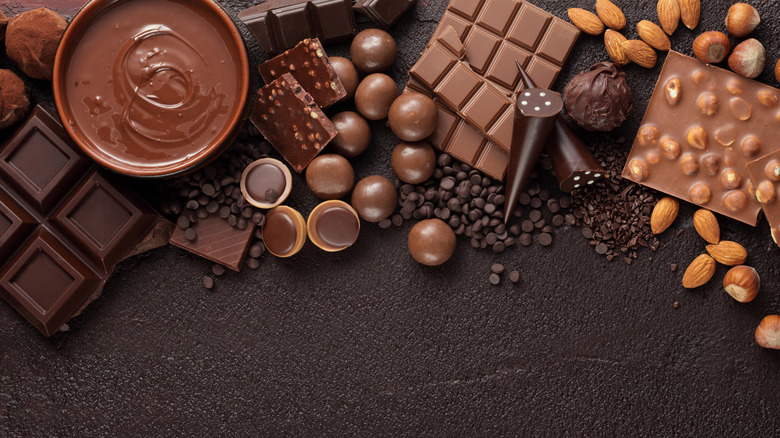 Shutterstock
You've probably heard of this famous line from the 1994 film "Forrest Gump": "Life is like a box of chocolates." Well, one very talented chocolatier is making the case that America is like a box of chocolates.
Phillip Ashley Rix, as Forbes refers to the self-taught chocolatier, is a "real-life Willy Wonka." The Memphis native reportedly left behind a career in sales and marketing to study beverages and food, particularly chocolate, on his own. According to Forbes, Rix combines a natural flair for the chemistry of flavor with a sense of imagination and creativity, wowing crowds with everything from sweet potato ganache to Spanish goat cheese-and-port chocolates. Some of those crowds wowed by Rix's chocolates include Academy Awards attendees, who have been gifted boxes at past Oscars ceremonies. 
Rix's latest project is the Taste of America chocolate box, where he's dreamed up sweet, unique flavors for each and every state. "I've always wondered what America would taste like if it were a box of chocolate," Rix told Food & Wine. "At the end of the day, we may look different, but we are all human beings trying to achieve our respective goals, and we're all in this box of chocolates together."
The Taste of America box, then, has a special, united message, as well as 50 completely innovative, mouthwatering flavors of chocolate. It's arranged beautifully in red, white, and blue packaging and priced at $177.60 at Phillip Ashley Chocolates. Its pre-order run is sold out.
Each state has its own flavor story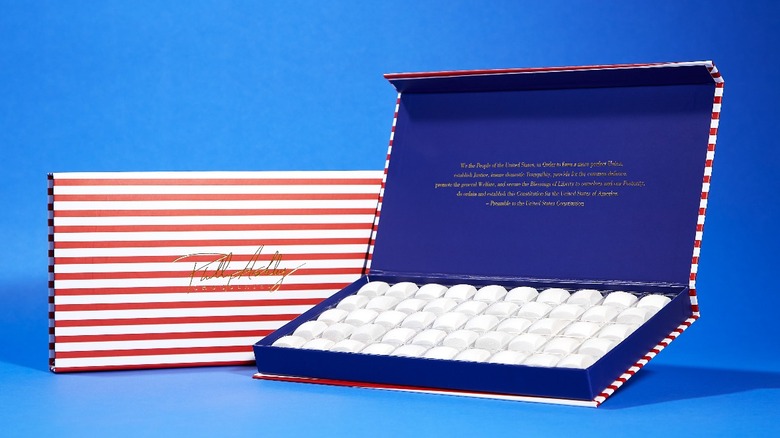 Phillip Ashley
If you're wondering why the Taste of America box might be more expensive than other boxes of chocolate you've purchased for special occasions, Phillip Ashley Rix explained his reasoning to Forbes. Apparently, some chocolates can include things like rare cheese or aged balsamic vinegar, for example. And in this case, Rix carefully thought about the legacy of all 50 states in order to properly capture them in their chocolate form. So, what does your state taste like, according to this famed chocolatier? 
Well, to name a few in alphabetical order: Arizona is Mesquite, Arkansas is Watermelon Molasses, California is Napa Valley Red Wine, Colorado is CBD, and Connecticut is Nutmeg Thyme. Delaware is "scrapple," which is made with pecan meal, applewood-smoked bacon, and caramel praline. Georgia is the aptly-titled Peaches and Cream, Hawaii is Caramelized Pineapple, Idaho is Roasted Sweet Potato, Kansas is Cinnamon Roll, Louisiana is Sazerac Rye Pecan Praline Bananas Foster, Maine is Wild Blueberry Vanilla Bean, and Montana is Huckleberry Truffle. New Jersey is Salt Water Banana Taffy Creme, North Carolina is Strawberry Hot Sauce, North Dakota is Barrel-Aged Wildflower Honey, Rhode Island is Peppermint Lemonade, Tennessee is Memphis Barbecue, Texas is Dr Pepper, and West Virginia is Black Walnut Liqueur (via Phillip Ashley Chocolates).
What do you think of how your state's been captured in chocolate?