Can You Actually Visit The Coffee Shop From Friends?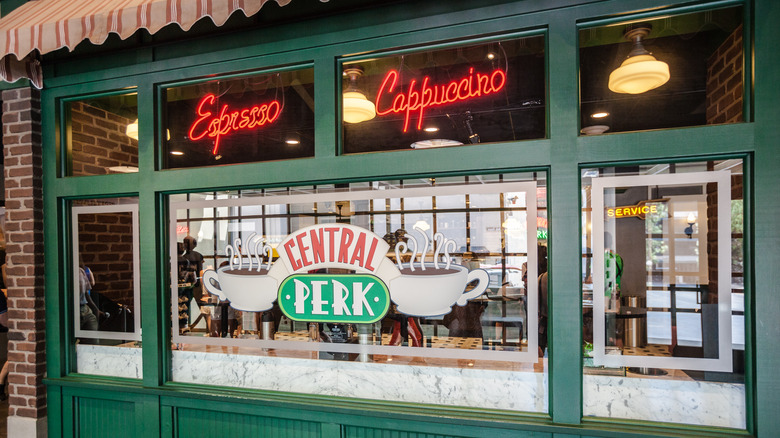 Shutterstock
Good news "Friends" die-hards: you can officially visit and tour Central Perk, the iconic coffee shop from the '90s sitcom. Amongst all the funny one-liners, love triangles, and sensational outfit sequences, the series showed fans there's nothing a cup of hot coffee and good friends can't fix. And now, you and your closest friends can experience that first hand at Warner Bros. Studio in Los Angeles, CA.
"Friends" enthusiasts interested in enjoying a mug of Central Perk's signature coffee and seeing where Phoebe performed her hit song "Smelly Cat" can purchase a studio tour ticket for $69 (per adult), according to Warner Bros. Studio Tour Hollywood. In total, the tour is about three hours, one of which is guided by a professional WB Studio Tour expert. Keep in mind, this is a Warner Bros. variety studio tour so you'll get a behind-the-scenes look at other sets in addition to "Friends."
Included with each ticket is a detailed tour of stage sets and locations (like the Gellar house and "Friends" fountain, for example). Visitors get to look at soundstages, tour the props department, and check out the Batmobile. On top of all that, they see the set used for "Big Bang Theory," "Harry Potter" memorabilia, and the highlight "Friends" fans came for – Studio 48, where Central Perk is located (via This Darling World).
What's included in the Friends portion of the Warner Bros. Studio Tour?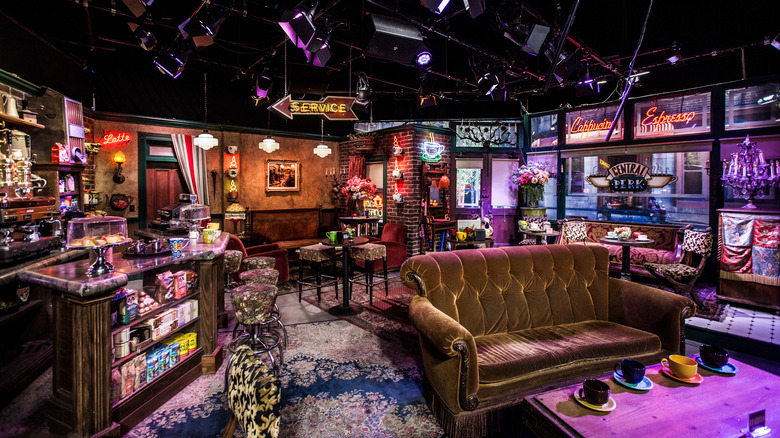 Shutterstock
The Warner Bros. Studio Tour encompasses a wide showcase of Hollywood offerings that you can't see anywhere else. However, hands down, the biggest attraction is being able to experience Central Perk in the flesh. The three-hour-long tour concludes with a visit to Central Perk's production soundstage (it's only appropriate that they save the best for last) where ticket holders are allowed to explore the set. Guests are even encouraged to grab a coffee mug and snap a photo on the infamous orange couch just like the main cast members did back in the day.
Since Central Perk has been reconstructed into an interactive set, fans also have the opportunity to reenact a scene from the sitcom! An onsite production crew works with visitors to portray specific characters and memorize lines from a short clip from "Friends," per This Darling World. Then, you get to act it out and watch the playback to see what it would look like as a real TV scene.
After the tour, guests are invited to the Central Perk Café and Friends Boutique. At the café, guests can purchase food from the "Friends"-inspired menu, which features coffee, of course, and character favorites such as NYC-style pizza, sandwiches (a Joey favorite), and Rachel's trifle (via Warner Bros. Studio Tour Hollywood). Explore and enjoy your meal in their replicated and immersive sets of Monica's and Joey and Chandler's apartment. Then, shop for "Friends"-themed merch on your way out!