Oreo Just Announced Its First Ever Cafe And Fans Are Freaking Out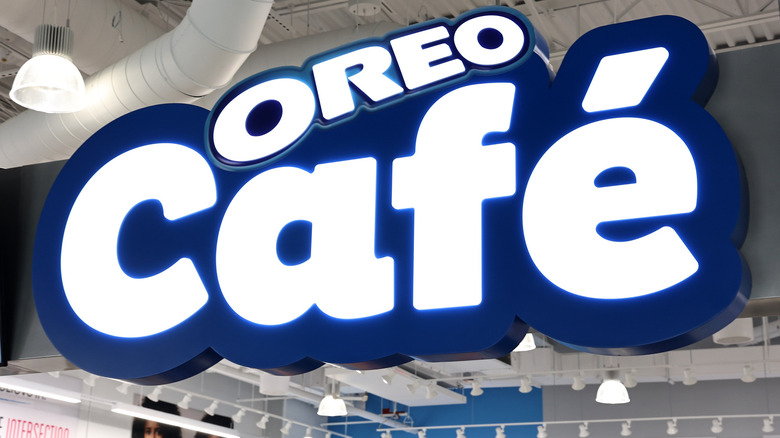 Oreo
Have you ever taken a bite out of an Oreo cookie freshly dunked in milk, and wondered why there isn't a whole restaurant dedicated to this tasty cookie? If so, you aren't the only one. The popular creme-filled chocolate cookies have long been enjoyed by both kids and adults alike — they're even vegetarian, dairy-free, and kosher. Now, Oreo has the perfect place for true fans to indulge. The company has just announced the launch of the world's first ever Oreo Cafe, and understandably, longtime fans of the cookie couldn't be more excited. 
The new Oreo Cafe will be located on the third floor of the IT'SUGAR store in the American Dream Mall in East Rutherford, New Jersey. The cafe offers diners an "immersive" Oreo experience, including a unique Oreo-inspired desserts menu and the opportunity for customers to create their own customized treats, according to a press release sent to Mashed.
The Oreo Cafe has an exclusive secret menu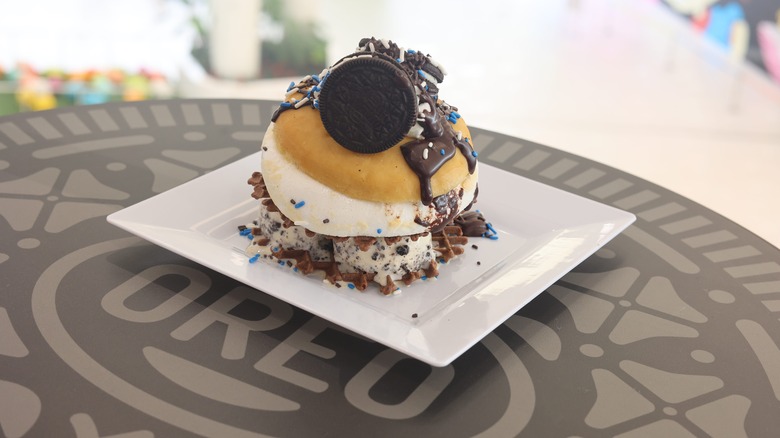 Oreo
Of course, the Oreo Cafe's menu will include plenty of decadent desserts. Highlights include a waffle sundae with pieces of Oreos baked in and an Oreo Cookies & Cream cheesecake, which features milk chocolate rosettes, an Oreo cookie mousse, and a drizzle of chocolate ganache. Visitors can also create their own customized "Twist Your Oreo" treats by selecting from over 200 combinations of Oreo-inspired toppings, which can be added to a waffle, ice cream sandwich, ice cream cone, or milkshake.
But that's not all. In-the-know followers of Oreo's social media accounts will also be privy to the new cafe's secret menu. "P.S. We made an exclusive secret menu item for our followers. Ask for the OREO Donut S'Morewich," the brand posted on their Instagram account. Customers can also purchase Oreo-branded merchandise, including apparel, tote bags, and home decor, which will be available in store as well as for purchase online at IT'SUGAR.com and OREO.com. So the next time you are in New Jersey, you will definitely want to add the Oreo Cafe to your itinerary. Oreo fans certainly won't want to miss out on this exciting new dining experience.