Costco Fans Are Obsessed With This Cheese Flight
In case you happened to miss the charcuterie fad that has taken over everyone's happy hours and snack times, there's a new twist on the trend. Apparently, Costco fans spotted a new product that could inspire a whole new way of thinking about cheese boards, and it has everyone talking.
A cheese flight was spotted by a Costco fan Instagram account, @CostcoBuys, on August 2nd. The caption read, "Cheese! I spotted this @cellocheesebrand cheese flight for $15.79 and just had to share! This includes smoke & spice hand rubbed fontal, Valencia orange Spanish chèvre, alpine style monteau, and 12 month Spanish manchego! They even have suggested wine and beer pairings!" 
A cheese flight with four samples like these for just under $16 sounds hard to beat. Clearly, Costco fans agree. The post received more than 2,300 likes in less than a day. There were also tons of people who commented.
This is what fans have to say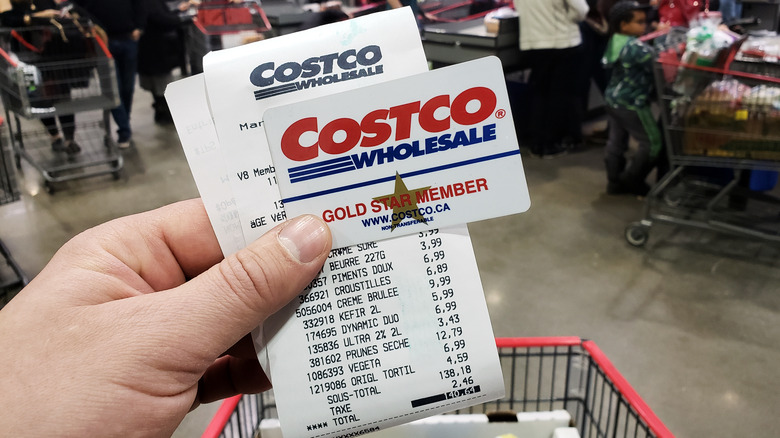 Shutterstock
One fan of @CostcoBuys commented, "Ooo this sounds so good!!" Someone else said, "I recently purchased this! Each cheese was excellent!" Another fan wrote, "Such a hit on this last weekend's charcuterie! All the cheeses disappeared," which definitely makes the cheese flight sound promising. There were plenty of hearts and heart-eyed emojis shared in the comments, too.
What really makes this concept so exciting is the idea of pairing this product with a beer or wine flight. Fortunately, there are tons of guides out there to curating the perfect drink flights for guests and yourself. Publix even has two suggested wine flight lists along with other tips for hosting a tasting. As with wine flights, the key to doing it well isn't necessarily in the exact pairing with the cheese flight. It's all about making sure you start with a lighter sip first and work up to the heavier pours at the end (via Elite Daily).