Pomegranate Couscous Recipe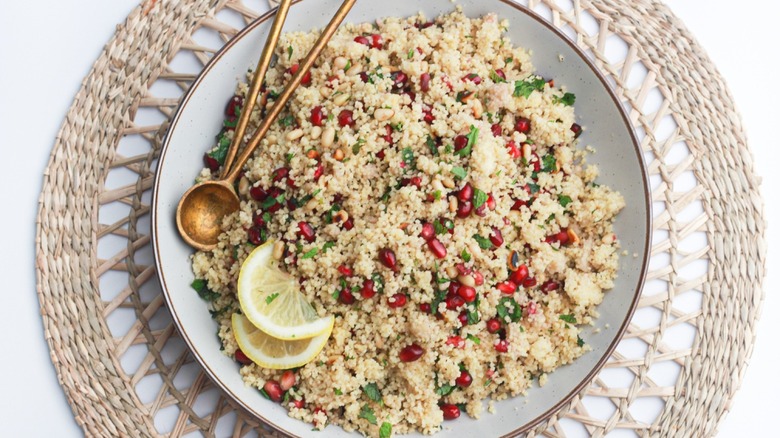 Susan Olayinka/Mashed
If you haven't yet taken to adding fruit to your savory dishes, this pomegranate couscous recipe is the perfect time to start. Susan Olayinka, food blogger at The Flexible Fridge and Mashed recipe developer, loves creating recipes that are quick, easy, and family-friendly. You'll be able to dig into this dish in just over 10 minutes, so Olayinka certainly stays true to her philosophy. Thanks to a blend of herbal, fruity, and nutty flavors, this couscous recipe is far from boring. You'll even have a variety of textures in each bite, from crunchy pine nuts and fluffy couscous to juicy pomegranate seeds bursting with sweetness. 
Olayinka has all sorts of recommendations to use this pomegranate couscous salad as a template for other grain-based meals. If you're tired of eating plain rice to accompany your meals, you'll want to take notes of Olayinka's suggestions. Thanks to the adaptability of this recipe, you'll be able to transform it into multiple versions to keep your weekly meals creative and delicious. 
Gather the ingredients for this pomegranate couscous recipe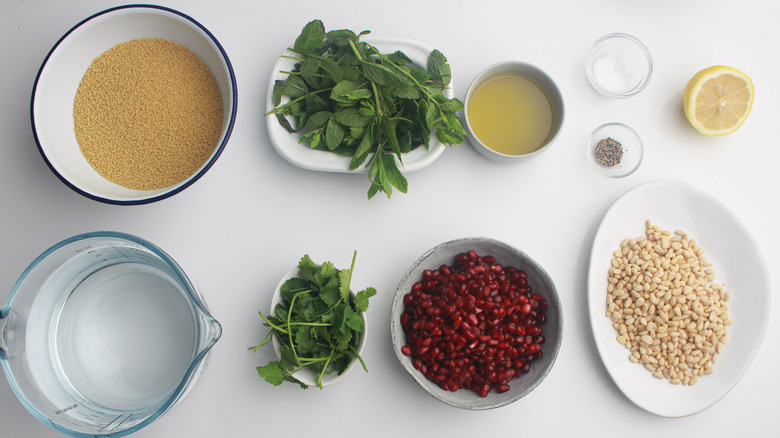 Susan Olayinka/Mashed
First, you need dry couscous that you'll cook in water. Couscous absorbs water really well, cooking within five minutes, which makes it a great choice if you're looking for a quick grain to make. If you happen to have leftover rice or prefer it to couscous, Olayinka says, "I've tried this type of salad with rice, and it works amazingly." Next, pine nuts add some crunchiness to the salad and a nutty flavor once they've been toasted. If you're not ready to shell out for pine nuts, Olayinka encourages using "different types of nuts — pecans, walnuts, cashews, peanuts, or even seeds like pumpkin seeds."
Onto the fresh herbs: Cilantro and mint pair really well with the sweet and tangy flavors of pomegranate. Again, Olayinka has alternatives to suggest, such as parsley and dill. Pomegranates contain delicious (albeit tricky-to-reach). If you don't feel like getting your hands messy cutting the fruit open, many supermarkets sell packaged pomegranate seeds in the deli section. As for the dressing, the rich and earthy taste of extra virgin olive oil is perfectly complemented by sour lemon juice. Sprinkle on some salt and a crack of ground pepper, and you're ready to dig in. 
If you're a fan of a one-bowl meal, Olayinka recommends "the addition of shredded chicken or grilled steak" to add some protein to the dish. 
Start by cooking the couscous according to package instructions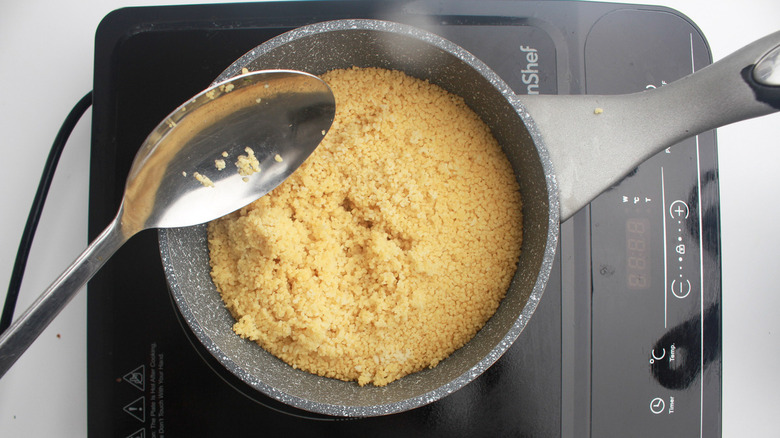 Susan Olayinka/Mashed
First of all, you'll want to cook the couscous so that it has time to cool down slightly before mixing it in with the other ingredients. Olayinka advises following the instructions on your package of couscous, using one and three-quarters cups of water for one and a half cups of couscous. Bob's Red Mill recommends an easy way to prepare couscous. Just bring your water to a boil, then add in half a teaspoon of salt and the couscous. Stir the couscous in the water, cover the pot, remove it from the heat, and let it sit for five minutes. Once the time is up, you can fluff the couscous with a fork to check that it's done. 
Next, toast the pine nuts in a pan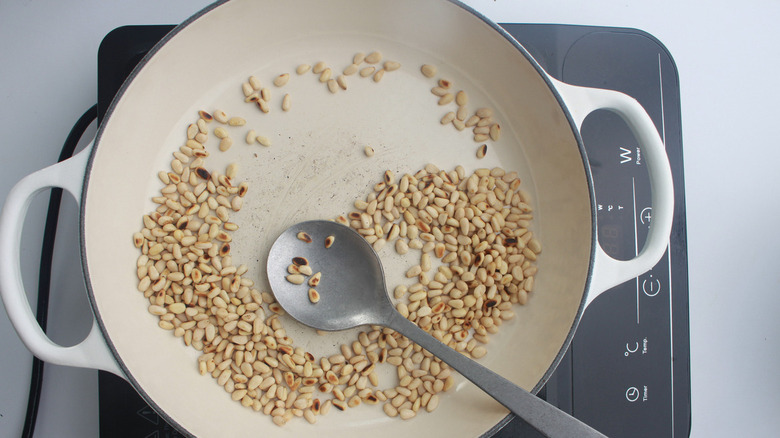 Susan Olayinka/Mashed
Toasted pine nuts have warm, nutty flavors and a velvety texture once you bite into them. While raw pine nuts are perfectly edible, if you've never tried them toasted, you're in for a treat. You'll have to be very attentive when toasting the pine nuts so as to avoid burning them. Place a frying pan on low to medium heat, toss in the pine nuts, and toast them for about one minute until they are golden. Using a spoon or spatula, move the pine nuts around the pan to toast them uniformly.
Slice the cilantro and the mint into thin strips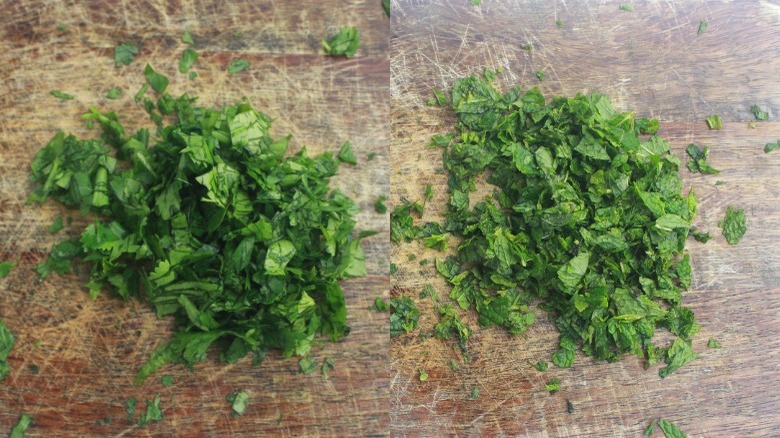 Susan Olayinka/Mashed
Next, you'll want to slice the cilantro and the mint nice and thin so that the herbs are evenly distributed throughout the dish, incorporating the fresh flavors into every bite. Set out your cutting board, and use a sharp knife to chop the herbs up finely. If you want to include any other herbs in the salad, be sure to slice them up as well so that they blend in with the couscous.
Add the couscous, pine nuts, fresh herbs, and pomegranate seeds to a large bowl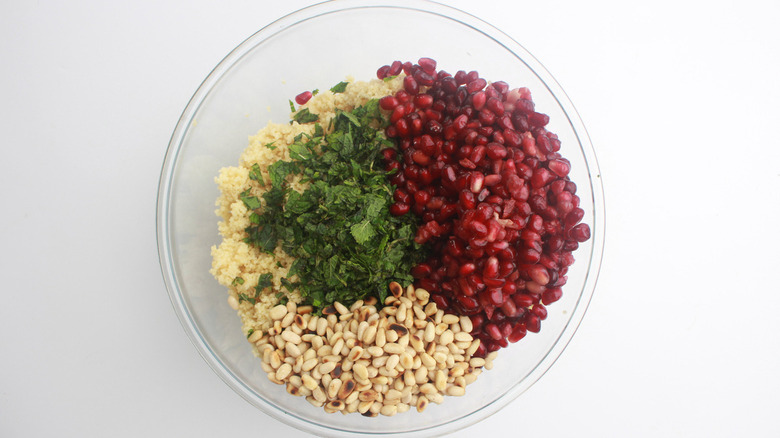 Susan Olayinka/Mashed
Now that all of the salad components are prepared, set out a large bowl to assemble the elements together. Add the couscous to the bottom of the bowl, then top it with the toasted pine nuts, the sliced cilantro and mint, and finally, the pomegranate seeds. If you're planning on including any extra protein or add-ins, now is the time to toss them into the bowl.
Add the dressing ingredients to the salad and mix the contents together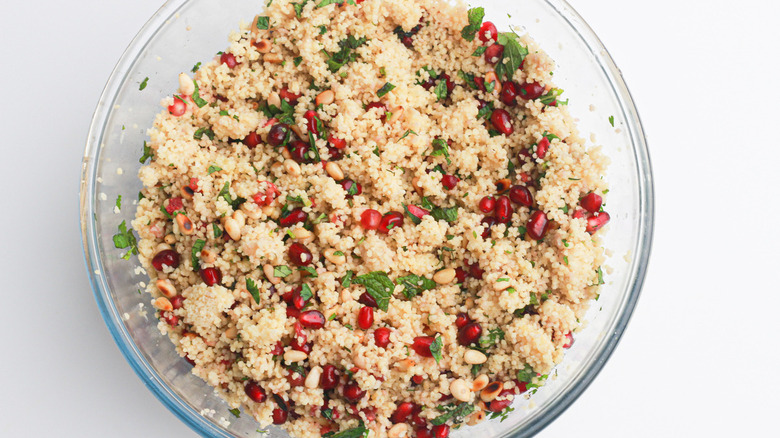 Susan Olayinka/Mashed
Finally, it's time to dress up your pomegranate couscous salad. Drizzle on some extra virgin olive oil, squeeze the fresh lemon juice on top, add a sprinkle of salt, and finish it off with some freshly ground black pepper. You'll need a big spoon or spatula to mix everything together so that the ingredients are properly combined. You want to have a bit of everything in each bite!
Serve this tasty couscous pomegranate salad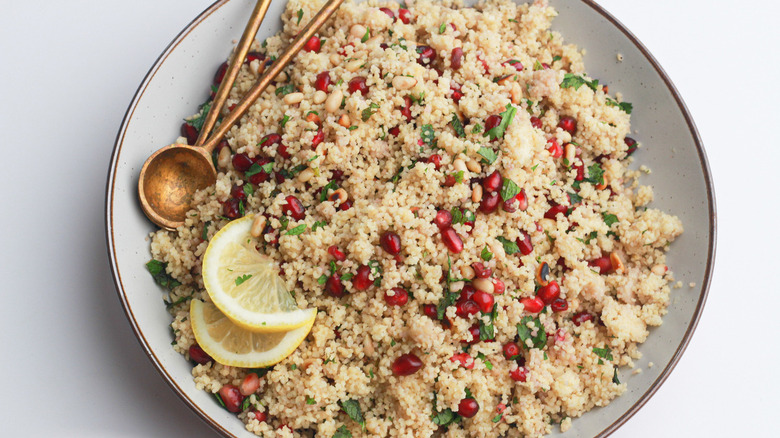 Susan Olayinka/Mashed
This tasty pomegranate couscous salad is incredibly versatile and can be enjoyed as a light meal or as a side dish with some protein. Additionally, you can go ahead and incorporate any protein directly into the salad if you prefer. Olayinka remarks that "roasted garbanzo beans, chicken, pork, or lamb" would be delicious. 
Since this dish contains lots of fresh herbs, once the dressing is mixed in, you'll want to eat it soon. According to Olayinka, "I would say it's best to eat fresh, but the day after is also just as good." 
Pomegranate Couscous Recipe
If you haven't yet taken to adding fruit to your savory dishes, this pomegranate couscous recipe is the perfect time to start.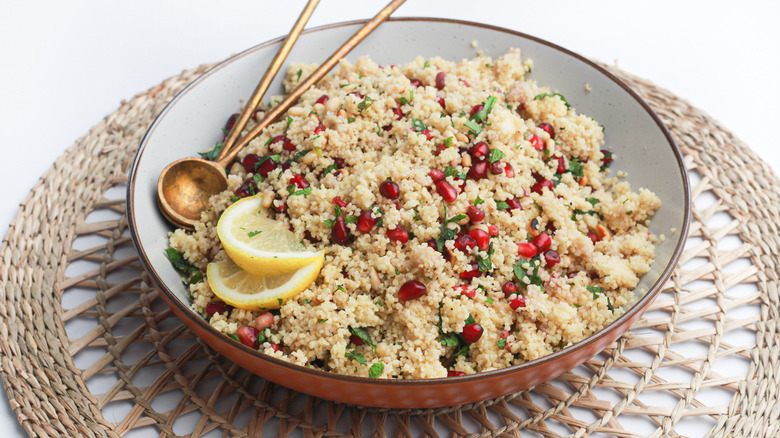 Ingredients
1 ½ cup dry couscous
1 ¾ cup water
⅛ teaspoon + ½ teaspoon salt, divided
½ cup pine nuts
½ cup fresh cilantro
½ cup fresh mint
1 ½ cups pomegranate seeds
2 tablespoons extra virgin olive oil
½ lemon (juice)
⅛ teaspoon black pepper
Directions
First, cook the couscous with the water according to the instructions on the packaging, adding ½ teaspoon of salt. It should take about 5 minutes.
Next, place a frying pan on the stovetop at low to medium heat.
Toast the pine nut seeds for 1 minute, until they are golden brown.
Set out a chopping board and slice the cilantro and mint into thin strips, then set them aside.
Place the cooked couscous into a large mixing bowl, then add the toasted pine nuts, sliced cilantro, sliced mint, and pomegranate seeds.
Next, add the extra virgin olive oil, lemon juice, ⅛ teaspoon salt, and black pepper.
Mix everything together and serve immediately.
Nutrition
| | |
| --- | --- |
| Calories per Serving | 479 |
| Total Fat | 19.6 g |
| Saturated Fat | 1.9 g |
| Trans Fat | 0.0 g |
| Cholesterol | 0.0 mg |
| | |
| --- | --- |
| Total Carbohydrates | 66.4 g |
| Dietary Fiber | 7.5 g |
| Total Sugars | 9.7 g |
| Sodium | 380.9 mg |
| Protein | 12.2 g |