These Are The Only Original McDonald's Arches Left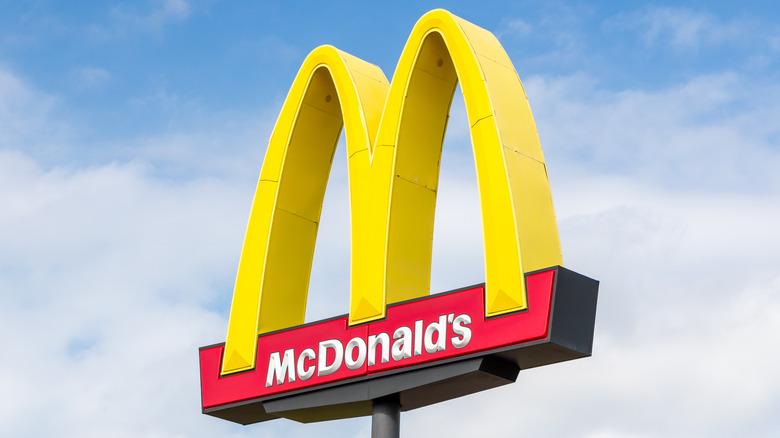 Shutterstock
McDonald's menu is known for Happy Meals, Big Macs, and of course, the ubiquitous golden arches. Anyone who spots them knows that they're in the presence of (as of last September) one of the chain's more than 38,000 locations around the world, according to Eat This, Not That!. According to the book "Fast Food Nation" (via an article posted by Business Insider), a Sponsorship Research International survey found that a stunning 88% of people recognize the golden arches, compared with a mere 54% who can identify the Christian cross. In fact, the arches were originally developed for just that reason: to make the restaurants extra-visible and identifiable when compared to surrounding structures, per another Business Insider post.
The arches are quite a bit different now than they once were, however. The original design had one arch on each side of the building, as well a single arch holding up the sign. Today's arches combine to form a giant "M" for McDonald's. Although the throwback logo is exceedingly rare, it's still out there. You simply have to know where to look.
Here's where you can find original McDonald's arches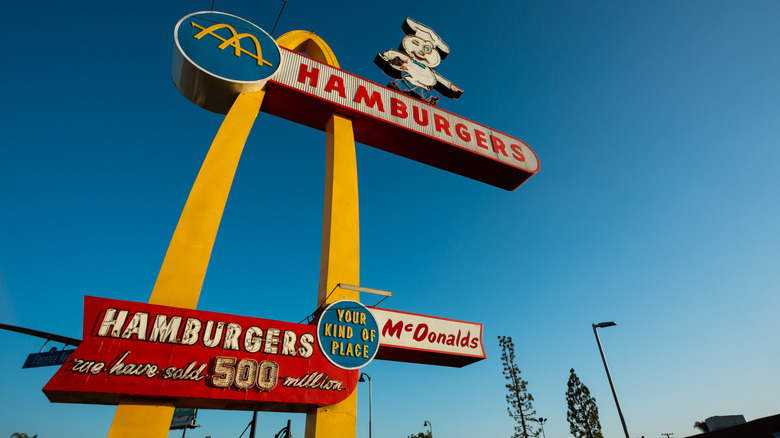 Shutterstock
Designed by the mega-company's first franchising agent, a guy by the name of Ray Kroc, the original arch is only on display at 12 locations in 12 different states in the U.S., per Eat This, Not That!. One of those is at the site of the oldest surviving McDonald's, located in Downey, California. Built in 1953, it was the fourth McDonald's ever built.
The South Houston, Texas location that features the original arch has at least updated it a bit. There's a digital sign attached now to better inform passersby of specials and hiring and such. In 2006 the sign in Pine Bluff, Arkansas was added to the National Register of Historic Places, and the Belleville, Illinois sign stands out because it's one of the only examples to not feature italicized letters. The sign in Lewiston, Idaho still features the chain's long-abandoned mascot, Speedee.
Other cities where you can find the throwback McDonald's arch are Montrose, Colorado; Green Bay, Wisconsin; Muncie, Indiana; Magnolia, New Jersey; Winter Haven, Florida; Warren, Michigan, and Independence, Missouri.