Flamin' Hot Cheetos Fans Need To Know About This Ice Cream Collab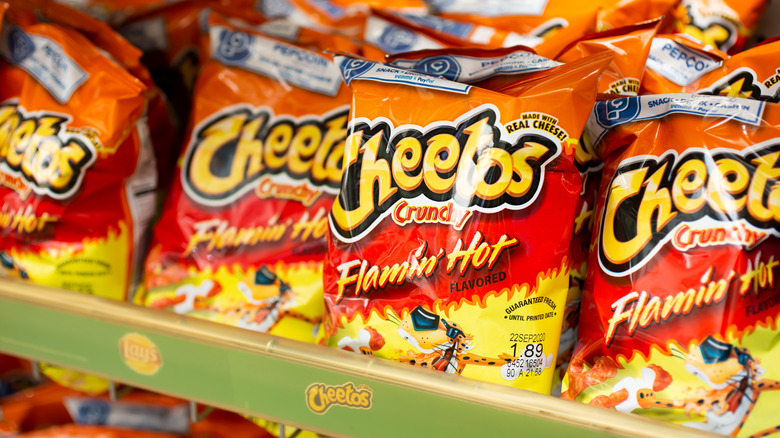 Shutterstock
From peanut butter and chocolate to salted caramel and even maple bacon, you can't go wrong with the combination of sweet and salty. But how well do sweet and spicy flavors go together? Frito Lay's newest collaboration with Marble Slab Creamery might give us the answer. Food and Wine reports that the chip company and Texas-based ice cream chain have teamed up to release not one but two new Flamin' Hot Cheetos desserts — an ice cream and a milkshake — both of which will be available for a limited time at all 250 of Marble Slab's locations in Texas and across the Southeast.
Clearly Marble Slab doesn't play games when it comes to bold flavor, because the ice cream and milkshake are loaded with generous chunks of Flamin' Hot Cheetos. And judging by the pictures Marble Slab has shared on its official Instagram page, they definitely contain more than a light sprinkling of Cheeto dust, so anyone who dares try it can expect a good amount of heat. As Food and Wine clarified, the base of the ice cream is simply sweet cream, which means there's no vanilla or any other additional flavors to mask the spiciness.
Flamin' Hot Cheetos and Marble Slab are confident its customers will love the ice cream
According to Marble Slab chief marketing officer Annica Conrad, the new flavor was created just as much for ice cream lovers as it was for Flamin' Hot Cheetos loyalists. "Marble Slab Creamery and Cheetos have a lot in common," Conrad said in a statement published by Food and Wine. "Our brands are both fun, witty, youthful, and provide a playful release from reality." Whether or not you end up liking it or hating it, both brands agree, you can't knock it until you try it. As Conrad went on to say, "Our Cheetos Flamin' Hot Ice Cream encourages you to not take life too seriously."
Anyone who's ever tried any of Flamin' Hot Cheetos' past dessert collabs, like the Flamin' Hot Cheetos frosted cupcake from Sprinkles, knows it's all about the experience. You won't find a fire-and-ice flavor quite like this one anywhere else, and at $5.99 a cone (via New York Post), it's definitely worth a try. If you're ready to try this ice cream, make sure not to wait too long — it'll only be available at Marble Slab through September 30.