Chef Chris Oh Reveals What It Was Like Cooking With Guy Fieri - Exclusive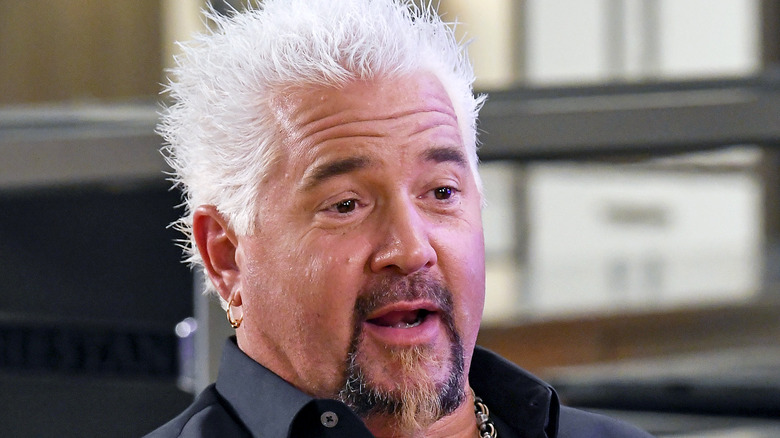 Steve Jennings/Getty Images
Chris Oh is many things, but demure is not one of them. During an exclusive interview with Mashed, the chef playfully described himself as "a chef, a restaurateur, TV personality, all-around hustler, with restaurants, food lines, TV shows, gigs, a Korean barbecue car. You name it, I got it!" But don't take that for arrogance, because despite all of Oh's achievements and all of his hard work, he remains grounded, and largely because he knows there is still so much for him to accomplish. As evidence, he points to another chef you may know: Guy Fieri.
"The great thing about Guy is it's not just about the food. He's got his own product lines and obviously, he's got the TV shows and he's a philanthropist," Oh says. "This guy has got, he's like the complete package and I definitely feel like I've accomplished a lot in my career, but I mean, nothing like Guy. I am definitely trying to strive for that, for sure."
Another reason Chris Oh appreciates Guy Fieri? The famous chef's on-screen persona is not an act, it's just him. And Oh knows, because they have cooked together. "Guy Fieri is honestly the same person as he is on TV. He's got great energy. He is a monster. He's like the king of food TV," Oh says. And of course, despite the fact that he may be better known as a TV personality than a cook these days, Fieri is a genuinely accomplished chef who worked his way up through the restaurant industry.
The other chefs Chris Oh would love to work with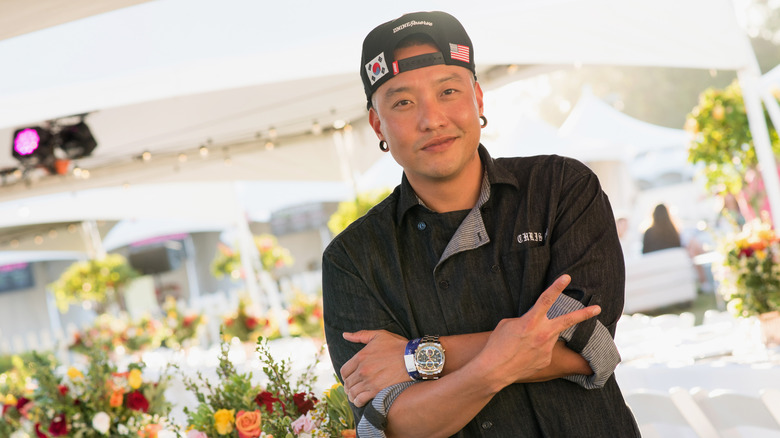 Tara Ziemba/Getty Images
Chris Oh has crossed paths with Guy Fieri as a contestant on "Tournament of Champions" and "Guy's Grocery Games." Asked with which chefs Chris Oh would like to work in the future, he immediately responded with the names of two women who have carved out their own impressive spaces in the culinary world.
"Right off the top of my head, [I want to cook with] Brooke Williamson," Oh says. "She, when it comes to the food world, she kills it on TV and she kills it in real life. I know her personally, she's an amazing chef and amazing person." 
Then Oh added: "And Nyesha Arrington. She's amazing. And she's half Korean too, which is pretty cool. I'm down for anybody. I'll cook with one of those little kids on Gordon Ramsay's show. You know what I mean? 'MasterChef Junior,' right? It's like, the great thing about cooking with other people is you really get to learn about them and their culture and their cuisine or their cooking techniques, and it just makes you a better chef in general."
For more culinary inspiration, check out recipes that include Chris Oh's favorite: SPAM.