Easy Ribollita Recipe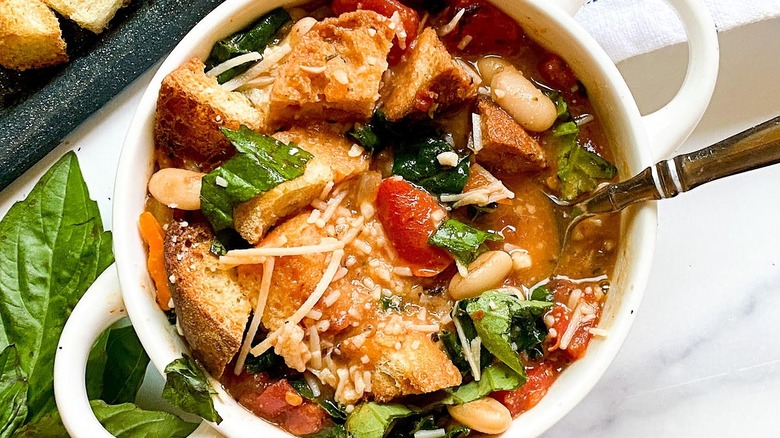 Miriam Hahn/Mashed
Soup is a wonderfully appetizing dish — it's warm, filling, and loaded with tasty ingredients. Of course, not all soups are the same, and soup is actually one of the most versatile foods out there. Some have creamy broths, whereas others have vegetable bases; some are loaded with goodies like potatoes, veggies, and cheese, while others are completely smooth and velvety. Also, you can eat soup for lunch, as a snack, for dinner, or as an appetizer, making it a great option for nearly any occasion.
One of the tastiest soups out there is ribollita, which is an Italian soup that is pretty similar to minestrone. Thanks to the addition of crusty bread, ribollita stands apart from other vegetable soups, making it a truly hearty and delicious meal. 
If you've ever wanted to make your own ribollita at home, you're in luck: Recipe developer and wellness coach Miriam Hahn has the perfect recipe! With this easy ribollita recipe, you can enjoy all of the delicious flavors of the soup while conveniently using up lots of produce from your fridge. "This dish is actually great on its own because it is a perfect balance of protein, fat, and fiber," Hahn says. 
Grab your vegetables and some crusty bread. This easy ribollita recipe is no doubt going to become a favorite in your household!
Gather the ingredients to make ribollita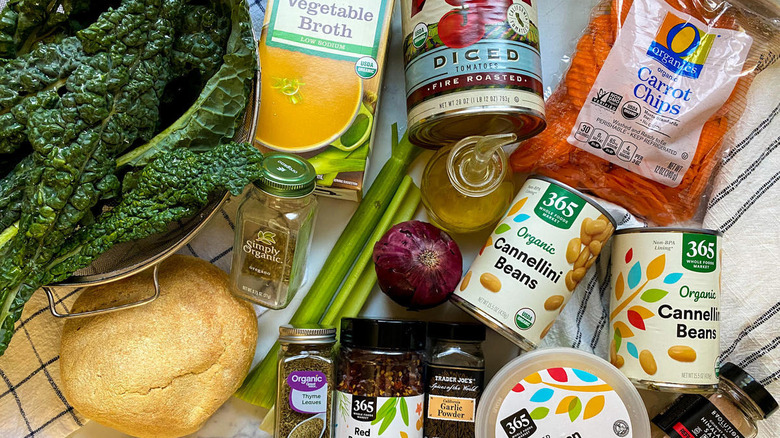 Miriam Hahn/Mashed
One of the best things about ribollita is that it is very satisfying and filling, with lots of vegetables, beans, and bread. To make this easy ribollita recipe, you'll need chopped red onion, chopped celery, oil, chopped carrot coins, a can of diced fire-roasted tomatoes, vegetable broth, garlic powder, oregano, thyme, salt, red pepper flakes, cannellini beans, cooking spray (for the bread cubes), dinosaur kale (aka lacinato), and Parmesan cheese. And, it wouldn't be ribollita without the bread, so you'll want some sort of crusty Italian bread, and it's even better if it's a day or two old. 
While it may seem like a lot of ingredients, they all come together in one pot, making for easy preparation and even easier clean-up!
Cook the onion, carrots, and celery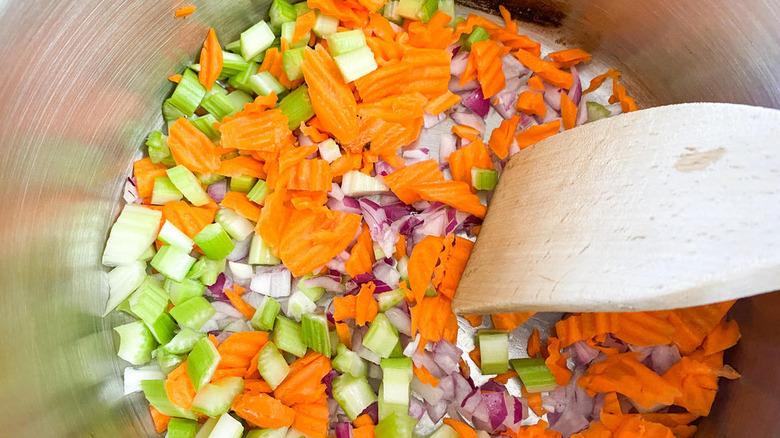 Miriam Hahn/Mashed
Once you have your ingredients sorted, you can get started on making the ribollita. 
First, preheat your oven to 375 F for the bread chunks. Then, put a large pot on the stovetop on medium-high heat and add in the oil. If your onion, carrots, and celery aren't already chopped up, you'll want to do that before you start heating the pot. 
Once you've chopped up the veg, go ahead and add it to the pot with the oil. Allow this trio to cook for about five minutes, stirring frequently so nothing burns. 
Add the tomatoes, broth, and spices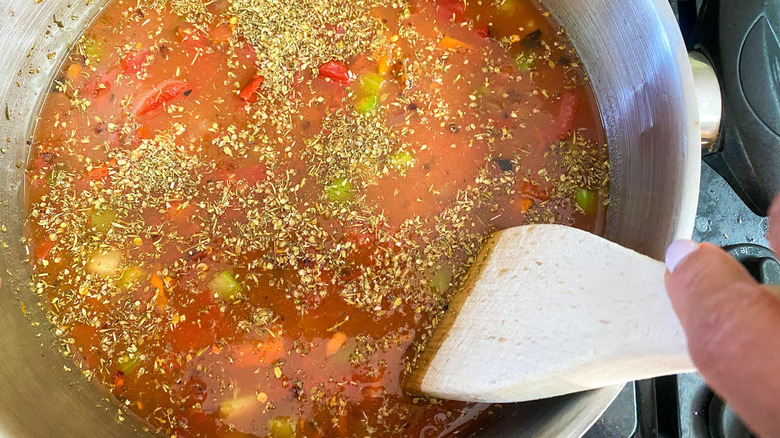 Miriam Hahn/Mashed
After your carrots, onion, and celery have had time to cook and soften, you can start adding more of the soup ingredients into the pot. Add the tomatoes, vegetable broth, garlic powder, thyme, oregano, salt, and red pepper flakes into the mix. 
You'll notice that your soup instantly brightens in color thanks to the red tomatoes and colorful vegetables. Give all of these ingredients a good stir, and then let the mixture come to a boil. Then, lower the heat and continue cooking the soup on low for an additional 15 minutes. 
Toast the bread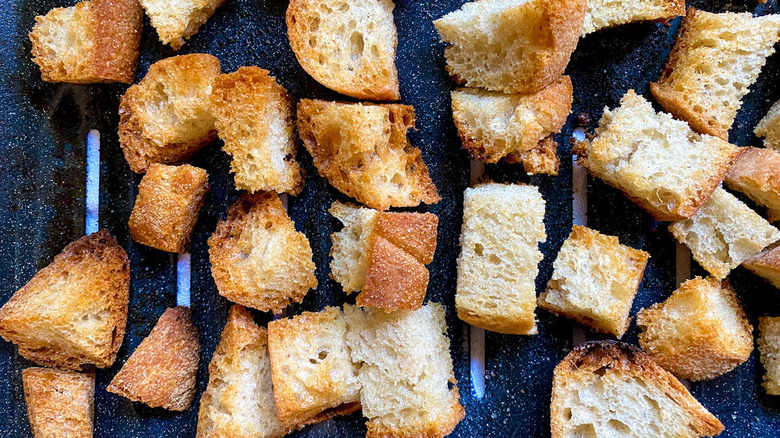 Miriam Hahn/Mashed
As your ribollita soup cooks on low heat, you can prepare your bread. First, you'll want to make sure that the bread is cut up into bite-sized chunks. Then, evenly spray each chunk of bread with cooking spray (Hahn uses avocado oil spray, but any cooking spray will do) and sprinkle on salt and garlic powder. 
Pop the bread into the preheated oven for 10 minutes. Once the chunks are done, they'll be slightly browned and, most importantly, crunchy and crispy! If your bread is already pretty crusty, you can skip this step entirely. Of course, it never hurts to add a little extra crispness and flavor to your bread!
Add the beans, kale, and Parmesan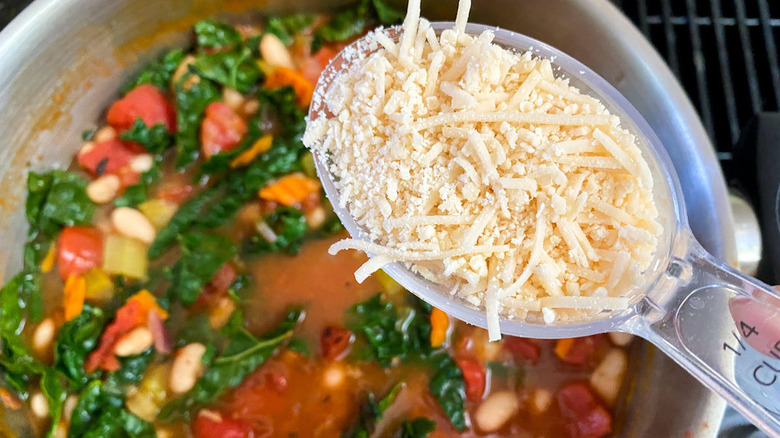 Miriam Hahn/Mashed
After your soup has cooked on low heat for 15 minutes, you can add the last few ingredients. First, add in the cannellini beans and kale, and keep stirring the soup until the kale begins to wilt — this should only take a minute. Then, you can add in your Parmesan cheese and stir everything together once again, ensuring that these final ingredients evenly incorporate into the rest of the soup. Finally, you can remove the soup from the heat and get ready to eat.
Add the bread chunks to the ribollita and serve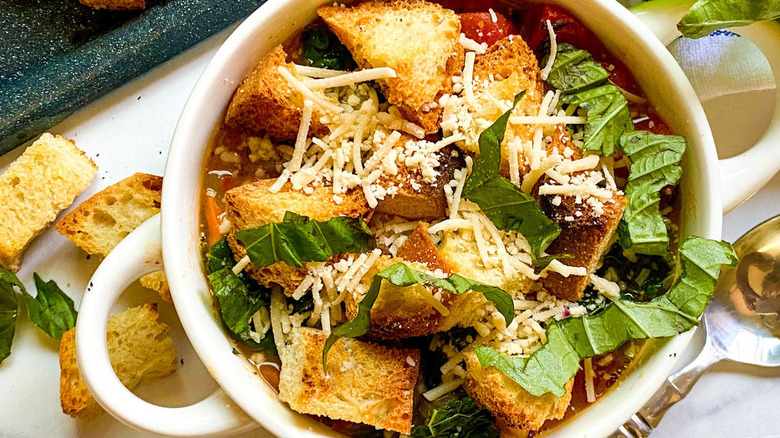 Miriam Hahn/Mashed
As soon as your soup is done cooking, divide it between serving bowls. Top each bowl with the crusty bread chunks, and then you're ready to enjoy! 
"This dish is savory, comforting, and delicious," Hahn says of the recipe. "It is so flavorful and hard to stop at one bowl, which is fine because it is a super healthy soup and a great way to get a lot of vegetables in." Not only is this soup good for you and hearty, it's equally delicious. And thanks to the addition of garlic powder to the bread chunks, it tastes just like adding garlic bread to your favorite soup!
If you have leftovers, you can easily store them for up to five days. Hahn intentionally puts the bread chunks onto individual servings instead of adding them to the whole pot so you can avoid soggy, unappetizing leftovers. Ultimately, however, there's nothing unappetizing about this ribollita, and with the perfect balance of vegetables and bread, it's hard to resist this classic, comforting soup.
Easy Ribollita Recipe
With this easy ribollita recipe, you can enjoy all of the delicious flavors of the hearty, filling soup while conveniently using up produce from your fridge.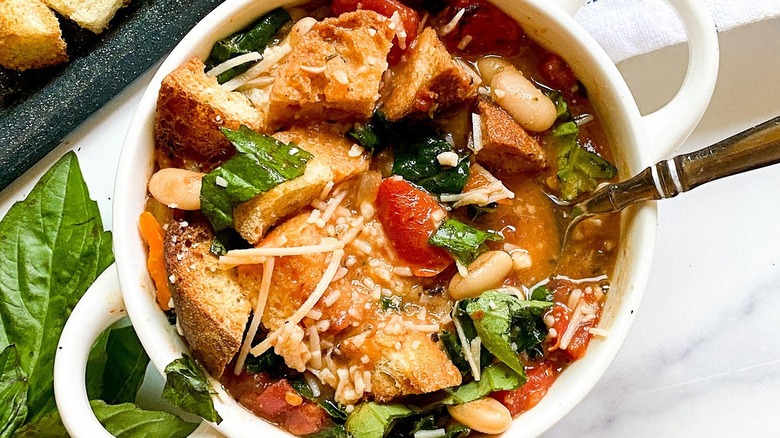 Ingredients
1 tablespoon oil
1 red onion, chopped
2 stalks celery, chopped
1 cup pre-packaged carrot coins, chopped
1 (28-ounce) can fire-roasted tomatoes
4 cups vegetable broth
1 teaspoon garlic powder, plus more for sprinkling on cubed bread
1 teaspoon oregano
1 teaspoon thyme
1 teaspoon salt, plus more for sprinkling on cubed bread
½ teaspoon red pepper flakes
2 (15-ounce) cans cannellini beans, rinsed and drained
1 loaf crusty Italian bread, cubed
Cooking spray
1 bunch kale, stripped from stems
¼ cup Parmesan cheese
Directions
Preheat the oven to 375 F.
Add the oil to a large soup pot and heat to medium high.
Cook the onions, celery and carrots for about 5 minutes, stirring frequently.
Add the tomatoes, broth, garlic powder, oregano, thyme, salt, and red pepper flakes.
Bring the pot to a boil and then cook on low for 15 minutes.
Meanwhile, spray the bread with cooking spray and sprinkle with salt and garlic powder.
Put the bread on a baking sheet and place in the oven for 10 minutes.
After the tomato mixture has cooked for 15 minutes, reduce the heat to low and add the beans and kale.
Stir until the kale wilts, about 1 minute, then stir in the Parmesan cheese.
Divide the soup between bowls and add the toasted bread.
Nutrition
| | |
| --- | --- |
| Calories per Serving | 474 |
| Total Fat | 13.2 g |
| Saturated Fat | 2.3 g |
| Trans Fat | 0.0 g |
| Cholesterol | 4.2 mg |
| | |
| --- | --- |
| Total Carbohydrates | 71.2 g |
| Dietary Fiber | 13.3 g |
| Total Sugars | 7.2 g |
| Sodium | 639.4 mg |
| Protein | 20.4 g |