Guy Fieri's New Collab Combines These 2 Unexpected Foods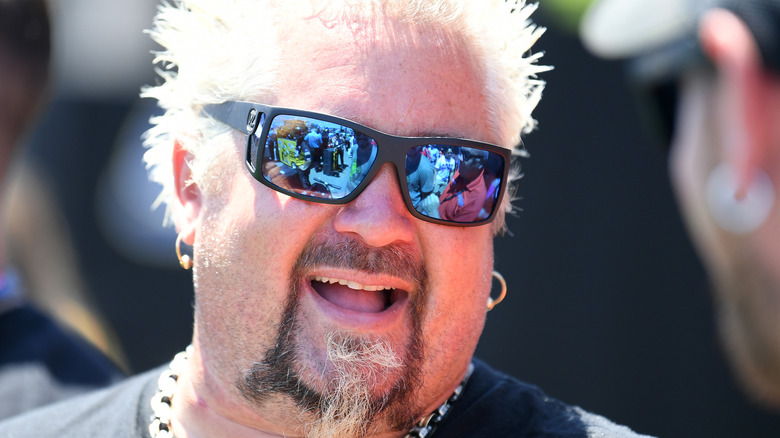 Robert Reiners/Getty Images
In times of uncertainty, Americans (if not humans in general) tend to gravitate toward all things nostalgic (via The New York Times). And these times ... they are uncertain, to say the least, thanks to the ongoing COVID-19 pandemic, among other things. That's probably the reason why many Americans, particularly those who have at least some passing recollection of pop culture from the mid-1970s, are finding themselves smiling and nodding knowingly at any warm, winking call-out to old comfort foods and "simpler" days gone by. The latest one is by the Mayor of Flavortown. 
In a collaboration with what appears to be Chevrolet, Major League Baseball (MLB), and Geico (and, likely, stakeholders in the iconic 1989 baseball movie "Field of Dreams"), child-of-the-1970s Guy Fieri has come up with a "funky throwback snack" (his words, via press release sent to The Takeout) — one which combines two seemingly "unexpected" foods, and which will be made available exclusively to attendees of the White Sox versus Yankees MLB game scheduled to be played on August 12 at the MLB "Field of Dreams" (site of the iconic movie, now a tourist attraction in Dyersville, Iowa). Read on to learn what those unexpected foods are, and why their combination by Fieri is actually not necessarily all that unexpected, at least for some Americans.
The combo may not be surprising to some generations of Americans
On August 12, at the first MLB game ever to be played at the site of the iconic 1989 baseball movie classic, stadium-goers will be able to purchase a brand new, never-before-available, snack food that was dreamt up by Guy Fieri. A combination of two seemingly unexpected foods, Fieri's fun foodie offering is an "Apple Pie Hot Dog" (via YouTube). "Featuring "an all-beef hot dog, apple pie filling, and Fieri's signature bacon jam, enveloped in flaky pie crust, and topped with an apple mustard drizzle, apple pie spice, and demerara sugar," according to a press release sent to The Takeout, the Apple Pie Hot Dog actually harks back to one of Chevrolet's most iconic television commercials — one that aired from 1974 to 1976 (via YouTube) and seemingly forever linked "baseball, hot dogs, apple pie, and Chevrolet" together as being quintessentially American. 
So, for Americans who aren't familiar with the long-ago ad and its not-at-all-annoying earworm jingle, the combination of smoked meat and sweet apple pie may, indeed, seem quite unexpected, or possibly even an "abomination" (via Auto Blog). But for members of Generation X and their elders, the combination of hot dogs and apple pie in the context of baseball — particularly baseball sponsored by Chevrolet — is not only not unexpected, but could even seem downright logical.