Fresh Sardine Pasta Recipe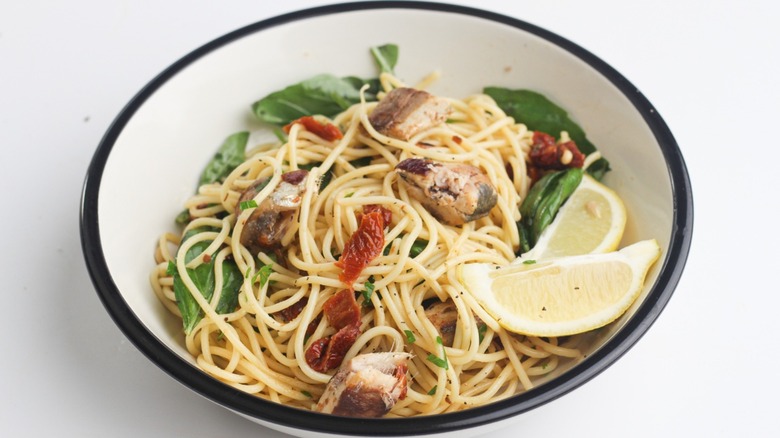 Susan Olayinka/Mashed
Don't you love one-dish dinners? Let's streamline the macros at dinnertime and put them all in one bowl! Well, Susan Olayinka, food photographer and recipe extraordinaire from The Flexible Fridge, has the secret to loading a wealth of nutrients into a single serving. And, to top it all off, this recipe is kid-friendly. Way to go, mom!
If you're not a fan of fish, this can be made without the sardines, but to get your daily dose of Omega-3 fatty acids, keep scrolling! Plus, pasta provides a good dose of carbs (in moderation) and Olayinka pairs these with some fresh veggies to boot! This winning recipe yields four serving, cooks in 20 minutes, and takes 10 to prep. All in all, making this to feed your family will be a breeze. We're certain this fresh fish dish will be a hit at your table this summer. 
Let's dive right in.
Collect your ingredients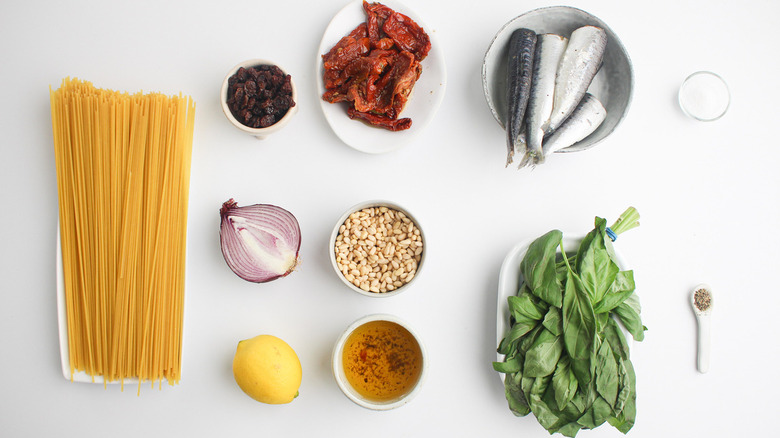 Susan Olayinka/Mashed
To make this spectacular fresh sardine pasta, you'll need exactly 10 ingredients. The main focus here is the spaghetti pasta, and any brand will do. You'll also need salt, red onion, fresh basil, sun-dried tomatoes, and fresh sardines — a fish you're maybe not eating but should be! Additionally, bring to the counter some pine nuts, cherry tomato oil (or EVOO), raisins, and one lemon. 
To make sun-dried tomato oil at home, combine sun-dried tomatoes, basil and olive oil in a food processor, then store the mixture in an airtight container for up to two days to let it infuse before extracting the oil through a cheesecloth, squeezing the mixture gently to get out all the oil. If store-bought oils are more time-appropriate for you, check your local store for trusted brands like Alessi, Bella Sun Luci, or Benissimo for sun-dried tomato oil options.
We know you'll appreciate the flavor and nutritional value of fresh sardines. According to Healthline, they are a heart-healthy source of vitamin B12, a bone-strengthening source of vitamin D that also aids in weight loss. Fish is also an impeccable source of Omega-3 fatty acids, which can reduce the risk of heart disease.
Boil the pasta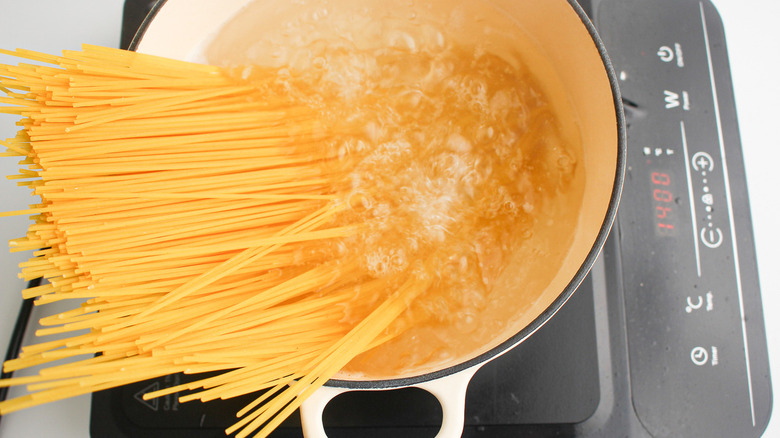 Susan Olayinka/Mashed
Start off by setting a stockpot filled with water over medium-high heat. Once the water boils, toss in the spaghetti, and cook it according to the package instructions. That usually takes 8 minutes or so, depending on the type of pasta. You can definitely use whichever kind you like, even a gluten-free pasta. As it cooks, sprinkle in a teaspoon of salt to flavor the pasta and water. 
While the spaghetti boils down, you can get chopping, which is the next step. 
Prepare the fresh ingredients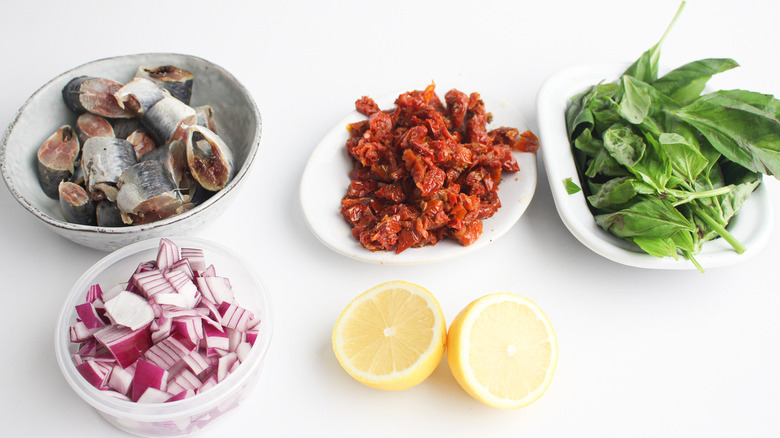 Susan Olayinka/Mashed
As the pasta cooks, go ahead and dice up a quarter of a red onion into half-inch chunks and set that aside to be cooked later. Then pick the basil leaves away from the stems and set the leaves aside. You might want to chop them up if you prefer fine strips of basil in the pasta, but this is completely optional. Overall, the leaves should amount to 1 ½ ounces (about half a cup) altogether.
Dice up 10 sun-dried tomatoes and set them in a bowl of their own. Take the lemon and slice it in half for later. 
Lastly, debone your nine ounces of sardines (or buy boneless) and cut them into one-inch pieces. You'll definitely want them carefully deboned if you're feeding this to children. Place them aside separately as well. 
Quickly roast the pine nuts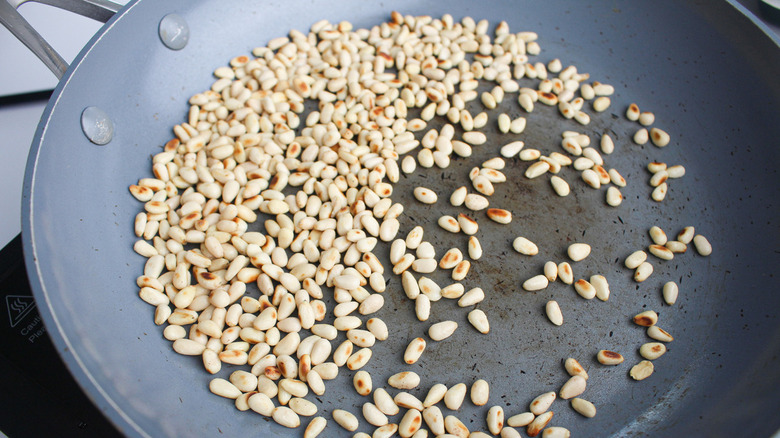 Susan Olayinka/Mashed
Wise words from the chef: The pine nuts for this recipe can certainly be replaced with walnuts, as per your preference. Olayinka recommends skipping the nuts altogether if you're cooking for guests with nut allergies. 
If you are using them, take a large frying pan and place it on medium-high heat. Drop in a half cup of pine nuts to be toasted. No oil is required for this step. As the pine nuts cook, continuously shake the pan so that they do not burn. Do this for about 40 seconds. When the pine nuts have turned a golden brown color, set them aside.
Fry up the sardines and onions
Susan Olayinka/Mashed
In the same frying pan, pour in a quarter cup of sun-dried tomato oil. Just before the oil starts popping, place the chopped onions into the pan and stir them well for about three minutes.
After the onions cook for three minutes, add the chopped sardines to the pan to cook for five minutes, continuously stirring carefully. If you didn't use deboned sardines, make sure you debone them yourself before adding them here. 
Drizzle the pasta with oil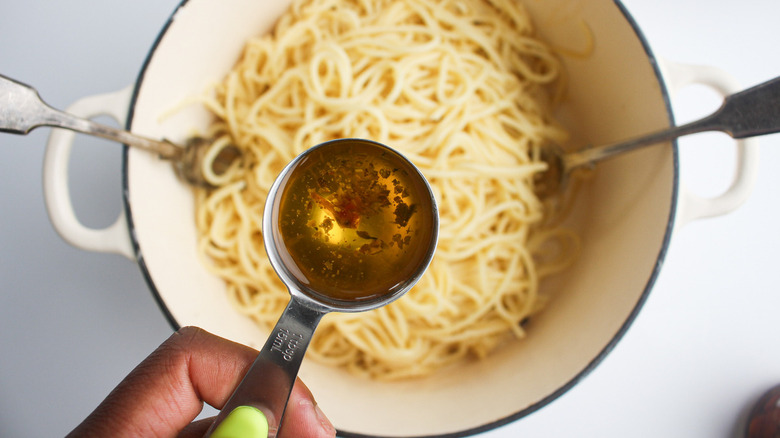 Susan Olayinka/Mashed
Once the spaghetti comes to your preferred state of doneness — generally, al dente — drain off the excess water and place the noodles back into the stock pot. Then drizzle two tablespoons of the sun-dried tomato oil over the pasta and mix them with hands or utensils so the pasta doesn't stick together. The worst thing would be to end up with large clumps of noodles because they were left un-oiled at this point.
Combine the pasta with the herbs and veggies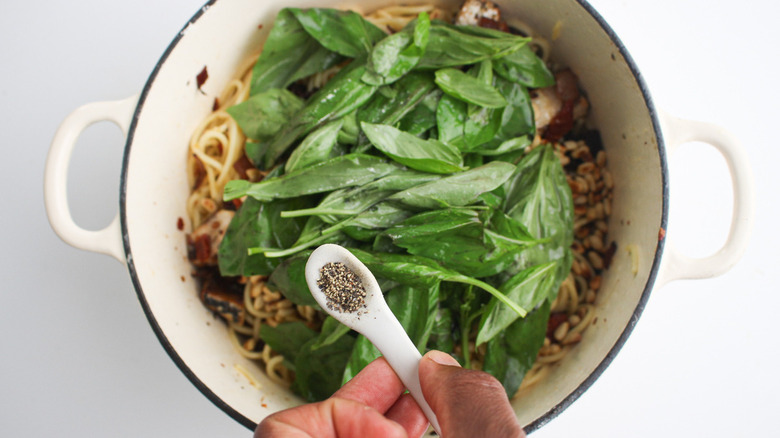 Susan Olayinka/Mashed
Now into the same pot you can add in the 10 chopped sun-dried tomatoes and the cooked sardines and red onions. Add in the toasted pine nuts along with the loose basil leaves and a quarter teaspoon of pepper. You can toss these together in any order. 
Next, drop in a half teaspoon of salt and a quarter cup of raisins, and squeeze in the juice of a whole lemon that you cut in two in advance.
Toss the ingredients together to combine them thoroughly and you're all set to serve!
Present your succulent sardine pasta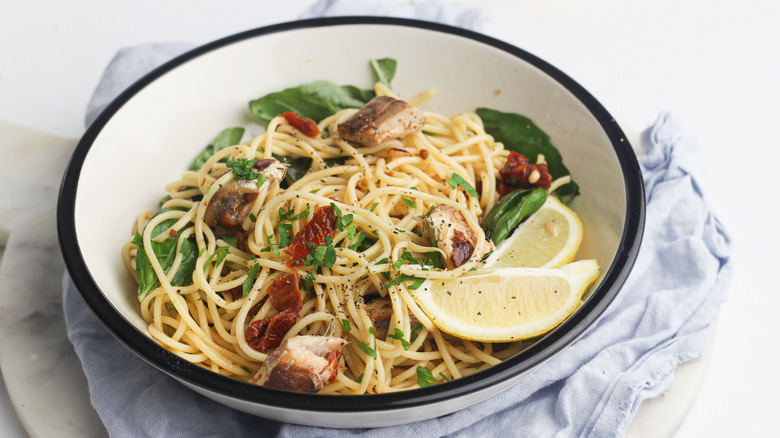 Susan Olayinka/Mashed
Your final step is transferring this beautifully-crafted pasta dish to a serving plate. Enjoy it while it's hot!
Olayinka says this dish is best served in summer. "It is so, so fresh and delicious. Every mouthful has each ingredient in," she says. When asked of the most unique qualities of the dish, Olayinka responded that you're less likely to see sardine pastas with fresh sardines than tinned sardines, which makes this heartier, fresher, and, we think, way better. 
This fresh sardine pasta will keep in the fridge for up to three days, but hence the name, it is best served fresh! We hope you enjoy the times around the table as you enjoy share this with your family. Until next time!
Fresh Sardine Pasta Recipe
Don't you love healthy one-dish dinners? This fresh sardine pasta recipe is rich in Omega 3s, yields four serving, takes 10 minutes to prep, and cooks in 20.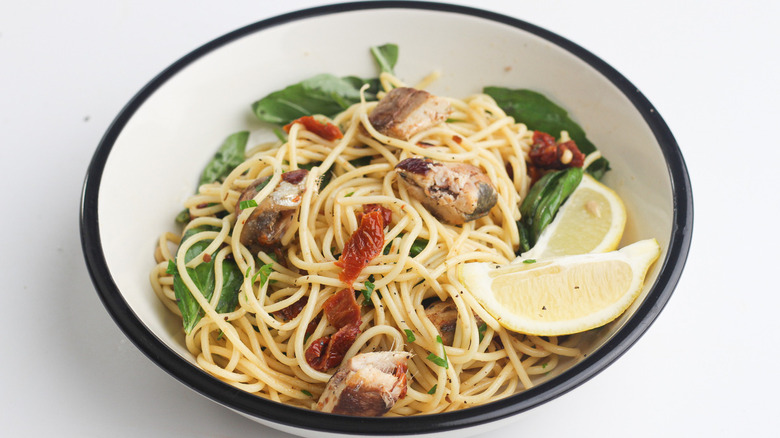 Ingredients
7 ounces spaghetti
1 ½ teaspoons salt, divided
¼ red onion
10 sun-dried tomatoes in oil
1 lemon
9 ounces fresh sardines, deboned
½ cup pine nuts
6 tablespoons cherry tomato oil, divided
1 ½ oz fresh basil
¼ teaspoon pepper
¼ cup raisins
Directions
Cook the pasta according to the box's cooking instructions, adding 1 teaspoon of salt to the water.
Meanwhile, dice the red onion into ½-inch squares and set aside.
Pick off the leaves from the basil stems.
Dice the sun-dried tomatoes.
Cut the lemon in half for later.
Cut the sardines into 1-inch pieces.
In a frying pan, toast the pine nuts on medium-high heat for about 40 seconds, continuously shaking the pan so that they do not burn.
After the pine nuts have turned a golden brown, set them aside.
Into the frying pan, pour ¼ cup of the sun-dried tomato oil and place the onions into the pan, continuously stirring for 3 minutes.
After 3 minutes, place the chopped sardines into the pan and cook for 5 minutes, stirring carefully.
Once the spaghetti has finished cooking, drain it and place it back into the pot, then stir in the remaining 2 tablespoons of the sun-dried tomato oil.
Add the chopped sun-dried tomatoes, cooked sardines, toasted pine nuts, basil leaves, remaining ½ teaspoon salt, pepper, cooked onion, raisins, and the juice of the whole lemon.
Transfer to a serving plate and eat immediately.
Nutrition
| | |
| --- | --- |
| Calories per Serving | 620 |
| Total Fat | 37.6 g |
| Saturated Fat | 3.5 g |
| Trans Fat | 0.1 g |
| Cholesterol | 38.3 mg |
| | |
| --- | --- |
| Total Carbohydrates | 50.7 g |
| Dietary Fiber | 3.7 g |
| Total Sugars | 8.0 g |
| Sodium | 467.3 mg |
| Protein | 23.0 g |