For Pancakes, This Griddle Stands Above The Rest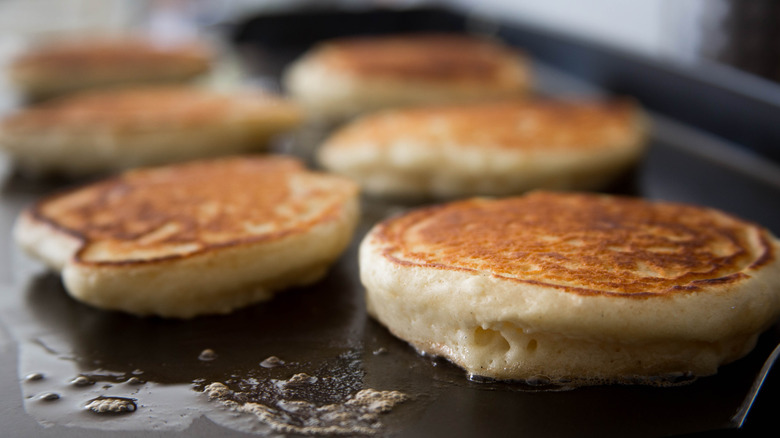 Shutterstock
We may receive a commission on purchases made from links.
Pans and skillets are nice and all, but have you ever used Dash's Everyday Nonstick Deluxe Electric Griddle? Not only is it easy to clean and store, but it makes cooking in large quantities a breeze, which is ideal for mornings when the whole house is craving pancakes. Rather than cooking flapjacks one-by-one (we all know how long that takes) or trying to juggle pancake batter between two different pans (a recipe for disaster), the electric griddle allows you to make up to eight average size pancakes all at once. Not to mention, it's only $59.99!
Measuring 20 x 10.5 inches, Dash's electric griddle has changed the pancake game forever, in more ways than one, clearly. Because there's so much room, you won't have to worry about the chocolate chip pancakes touching the banana nut pancakes. Plus, the griddle's Heating Probe has different temperature settings up to 400 degrees so you can alter the heat index to accommodate whatever ingredients you're cooking with. If you're still on the fence, check out what Amazon customers are saying about Dash's Everyday Nonstick Deluxe Electric Griddle.
Customers are calling Dash's Everyday Nonstick Deluxe Electric Griddle their new 'go-to griddle'
When in doubt, leave it up to Amazon customers to tell you how they really feel about a product. According to the e-commerce platform, customers give the Dash Everyday Nonstick Deluxe Electric Griddle a 4.8 out of five stars. More specifically, the electric griddle scores a 4.8 in the easy to clean category; a 4.6 in heat distribution; and a 4.5 in temperature control. Essentially, this griddle is earning a solid A among customers.
One happy buyer noted he was able to cook both eggs and bacon at the same time, and it was "10x faster than using [his] skillet." Another chimed in saying they use their griddle to make pancakes for the family every weekend, and they "love that [they] only have one thing to clean afterwards." Lifestyle blogger and YouTuber Kelsey Nixon shared her thoughts on the Dash griddle as well, informing viewers that the griddle's size is what won her over. She indicated that the substantial cooking surface is larger than most griddles. The Drip Tray is another huge plus, and is something you may not find in other products. 
Additionally, the griddle's cooking surface is removable and dishwasher safe, which may be a griddle first. I've never seen this feature before, and I no longer dread tidying up the kitchen because the cleanup process is hassle-free. Best of all: While comparably sized electric griddles can be up to hundreds of dollars, this griddle couldn't be more affordable.
Purchase the Dash Everyday Nonstick Deluxe Electric Griddle on Amazon for $59.99.