Andrew Zimmern Swears By This Cucumber Salad Tip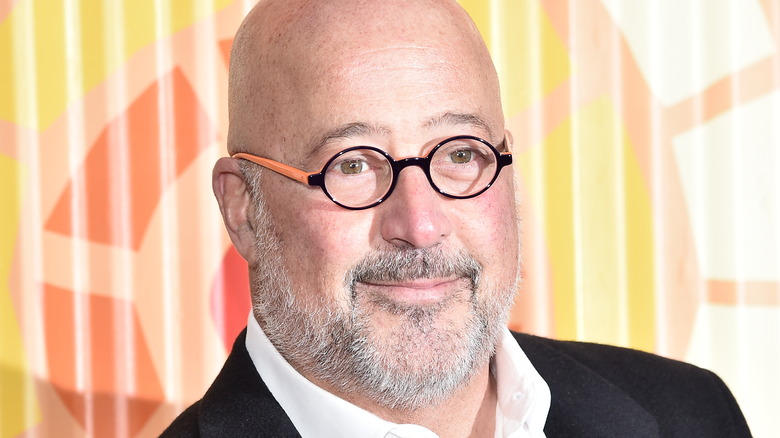 Steven Ferdman/Getty Images
Chef and "Bizarre Foods" host Andrew Zimmern regularly provides home cooks with tasty and useful cooking tips on Instagram, and this cucumber salad "hack" has got fans talking. As Zimmern explained on Instagram, "This is one of my absolute hands down favorite recipes. Inspired by my travels in China, it's a simple but unique cucumber salad." 
His recipe for Chengdu-Style Hot & Cold Cucumbers is on Zimmern's website and the ingredients are quite simple. Home cooks will need 2 large cucumbers, salt, sesame oil, sugar, rice vinegar, fresh and dried red chiles, fermented chile bean paste, Sichuan peppercorns, and peanut oil. The peanut oil is used for cooking, so in the event of allergies we imagine another neutral cooking oil could be substituted. 
According to Zimmern, there's a not-so-secret technique you definitely won't want to skip when making this salad. "Salting the cucumbers is important, you need to draw out the moisture so you don't end up with a watery stir-fry," Zimmern notes on Instagram, adding that "tossing them in a wok for a few seconds gives the cucumbers a silky texture and helps them soak up the sweet and spicy dressing."
Salted cucumber prevents soggy salad
That's right — the early preparation of the cucumbers is key. After slicing, peeling, and seeding the cucumbers, cooks will need to toss them in salt and let them sit in a colander for 20 minutes, according to Zimmern's recipe. Now that the cucumbers have achieved the right texture, it's time to add all those flavors. Preheat a wok with peanut oil or another cooking oil and add the hot stuff: Sichuan peppercorns and chiles. Cook until you can smell them. Add the cukes for a super quick toss (10 seconds maximum) and then set aside. Pour your mixture of sesame oil, rice wine vinegar, sugar, and chile bean paste over the top and let the whole mixture sit in the fridge for another 20 minutes. 
Zimmern's Instagram followers were quite excited by this recipe. "Yesss one of my favorite appetizers," user cookingbomb commented. Follower jainmuizmami adds, "I ate that growing up. My mom use to make it for us (we is Chinese) and now I make it for my kids." This delicious and refreshing recipe is exactly what we need to cool down from the heat waves happening across the country. We can't wait to try it ourselves.