For Grilling, This Meat Thermometer Stands Above The Rest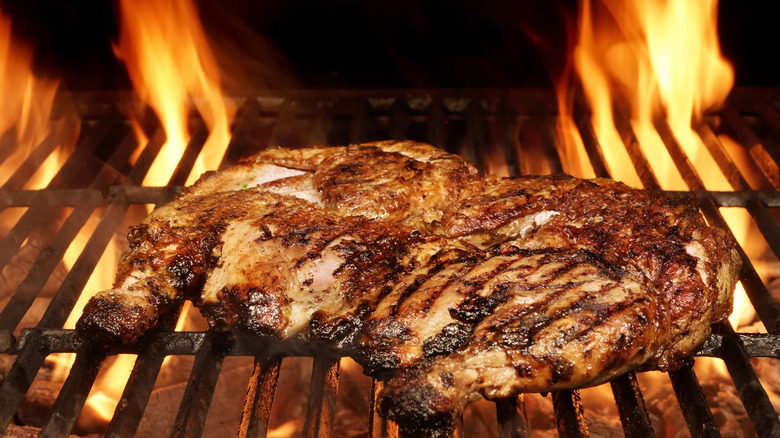 Shutterstock
We may receive a commission on purchases made from links.
To some, grilling seems like a chore to get dinner on the table. But to true connoisseurs, it's something of an art form. And we all know that Picasso didn't paint with just a standard brush.
Meat thermometers serve a couple of ultra important purposes. First, they tell you when the meat is cooked to the appropriate temperature, helping to avoid icky food poisoning. For the record, the Centers for Disease Control and Prevention (CDC) says that beef should be cooked to 145 degrees Fahrenheit to achieve medium well doneness. Pork requires a minimum of 145 degrees Fahrenheit, and poultry (turkey and chicken) should be cooked to 165 degrees. This is not something you should take the chance on eyeballing, as undercooked food can be sickening, even deadly.
The other, much more delightful reason to use a meat thermometer is that they make the food more delicious. Cutting into meat to check doneness dries it out and releases delicious juices, says Eat This, Not That! Instead, use a proper digital thermometer, inserted at least a half-inch into the meat at its thickest point, and be notified the very second the protein reaches the ideal cooking temperature. There are a bunch of digital meat thermometers on the market for all price points, but we recommend Kizen Digital Meat Thermometers for Cooking. Here's why.
What makes Kizen digital meat thermometers stand out?
The Kizen digital thermometer is billed as super-fast, taking temperature in as little as three seconds. One product reviewer says that the tool lands on a stable temperature in about six seconds. He also notes that it "came with extra battery — that was cool." 
Another perk to this particular thermometer is that it's not only for grilling. The company's product listing notes that it can be used to test temperature on all types of things, like beverages, baby milk, and frying oil. Amazon reviewer Trisha Wells even noted that her husband used it successfully to test their daughter's bath temperature!
The Kizen meat thermometer is also waterproof, so it can be easily washed under running water, unlike many other models. It's also durable, available in multiple colors, convenient to store, and easy to read and use. Even if there is a problem with a particular unit, Kizen closely monitors ratings and provides replacements quickly, often with lifetime warranties, as noted by multiple reviewers. One Amazon customer who was initially displeased updated their review with the following: "They noticed my 1 star review and reached out to me immediately. They refunded the entire cost as well as sent a free replacement. The replacement works much better and gives an accurate temperature reading. The first thermometer must have been defective."
Buy the Kizen Digital Meat Thermometers for Cooking on Amazon for $16.99.