Why Elijah Wood Is So Courageous For Going On Hot Ones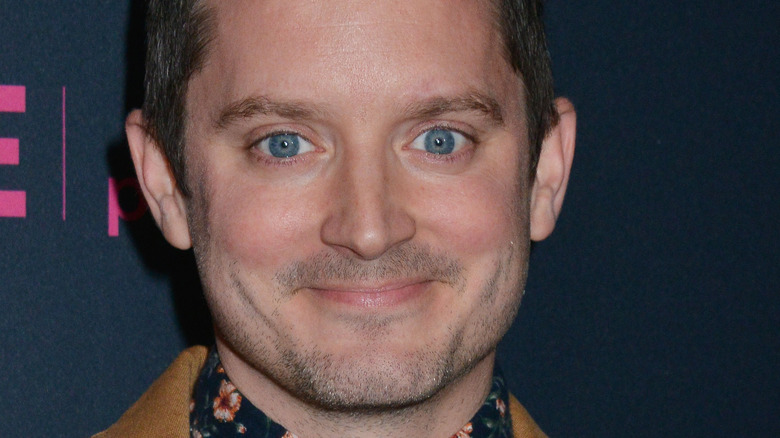 Shutterstock
You think you know the answer to this one, but we promise you — it's worse than that. Elijah Wood is actually a foodie — or so The New Potato says. At one point, his ideal daily menu included breakfast tacos, smoked duck pastrami, and ramen. And there's reason to believe that Wood does love food. He grew up in the restaurant industry. His parents used to run a diner. And, there's this: Wood told Bonappetit that he's capable of making a mean cassoulet, which is a French slow-cooked casserole ... but no biggy. Suffice to say — this Midwestern actor does not survive off of Wonderbread, and Wonderbread, alone. He may eat his chili with cinnamon rolls like they say Iowans do. Words still out on that. 
Neither is Elijah Wood a hot sauce hater. Recently on "Hot Ones" he revealed that his favorite food-related movie scene was when he shared a lemon wedge with hot sauce with Nicolas Cage in "The Trust" (via Youtube). So — if it's not that Elijah Wood can't stand spicy, why was the actor so courageous for going on "Hot Ones"? 
Elijah Wood's reveals scary hot sauce experience
As Elijah Wood told "Hot Ones" host Sean Evans, he's always been a fan — so much so that Wood has kind-of-sort-of done "Hot Ones" before (via Youtube). The story goes something like this. The acting legend and his friend, Alamo Drafthous Theater founder Tim League, ended up in the building where "Hot Ones" is filmed. Wood saw all the hot sauces. "I was like, 'Oh sh**, I've always wanted to be on this show,' Wood recounted to Evans. One thing led to another. Soon he and League sat down to try the sauces, "just as like a separate little internet bit."  
League was the first to have what Wood described as "a very severe reaction." Someone called an ambulance. Wood didn't escape unscathed, either. "I'm outside, my friends doing better," the actor told Evans, "and I start to get this warm sensation in my stomach, and I thought 'Oh sh** this is it,' and I ended up also on my knees in a severe amount of pain." Wood's actually told this story to Seth Meyers before ... and much more graphically. "I've had my appendix out and when that burst it was the most imaginable pain I've ever felt. I'm not gonna say this was dissimilar," he told the late-night host in 2020. "It was so bad – so bad! It was a fireball in my stomach" (via Youtube). 
You'll be happy to know that this time around, Elijah Wood survived "Hot Ones" without an ambulance. He did not escape without sweating.