41% Think This Sandwich Shop Has The Worst Quality Meat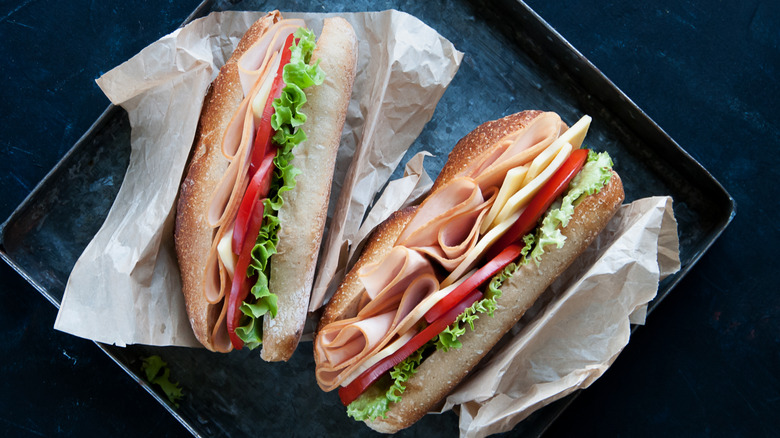 Shutterstock
There are hundreds of places you could turn to when you're looking to grab a quick meal, but not every day calls for a greasy burger and fries. If you're yearning to chow down on something a bit fresher during your next lunch break, perhaps you could join in with the other 300 million Americans every day, per History, who turn to a delicious sandwich piled high with meats, cheese, and veggies in order to quell hunger.
When it comes to getting a sandwich on-the-go, there's more than enough sub shops to choose from, though you probably want to make sure your food is going to be worth the extra couple dollars it will cost over the price of that drive-thru value meal. Fresh vegetables are certainly something to pay a bit more for, but not if the meat on your sandwich isn't also up to par. 
Mashed conducted a survey to help determine who has the beef (or chicken or salami) — and who doesn't. A total of 603 sandwich lovers in the US chimed in with their picks for which sub shop serves the worst quality meat, choosing among Blimpie, Jersey Mike's, Jimmy John's, Penn Station, Quiznos, Subway, and Which Which. And the worst place beat the competition by a long mile.
Survey shows that Subway has the most unfavorable meat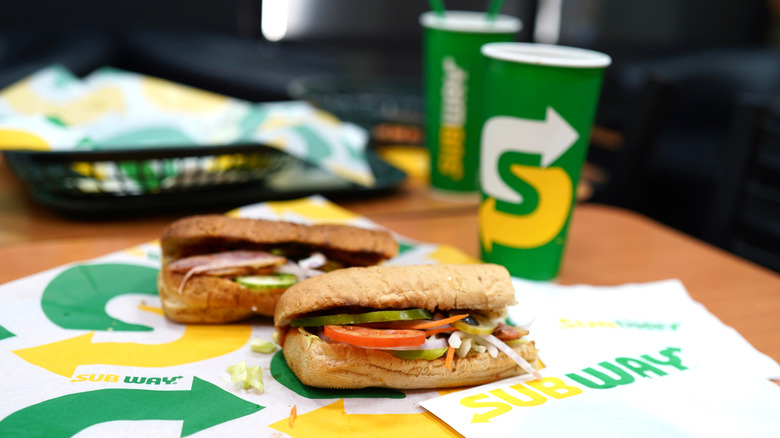 Shutterstock
You've likely visited at least one of the sandwich shops included in the survey, and if Jimmy John's is one of them, then you probably got the best sandwich since the "freaky fast" sub shop earned the lowest amount of responses from the 603 total survey participants, with just 6.97% of the votes, making it an excellent place to get a high-quality turkey or roast beef sub.
Which Which, Jersey Mike's, and Penn Station followed closely behind with only 7.63%, 8.29%, and 9.29% of the votes, respectively, so if you happen to be near any of these restaurants when the craving for a nice, meaty sandwich strikes, you can confidently turn to any of them for a top-notch meal. 
Toasted sandwich emporium Quiznos and New Jersey chain Blimpie filled up the next two highest spots with 10.95% and 15.75% of the respective vote.
But the one spot that was overwhelmingly pinpointed as having the worst quality meat — with 41.13% calling it out for substandard quality — is also America's biggest sandwich chain: Subway. After the whole tuna-gate ordeal, we can't say we're totally surprised. Despite promising on their website that they are "dedicated to producing the highest-quality, safest, and best-tasting sandwiches," one Redditor identifying themselves as a Subway employee revealed that the chain's meat doesn't exactly qualify for being the fresh food that the brand has prided themselves on serving. 
The Reddit user revealed that Subway's deli meats come pre-sliced, frozen, and are often sitting out on the sandwich assembly line for hours at a time. When you've got spots like Jimmy Johns stacking their sandwiches with all-natural meats (via their website) and Jersey Mike's slicing theirs fresh for every sandwich (noted on the official site), heading to Subway for a sub certainly seems like the wrong choice, any way you slice the bread.