The Surprising Way One Customer Picked Up Their Dairy Queen Cake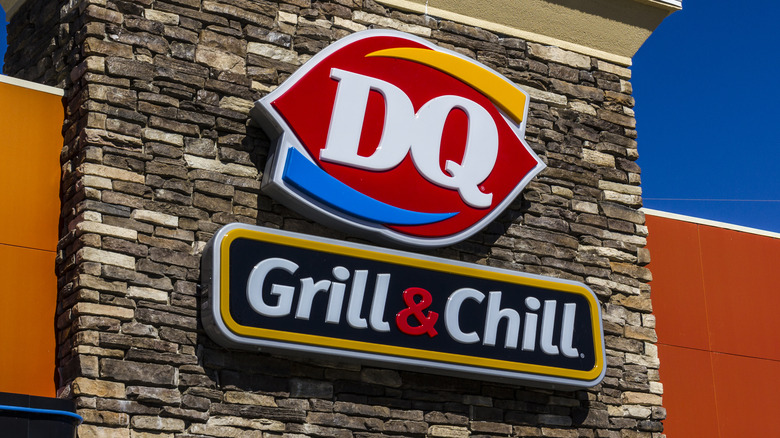 Shutterstock
As the mayor of Tisdale, Al Jellicoe could be forgiven for thinking he had seen the most surprising things his Saskatchewan town could throw at him. Then, on July 31, he saw a helicopter land in an empty parking lot and watched a passenger jump out to pick up an ice cream cake at Dairy Queen. "Well, I thought somebody must be hungry," he later told CBC, adding that this unusual pickup method was "probably not the right thing to do."
The Royal Canadian Mounted Police (RCMP) seem to feel similarly — CBC reports they have charged the pilot with the "one case of dangerous operation of an aircraft." The matter will go to court in September.
However, when the RCMP shared the news on Twitter, another user brought up how one of their own helicopters had recently landed to pick up a burger from Peters Drive In. In fact, The Drive indicates that these weren't even the first occurrences of helicopters landing to pick up fast food in Canada. In 2009, a pilot plopped a "military-owned CH-146 Griffon helicopter" in the middle of an Ontario baseball field. His mission? To pick up food from an A&W.
Yet more surprising ways food was retrieved
Of course, Canada isn't the only place people are picking up food in unusual ways. In 2017, a tank driver in Brussels decided to pick up a burger from a restaurant called Quick on his way back from a military parade, as documented in a YouTube video. "The soldiers eventually left with their burgers and headed home," the video's description explains.
Another eyebrow raiser was when a hearse stopped at a Leeds-based Burger King in the midst of bringing a coffin to the crematorium. According to Fox News, Leonard Durkin, the deceased, would stop by Burger King every week after visiting his wife's grave. So, he asked his son to place a Burger King burger, specifically a double bacon cheeseburger, upon his coffin as a tribute. Even more impressive was that the drive-thru worker didn't bat an eye or raise a brow at the unusual vehicle. Neither of these, however, quite match the dangerous spectacle that Canadian pilots seem to habitually engage in.