Papa John's Is Bringing Back This Fan-Favorite Pizza For A Good Cause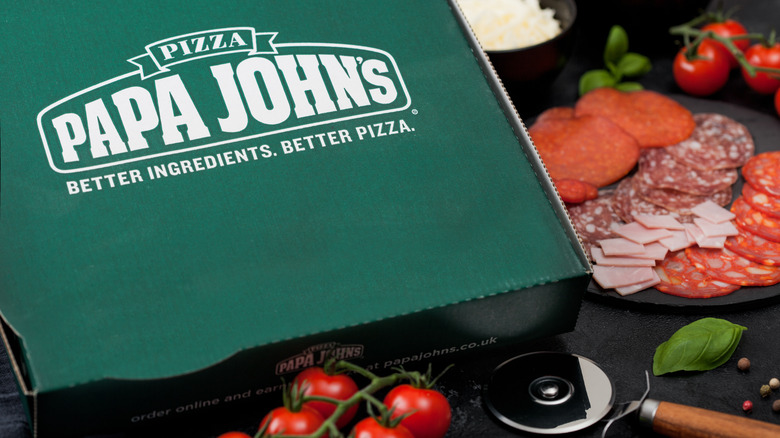 Shutterstock
Pizza is a gift that's meant to be cherished, to be devoured, and to be celebrated. There is so much to love: cheese, delectable toppings, the joy of sharing a couple of slices with someone else, and more. One of the most popular pizza chains in the market? Papa John's. Per QSR magazine, the pizza chain has grown at an unprecedented rate over the last year, with same-store sales increasing by 17.6% in North America and 12.6% abroad. 
The company's CEO Rob Lynch expressed plenty of enthusiasm when he said that his team had been working hard to achieve its goals since 2019. "At that time, we established our company purpose, values, and strategic priorities. We rebuilt a leadership team who reflected those values, and we removed the guardrails around innovation," he stated (via QSR). Papa John's has been working on interesting products, such as the Epic Stuffed Crust, a promising item that was launched late last year. According to Papa John's, its stuffed crust is special and the dough has extra cheese, signature pizza sauce, and a topping that you get to choose.
Meanwhile, another promising item is coming back to the brand's stores. According to a press release from Papa John's on August 16, this special pizza is being brought back today for Papa Rewards members and will be available to all customers next week on the 23rd.
It's a much-loved option
The pizza in question? The Shaq-a-Roni pizza! As per USA Today, the Shaq-a-Roni pizza created waves among fans and was launched in collaboration with NBA legend, Shaquille O'Neal. Interestingly, the basketball player owns a Papa John's outlet and is also a board member. The pizza is something else and sounds like a treat: It has extra cheese and wait for it ... 66 pepperoni. Plus, it's an extra large pizza. Yep.
According to the company's press release, the Shaq-a-Roni is gearing up for its comeback and will be available for a limited period. Papa John's announced that it managed to raise $3.6 million for charity through the Shaq-a-Roni pizza last year and wants to take things a step further this time around. The brand's CEO Rob Lynch said, "We are excited to partner with Shaquille to deliver an extra-large, extra-special pizza that also gives back ... the needs in our communities have increased over the last 18 months, and we are so proud of our team members, franchisees and customers for coming together to provide support to great organizations doing important work."
The company will basically donate a dollar for every Shaq-a-Roni pizza that it manages to sell to the Papa John's Foundation for Building Community. This delicious treat is priced at $13. The company has also mentioned that it will feature charities in its national advertisements this year to highlight important topics.