Trader Joe's Fans Are So Excited For Its New Hummus And Vegetable Wrap
In need of a quick, nutritious meal that is packed with fiber and protein to add to your Trader Joe's list? This hummus and vegetable wrap is exactly what you've been searching for. The popular Instagram account @traderjoeslist reported that this new item was found in a Trader Joe's store in Florida and reposted a picture from the account @traderjoesfl.
The wrap is 100% vegan but still maintains a creamy consistency thanks to the hummus and tahini embedded within it. However, it is also "texturally diverse," according to the Instagram post, meaning that you'll still have a nice crunch from vegetables like bell peppers, cucumber, and carrots.
People in the comments section are already raving about the popular chain's addition, with one user writing, "I just tried it, it's SO GOOD! " Another user was excited to look for it on their own shelves, writing, "Mhmmm this looks pretty good!!! Can't wait to try."
The wrap has received rave reviews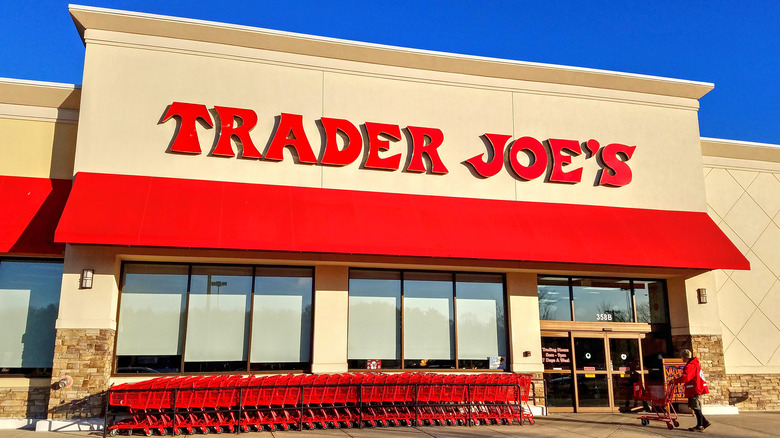 Shutterstock
Trader Joe's on-the-go foods sometimes don't get as much hype as its pre-packaged items, like its Cinnamon Bun Spread or the Everything but the Bagel Seasoning, but this new product is definitely try-worthy.
According to abillion, a vegan food review community, the product received a rating of 4.2 out of 5, with multiple reviews noting how surprisingly filling the snack is. One review stated, "This wrap was very filling and had all sorts of tasty veggies in it!" Another user wrote, "Good and affordable snack. Very filling," adding, "The sauce they provide with it is amazing."
Plus, another benefit is that there are two servings per package, which makes it perfect to split with a friend or to bring to work during one of your busier days. So head on over to your nearest Trader Joe's and head right towards the premade section, because it sounds like these wraps could be the store's next sold-out item.