Cajun Shrimp Pasta Alfredo Recipe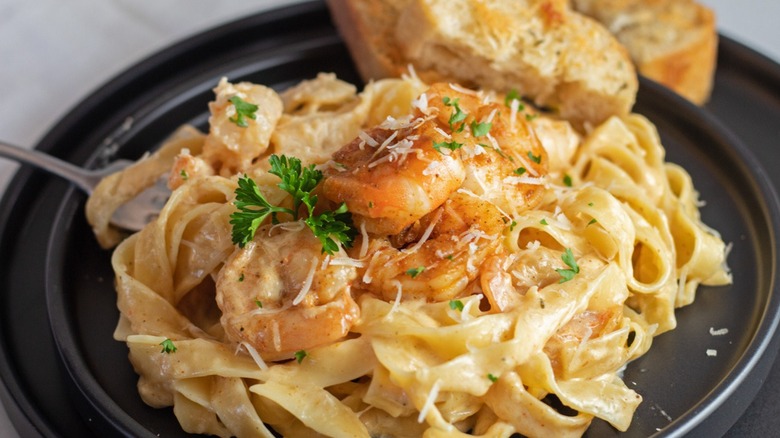 Angela Latimer/Mashed
According to popular legend, fettuccini Alfredo, a now-classic creamy pasta dish, was invented in the early 20th century out of the love of a man, Alfredo di Lelio, for his wife, who was either pregnant with child no. 2 and too beset by morning sickness to enjoy eating much of anything else or exhausted and weakened after the birth of the couple's first son. Either way, the Parmesan-laden recipe entered the world with love, and so it's only appropriate that Angela Latimer, the recipe developer behind Bake It With Love, has come up with this modern twist featuring the heat of Cajun seasoning.
Although classic Alfredo sauce relies on Parmesan for its flavor, Latimer highly recommends combining Parmesan with Romano. "I think that the addition of Romano when making Alfredo takes the sauce to the next level," she told Mashed. Even more important to Latimer is using freshly grated cheese, as opposed to pre-grated cheese. "I don't usually like to use pre-grated cheeses in sauces," she explained. "They have additives to keep them from clumping, which also prevents them from melting nicely ... Use whatever you have available, but for best results use freshly grated Parmesan (or Parmesan and Romano)."
Gather your ingredients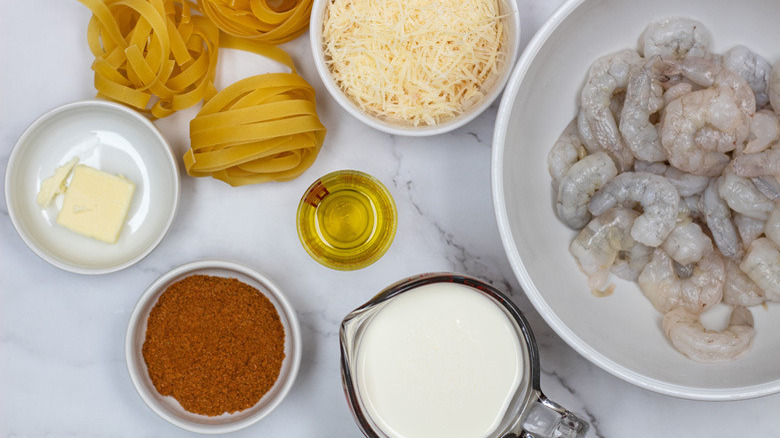 Angela Latimer/Mashed
For this Cajun shrimp pasta Alfredo recipe, to start, you'll need eight ounces of pasta. The classic Alfredo formula was designed for fettuccini, but Latimer says you can use whatever pasta you prefer, whether that's fettuccini or something else (e.g. penne, linguini, rotini, etc.). You'll also need one pound of large or jumbo shrimp, deveined and with the tail removed. Feel free to buy these frozen, but just make sure to thaw them in the fridge before starting this recipe. 
For cooking the shrimp and saucing it up, you'll need one tablespoon of olive oil, two tablespoons of Cajun seasoning (Latimer's favorite brands are Tony Chachere's, Zatarain, and Slap Ya Mama, which aren't as high in salt as some of the others and will therefore give you more control over the level of salt you end up with in your finished dish), one tablespoon of butter (again, preferably unsalted for the sake of seasoning control), one cup of heavy cream, and ½ cup of freshly grated Parmesan and/or Romano cheese (do what you can to find it freshly grated, as discussed above). 
Oh, and Latimer tops her Cajun shrimp pasta Alfredo with curly-leafed parsley, which looks beautiful, as you can see. She told Mashed she grows her own in pots on the front porch of her farm! If you love parsley and have some on hand, consider that a sprinkling option when you serve.
Boil the pasta
Often when a recipe calls for pasta, recipe writers will recommend cooking it according to package instructions. This, however, is an exceptional case, as you'll see. Because the pasta is going to cook a bit with the shrimp and the sauce in order to amp up its flavor, Latimer recommends setting your timer for the pasta one to two minutes shorter than the instructions on the pasta package call for (closer to one minute if you want to ensure the perfect al dente texture).
So, go ahead and boil your pasta in salted water (this is how much salt you really need to boil pasta). When the timer goes off, drain the water immediately, reserving a few ounces of pasta water, which Latimer points out you might want later to thin your sauce. Transfer the cooked pasta to a bowl so that it is no longer sitting in a hot pot, and move onto the next step.
Season your shrimp and heat your pan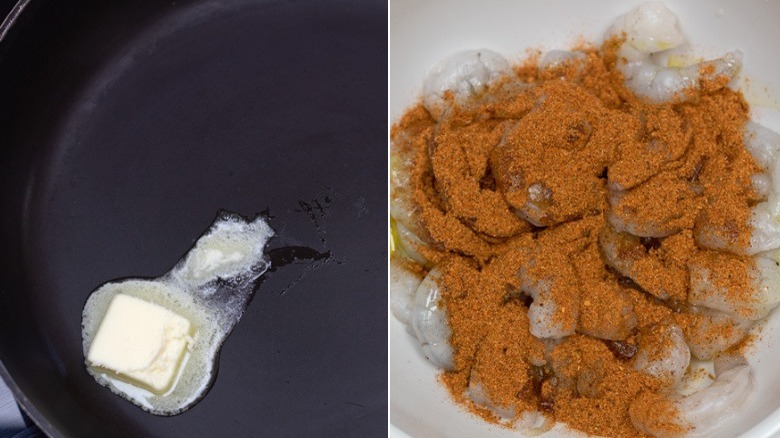 Angela Latimer/Mashed
Go ahead and grab yourself a nice large skillet or other roomy frying pan, and set it over a medium flame to heat it up. While you've got that going, toss your shrimp with your olive oil and Cajun seasoning in a medium-sized bowl until well coated. By the time you're done with that, the skillet should be heated, so it's time to place the butter in the skillet and move immediately to your next step.
Sauté your Cajun-spiced shrimp until just opaque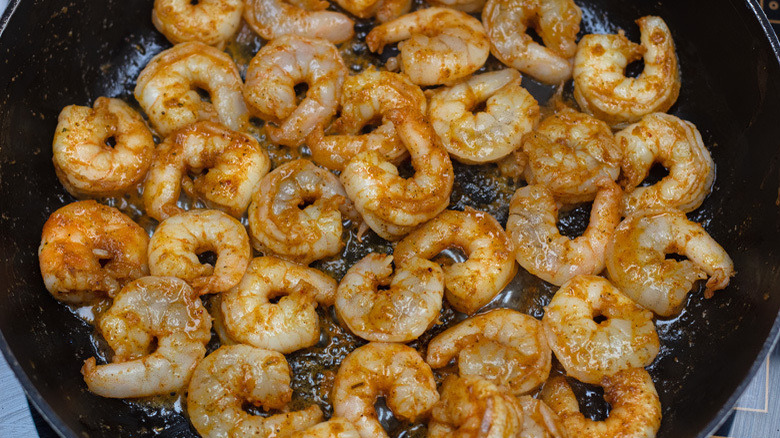 Angela Latimer/Mashed
Once the butter is melted — and this shouldn't be more than a matter of seconds — add the shrimp to the skillet, and sauté them in a single layer for two to three minutes until the surface of the shrimp is just starting to look opaque, as shown above, at which point you should immediately flip them over and cook until opaque and not a moment longer, lest you end up with overcooked shrimp, because, remember, the shrimp will cook a little longer once the sauce and pasta are added. 
Turn off the burner, and transfer the cooked shrimp to a plate or bowl (you can place it right on top of the pasta if you wish).
Create your creamy Alfredo sauce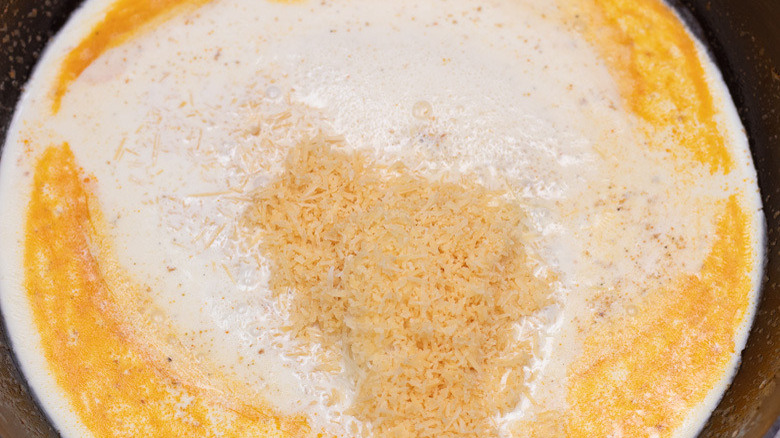 Angela Latimer/Mashed
Now, head back to your skillet. Turn the burner back on underneath it, only this time using a medium-low flame. Add the cream to the skillet, and stir constantly, scraping the bottom of the pan, until the cream reaches a low boil. Then reduce the heat to low, and stir in your grated cheese until the cheese has fully melted, and the sauce is blended thoroughly.
Combine the shrimp and pasta with the sauce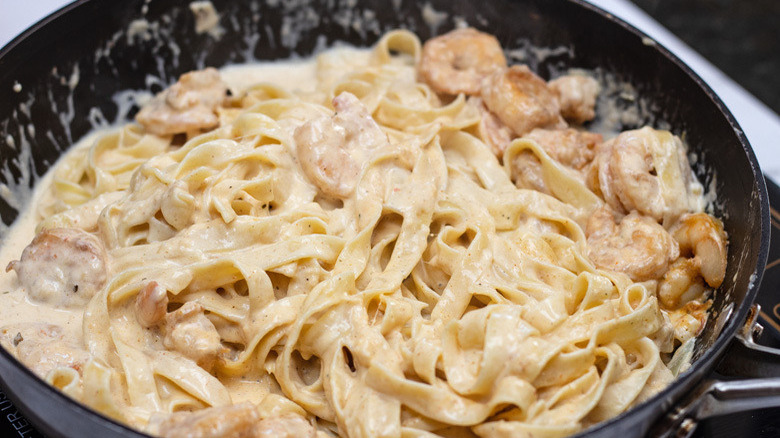 Angela Latimer/Mashed
With the burner still set to low, add the cooked pasta and Cajun shrimp, and stir to coat them thoroughly in the creamy Alfredo sauce you just created. If you're finding it to be a little too thick to coat the pasta and shrimp thoroughly, then you can thin it out with the reserved pasta water, one spoonful at a time, and repeating as necessary to nicely coat the pasta and shrimp. 
Turn off heat, and serve immediately, garnished with freshly chopped curly leaf parsley and additional grated cheese. 
Cajun Shrimp Pasta Alfredo Recipe
This classic creamy pasta dish adds a modern twist with some Cajun heat. Try this quick and comforting Cajun shrimp pasta Alfredo recipe tonight!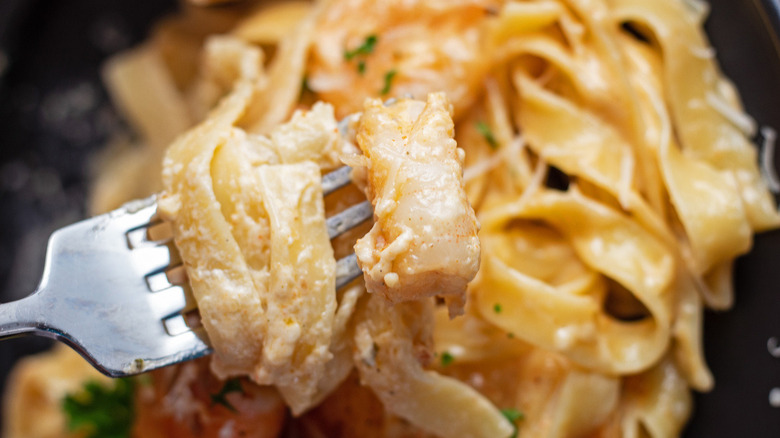 Ingredients
8 ounces fettuccine pasta
16 ounces raw shrimp, deveined, tail removed, and thawed if frozen
1 tablespoon olive oil
2 tablespoons Cajun seasoning
1 tablespoon butter
1 cup heavy cream
½ cup Parmesan cheese
Optional Ingredients
Curly-leaf parsley, chopped for topping
Extra grated Parmesan and/or Romano cheese for topping
Directions
Boil the pasta in salted water for a minute to two minutes less than the package directions.
Drain the pasta and set it aside, reserving a cup of the pasta water.
Heat a large skillet over medium heat.
Toss the shrimp with olive oil and Cajun seasoning in a medium-sized bowl until well coated.
Melt the butter in the warm skillet.
Add the seasoned shrimp and cook in a single layer -- in batches, if necessary -- until the shrimp begin to look opaque, about 2 to 3 minutes.
Flip the shrimp and cook until fully opaque.
Set the cooked shrimp aside with the pasta and reduce the flame to medium-low.
Add the cream to your skillet and heat it, scraping the bottom of the pan, until the cream reaches a low boil.
Reduce the heat to low and stir in your grated cheese until it's melted.
Add the cooked pasta and shrimp, and stir to coat the pasta thoroughly in the sauce.
If needed, thin the sauce to thoroughly coat the pasta and shrimp by stirring in a spoonful of the reserved pasta water at a time.
Remove the pan from the heat, and serve the pasta immediately, garnished with fresh parsley and more grated Parmesan, if desired.
Nutrition
| | |
| --- | --- |
| Calories per Serving | 431 |
| Total Fat | 23.1 g |
| Saturated Fat | 12.9 g |
| Trans Fat | 0.1 g |
| Cholesterol | 189.6 mg |
| | |
| --- | --- |
| Total Carbohydrates | 30.7 g |
| Dietary Fiber | 1.4 g |
| Total Sugars | 2.2 g |
| Sodium | 278.5 mg |
| Protein | 25.5 g |