Costco Shoppers Can't Get Enough Of This Chicken Stir Fry
If you want to get a sense of just how excited Costco fans are about its Yakisoba Stir Fry with seasoned chicken, you might consider the fact that a mere 20 hours ago, Costco super-fan Instagram account @costcobuys posted a photo of it to its 464,000 followers with the caption, "This Yakisoba Stir Fry with seasoned rotisserie chicken is back at my Costco and I'm so excited!! Last time I got this I loved it! It's $4.99/lb" (via Instagram). Since then, more than 6,400 users and counting have clicked the little heart button, indicating their approval. 
Crunching the numbers — which is not nearly as enjoyable as crunching down on freshly stir-fried broccoli florets — this means about 1% of Costco Buys' followers are down with this ready-to-cook (and virtually impossible-to-mess-up) balanced meal. If 1% sounds small, know that it's just about the same level likes to followers that Madonna might get on any one post (via Quora). In other words, that's a lot of liking. So, what is it about this chicken stir-fry that has Costco shoppers feeling like they, to borrow a phrase from Depeche Mode, "just can't get enough?"
Why this Costco stir fry reigns supreme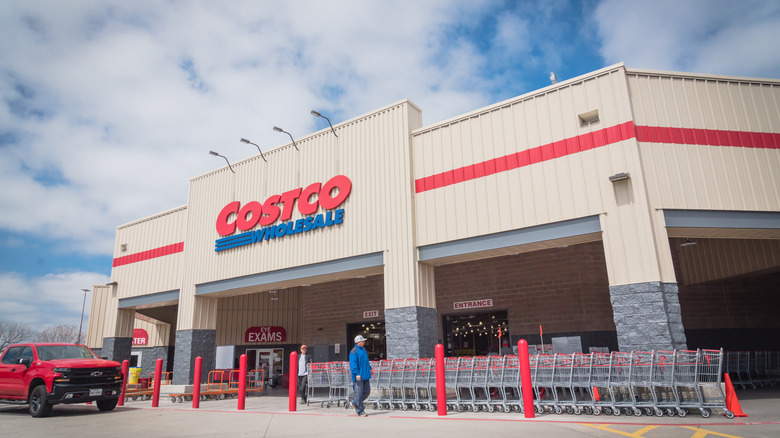 Trong Nguyen/Shutterstock
Less than 24 hours ago, @costcobuys posted a photo to their Instagram with a loving caption affirming that the chicken stir-fry pictured is available at Costco and promises satisfaction, if not delight. Since then, the post has since received thousands likes and a slew of enthusiastic comments. 
Of course, it doesn't take a rocket scientist to see why Costco shoppers can't get enough of this chicken stir-fry. First, a quick look at the ingredients reveals that chicken is its most plentiful ingredient, and, seriously, what is there NOT to love about a one-plate-meal that really brings the protein? Second, this ready-to-stir-fry meal in a box features yakisoba noodles, which are one of those foods from Japan that if you haven't already tried, you need to immediately because they WILL change your life — or at least your pasta preferences. Finally, look at that assortment of veggies. It's basically everything you love about the veggies in General Tso's chicken (i.e., the colors, the crunch, the contrast), but with none of the deep-fried parts. One user noted it's the "just the right portion" for their family of four, which makes it a great, easy choice for feeding a group. As one Instagrammer so succinctly commented: "Wow."