Taco Bell's Nacho Cheese Sauce Just Got A Totally Unexpected Upgrade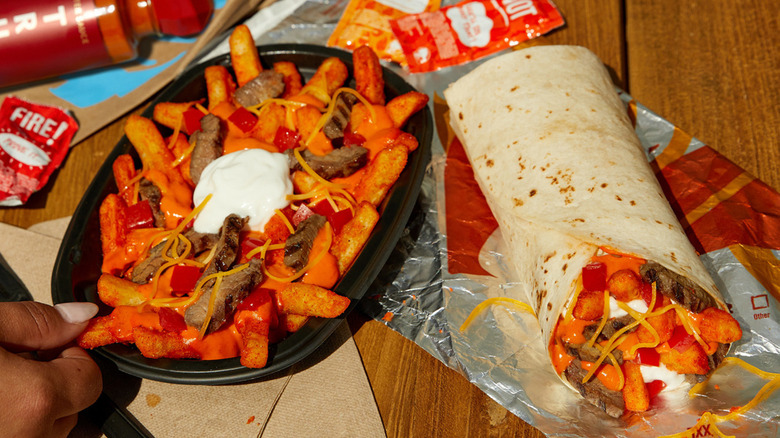 Taco Bell
If you are a fan of Taco Bell's Nacho Fries, but wish there were a spicier option on the menu, then the Mexican-inspired fast food chain has great news for you. Taco Bell has just announced a new partnership with the truffle hot sauce brand TRUFF to help bring the heat to some of their most popular menu items at a select location.
Taco Bell's cheesy, flavorful Nacho Fries will be one of the first items to be spiced up. The chain will be launching a test release of the revamped version, the Loaded TRUFF Nacho Fries, which will deliver the same blast of bold flavor as the traditional seasoned Nacho Fries, but with even more truffley heat packed into each order. The new loaded fries will come with steak, shredded cheddar cheese, tomatoes, and reduced-fat sour cream, all topped with a generous helping of new TRUFF Nacho Cheese Sauce, according to Chew Boom. The TRUFF Nacho Cheese Sauce combines Taco Bell's traditional warm Nacho Cheese sauce with TRUFF's specific blend of real black truffles and red chili peppers for a unique new flavor experience. It can also be purchased as an add-on à la carte for 65 cents.
These new items will have be test-released in Newport Beach
Taco Bell will also be testing out a new Loaded TRUFF Fries Burrito. This hearty new release features Taco Bell's seasoned fries, topped with steak, shredded cheddar cheese, tomatoes, and reduced-fat sour cream, all smothered in savory TRUFF Nacho Cheese Sauce and wrapped in a warm tortilla, per Chew Boom. Both the new burrito and the Loaded TRUFF Nacho Fries are set to be priced at just $3.49 per item. "We're always looking for ways to serve up new innovations to our fans, and this partnership with TRUFF takes our beloved Nacho Fries to a new level. TRUFF is rapidly growing and becoming the go-to, luxury hot sauce line, so it makes total sense for us to join forces and bring the world new spicy creations," Rene Pisciotti, Executive Chef at Taco Bell Corp, said of the new partnership, via PR Newswire.
Right now, these bold new items are only scheduled for limited release at a single Taco Bell location at 4101 Jamboree Rd in Newport Beach, California, from now until August 31, 2021, or until supplies last. However, fans can hope that if this test run is successful, they will soon prove popular enough to be featured on Taco Bell menus nationwide.