The Hilarious Origin Story Of Sting's Wine Company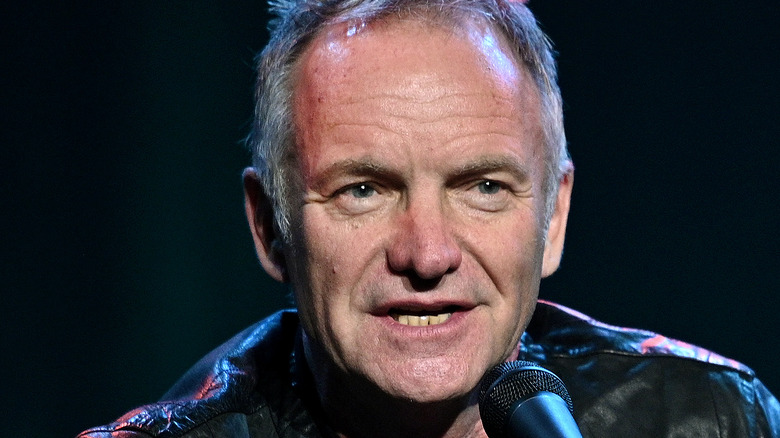 Andrew Toth/Getty Images
In this day and age, every movie star, musician, and celebrity seems to have a physical product or merch line they own in addition to their entertainment careers. Tracee Ellis Ross has Pattern Beauty, Post Malone has Maison No. 9, and Millie Bobby Brown has Florence By Mills (per Best Products) — just to name a few. Sting, the English musician and actor, is no exception to this trend. In addition to his incredible performance career, Sting also owns a wine company, II Palagio, with his wife Trudie Styler.
Usually, when a celebrity announces a new product or service they've brought into the world, they often share a backstory of months — or even years — spent sampling, testing, and refining the item to get it perfect. 
But rarely do they share origin stories that involve being tricked into buying a run-down vineyard or creating wine simply to get revenge on an Italian aristocrat. But then again, not every celebrity is quite like Sting.
Sting's wine company started unlike anything else
Back in 1999, Sting and Trudie were looking to purchase an Italian villa as a summer home, not intending to get into the wine business at all. They came upon the crumbling II Palagio Estate and were on the fence about it, not sure if it the was the right move for their next purchase, according to The Takeout.
But a few glasses of wine later, the couple was ready to sign the deed. If only they'd known they'd been tricked into it. "We were negotiating the purchase," Sting told Sette magazine (as noted in The Takeout). "We liked the property a lot, even though it was in ruins."
Seeing their interest, the owner of the property, Duke Simone Vincenzo Velluti Zati di San Clemente, offered them a glass of wine allegedly "produced by the estate."
"It was an excellent wine and that convinced me to buy the vineyards as well," Sting added in his conversation with the magazine. But as it turns out, he said, "It was only later that we found out that the duke had served us a Barolo and not his own wine."
For Sting, this meant only one thing: revenge. "I was provoked to make good wine as revenge" the musician later said, according to The Drinks Business. And that's exactly what he did.
While it's not the story you usually hear, it sure is funny. And if it gave us the wine we know today from II Palagio, then it might be fair to say it was worth it in the end.